Meet Sable Card – Secured Mastercard To Earn Cash Back and Build Your Credit Score.
The Sable One Secured credit card is issued by the Coastal Community Bank, and it's available to U.S. citizens and internationals who can apply with a valid passport. Sable Secured is a card designed to help you build your credit score and benefit from unlimited 2% cash back for all purchases at popular retailers with no minimum deposit required.
Secured Sable Card – is a great option for those who want a secured card and bank account in just a few minutes, want to earn unlimited cash back, and looking to graduate to traditional credit three times faster.
Table of Content
Sable Secured Credit Card is the Best
When you can't afford to pay an annual fee;
Want a card but don't want a credit check that can impact your credit score;
Want all the benefits of digital banking;
U.S. residents with no citizenship (immigrants and international students).
Secured Sable One Card Advantages
The Secured Sable One Mastercard offers many benefits. Also, check Sable Debit Mastercard.
No credit check. The Coastal Community Bank won't issue a credit check with any of the major credit bureaus. You can apply for this card and have no worries that it will negatively affect your credit score.
Swift approvals. Unlike some other banks and credit cards, you won't have to wait long to get approval when you apply for a Sable Secured card. The approval process takes only a couple of minutes. (See Instant Decision Cards)
Option to go unsecured. The Coastal Community Banks enables you, as a Sable Secured card owner, to get unsecured credit in only four months. If you complete the milestones successfully, you will get your secure funds back by adding them to your credit balance. Again, the bank won't make any credit checks.
2% cash back on purchases. If you use your Sable card to make purchases at Amazon, Hulu, Netflix, Spotify, Uber, Uber Eats, and Whole Foods, you will get 2% cash back. The amount will be credited to your account, and you can use it to cover the card's statement balance.
Build or improve your credit score. Sable helps you build your credit score from scratch or improve a bad credit score. The bank sends monthly reports to two major credit bureaus, including Experian and Equifax. They have plans to start sending reports to TransUnion in the near future. (See: 23 Credit Score Donts & Dos )
No annual and foreign transaction fees. You can use your card without having to worry about that flat annual fee that most other secured cards charge. You can also use your card abroad freely as there are no foreign transaction fees for using this card abroad.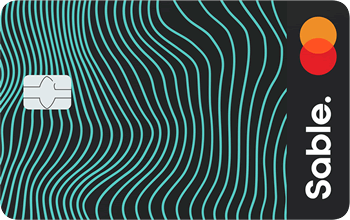 Card Details
Ongoing APR
12.49% Variable
Credit Needed
Accepts All
Snapshot of Card Features
No credit check, No impact on credit score to apply
No SSN is required to open an account with Sable
No annual fees, No late payment fees
Unlimited 2% cashback and premium perks
$25 statement credit if your credit score reaches 700 after 1yr
No minimum deposit is required
Reports to all three major credit bureaus
Quickest way to build US Credit History
Graduate to unsecured credit 3X faster
Full Mastercard benefits including Cell Phone Insurance and Zero Liability
Disadvantages of Sable Secured Card
The only downside of this card comes from its "Secured" nature1. It simply means that you will have to put some money into your account in order to reach the desired amount of credit limit. This can be too costly for some consumers, though.
For instance, if you want to have a credit limit of $1,000, you will need to deposit $1,000 into your account. The bank will reserve the $1,000 you deposited as a backup strategy. Should you fail to pay your credit card balance, the bank will use the money from the deposit to cover your expenses. On the bright side, there is no minimum deposit requirement. You can make a deposit as low as $10 and as high as $10,000.
The last disadvantage that we have to mention is that the card currently doesn't send credit card reports to the TransUnion credit bureau – but we mentioned that this is expected to change soon.
What Makes Secured Sable Different
There are a couple of things that make this card different from the competition. Aside from offering 2% cash back on eligible purchases, and a promise for 3x faster graduation, Sable offers a complete digital banking solution. All you have to do is download and install the iOS or Android app, and you can do everything from your smartphone:
Enable autopayments;
Get notifications about upcoming payments;
Get detailed insight into pending payments.
Don't forget that this is a card tailored for the needs of internationals living in the U.S. To apply and get approved for this card, you need:
A valid passport;
Current U.S. address;
Non-Tourist I94 form or S. Visa.
Finally, while it is available for international consumers, the card issuer will send credit reports to Experian and Equifax, helping them build credit scores in the U.S.
Direct Competition – How Other Cards Stacks with Sable Secured Card?
| Card Name | Annual Fee | APR | Credit Limits | Rewards and benefits | Best for | Credit Needed | Reviews |
| --- | --- | --- | --- | --- | --- | --- | --- |
| Sable Secured Card | $0.00 | Prime + 6.99% | up to $10,000 | Up to 2% cashback, no SSN | Credit Builder | Accepts All | Sable Card Review |
| Deserve EDU Mastercard | $0.00 | 18.74% | See Terms | 1% Cash Back, cell phone protection | International Students | Good/ No Credit | Deserve EDU Review |
| Stilt Debit Mastercard | $0.00 | 0% Fixed | up to $35,000 | Zero fees, no SSN | Immigrants/ Underserved | Accepts All | n/a |
| Applied Bank Secured Gold | $48 | 9.99% Fixed | $200 – $5,000 | High credit, low APR | Build/ Rebuild Credit | Poor | Applied Bank Gold Review |
| Indigo Unsecured Card | See Terms | 24.90% | See Terms | Pre-Approval, Unsecured | Credit Rebuilding | Poor/ Bad | Platinum Indigo Review |
| Milestone Gold Mastercard | See Terms | 24.90% | See Terms | Pre-qualification, credit report | Damaged Credit | Fair | Milestone Gold Review |
| Jasper Mastercard | $0.00 | 15.49% – 24.99% | See Terms | Up to 6% cashback, credit report | New to U.S. Professionals | Fair | n/a |
RELATED: Fit vs Revi Card, Chime vs Self, Best Credit Builder Apps
Bottom Line
People might mistake the Sable Secured card for a cash back bonus card – it is so much more than that. It is also a card intended for international students and recent immigrants to the United States. Sable Secured card provides them with an excellent tool to build a positive credit history and showcase their responsible behavior with finances. The card is easy to apply for, and the approval process takes very little time to complete. While it is one of the best cards for building the credit score for international students and immigrants, consumers with SSN have other options on the market.
Frequently Asked Questions
Reference Index
What to weigh when considering a secured credit card. USA Today