Meet Secured OpenSky Credit Card That Helps You Build Better Credit
Sometimes, getting a secured card is the best way to overcome your financial issues and get your credit back on track. Getting a good credit score won't be easy, but it's going to be worth the effort in the long run. If you're looking for good ways to improve your credit score, an excellent place to start is by utilizing the right tools for the job – and the right tool is the OpenSky Secured Visa. It's a card offered by Capital Bank N.A., a reliable issuer known for its fantastic assortment of cards that has been serving the community since 1999.
To help you get a better perspective on the OpenSky Secured Visa, and help you decide if it's the right card for you, we've decided to give you a full-length, unbiased, honest review. In this review, we'll cover all of the unique features, benefits, and disadvantages – as well as give you some professional insider tips on the matter.
Card Details
Ongoing APR
22.64% Variable
Snapshot of Card Features
Limited Time Offer: Apply and fund $500+ today, get a $50 Amazon.com Gift Card*. Apply and fund $300+ today, get a $30 Amazon.com Gift Card*. *Restrictions apply, see amazon.com/gc-legal
No credit check to apply and find out instantly if you are approved
OpenSky gives everyone an opportunity to improve their credit with an 85% average approval rate for the past 5 years
Get considered for a credit line increase after 6 months, with no additional deposit required
You could be eligible for the OpenSky Gold Unsecured Card after as few as 6 months
Reports to all 3 major credit bureaus monthly, unlike a prepaid or debit card
View your FICO Score through your OpenSky account, an easy way to stay on top of your credit
Nearly half of OpenSky cardholders who make on-time payments improve their FICO score 30+ points in the first 3 months
Your refundable* deposit, as low as $200, becomes your OpenSky Visa credit limit
Easy application, apply in less than 5 minutes right from your mobile device
Offer flexible payment due dates which allow you to choose any available due date that fits your payment schedule
*View the cardholder agreement
4 Things You Should Know About OpenSky Card
Popular. The OpenSky Visa is one of the more popular secured credit cards out there. It has piqued top credit authorities' interest, such as Experian, one of the three major credit bureaus. The card has reached these success levels due to its long-standing history as one of the best secured credit cards on the market.
Improves credit. The credit bureaus generally favor unsecured cards, and having one shows you're more financially responsible, thus improving your credit score. While this isn't an unsecured credit card, it still has fantastic credit building potential. This is a card for people with a low or otherwise tarnished credit score who are looking to do something about it.
Afordable. An annual fee does exist – it's quite affordable when compared to most other annual fees. While the other fees associated with using this card are affordable, they could still be straining if you're struggling with bad credit.
Choose your credit. Your credit limit is determined by your initial deposit, which can be anywhere from a couple hundred to a couple of thousand dollars.
PRO Tip
This is a credit card for people who have a bad credit score or no credit score at all. While there might be better options for building your credit from scratch, this is an overall solid option if you're looking to rebuild your tarnished credit score. Once you work your way with this card, you can close your account and apply for an unsecured option to further your credit fixing needs.
Why We Like It
In this section, we'll give you our honest and unbiased opinion on what makes this card as great as it is. We'll cover all the pleasantries and beneficial features that this card has to offer below.
Good and simple. We like this card because it comes with every feature that a person is struggling with their credit score needs to get their financial life back on track. It's a card designed with simplicity in mind, and it's set of features, while not revolutionary, is just what you need to repair your credit score.
Soft credit inquiry. All these features are fantastic for building credit, but what makes this card stand out from the crowd is the fact that it doesn't trigger a hard inquiry into your credit history. This card accepts anyone willing to use it – and it allows the user to set their credit limit based on their initial deposit. (See: Soft Credit vs Hard Credit Inquiry)
No bank account is needed. Aside from not triggering a check into your credit history, this card doesn't even require you to have a bank account before opening it, as most other cards do.
Low interest rates. Another very appealing thing that comes courtesy of this card is it's very low APR. Any card that deals with helping the consumer rebuild their struggling credit score should take note – as the APR and fees of this card are as low as possible.
Extra benefits. While there aren't any awe-inspiring bonuses or rewards, which is to be expected of a credit repair credit card, there are two interesting perks. One such perk is the zero liability for fraud insurance that comes courtesy of opening this card, and the other is auto rental insurance. While this is not much, it's still something you don't see with most secured credit repair cards.
Credit reporting. The OpenSky Secured Visa reports to all three of the major credit bureaus, meaning that you can't just fix your credit score – you can fix it in record time as long as you're responsible with your payments. (See: Credit Reporting Cards Explained)
Full deposit refind. Lastly, when you manage to get your credit back on track, you can close the account and earn a full refund of your initial deposit in 10 weeks.
PRO Tip
While you can close your account at any time, it's not wise to close it if you're looking to move on to better credit building cards. Closing an account in good standing could significantly tarnish your credit score.
What Can Be Better
Below, we'll list some of the things that need improvement when it comes to the OpenSky. While this card does have its disadvantages, the benefits and potential outweigh them significantly.
Many things make the OpenSky Secured Visa a fantastic contender for your next credit building card – but it does come with a fair share of flaws.
Annual fee. The first thing that comes to mind is the existence of the annual fee. Some other cards like Chime Secured or GO2Bank Secured don't come with an annual fee, as it could be straining on the policyholder's budget. The annual fee isn't the only problematic aspect of this card – as there are many fees associated with it.
Inactivity fee. The inactive account fee is another very real threat that can be a particular pain if you've moved on to repairing your credit score with different cards. You'll have to use this card if you want to avoid this fee, and since it doesn't come with any bonuses, it can be quite straining.
No Graduation. Aside from this, this card can not be upgraded to an unsecured card for faster credit building. That means that you will have to close the account eventually, which could negatively impact your overall credit score by increasing your utilization ratio.
Outdated customer support. Perhaps the worst part about this card is its outdated customer support. There isn't a landline or a live chat option – you have to contact OpenSky by mail.
No rewards or bonuses. Lastly, most credit repair cards' most common issue plagues this card to – a complete lack of cashback, bonus, or rewards program.
PRO Tip
This card works best when combined with a good credit repair strategy. Make sure to prepare a credit repair strategy and purchase responsibly. If you do everything right, you can improve your credit score in no time at all.
Secured OpenSky Card Fees
While this card might come with a fantastic potential for building up your meek credit score, it does come with a selection of fees. Keep these fees in mind if you're considering opening an account, as they could be a dealbreaker. While there are quite a lot of fees, and some of them can be quite costly, this card's benefits ultimately weigh out its disadvantages. The fees that come with this card are:
Annual fee
Cash advance fee
Initial security deposit
Minimum interest charge
Late payment fee
Variable APR
Decent Ongoing APR
Returned payment fee
Foreign transaction fee
Inactive account fee
With this card, you can set your credit limit, as your initial down payment will dictate your credit limit. As long as you keep all of your payments in order and don't miss out on paying any fees, you're on a steady road to credit recovery.
How Easy and Convenient Is to Use OpenSky Visa
In this part of our review, we'll give you an accurate representation of how easy and convenient it is to use this card as a part of your everyday life.
This card excels when it comes to actual real-life use – as it is based on the most popular payment platform across the world. Visa is accepted in over 200 countries, meaning if a merchant or retailer accepts cards, they're likely going to accept your OpenSky Secured Visa. You can use this card to withdraw funds at any cash machine globally as long as you have a positive balance. This is a credit rebuilding card, and all of its features are designed with helping you rebuild your credit in mind. That's precisely why this card is both useful and convenient for your everyday purchases.
PRO Tip
If you want to repair your credit score quickly, make the maximum possible initial deposit. That will ensure you're on the right road to improve your credit score, and will even give it an initial boost.
What are Qualification Requirements?
Below, we'll outline all of the qualifications and requirements you have to meet to be eligible for this credit card.
The OpenSky Secured Visa is a very low-requirement card. You don't need to have any prior credit history or even a bank account to apply and get approved for this card. Capital Bank N.A. believes that a good credit score should be a right, not a privilege – and their cards reflect that. To qualify for this card, you'll need the following 5 things:
You must be at least 18 years of age.
Have a valid SSN.
Be a permanent resident of the USA or a U.S. Citizen.
Have a valid state-issued I.D.
Have a monthly income that exceeds your monthly expenses.
There are a couple of additional requirements, such as:
Have not applied for a Capital Bank card four or more times in the past two months
Do not have two or more cards active with Capital Bank at the time of requesting
If a past client of Capital Bank, you need to have a good relationship with the bank.
PRO Tip
Depending on your state or region, you might have to be older than 18 to get this card. Always check with your local laws and regulations before applying for any type of card.
How to Apply for OpenSky Secured Card?
We'll give you a brief explanation of how you can apply for your very own OpenSky Secured Visa.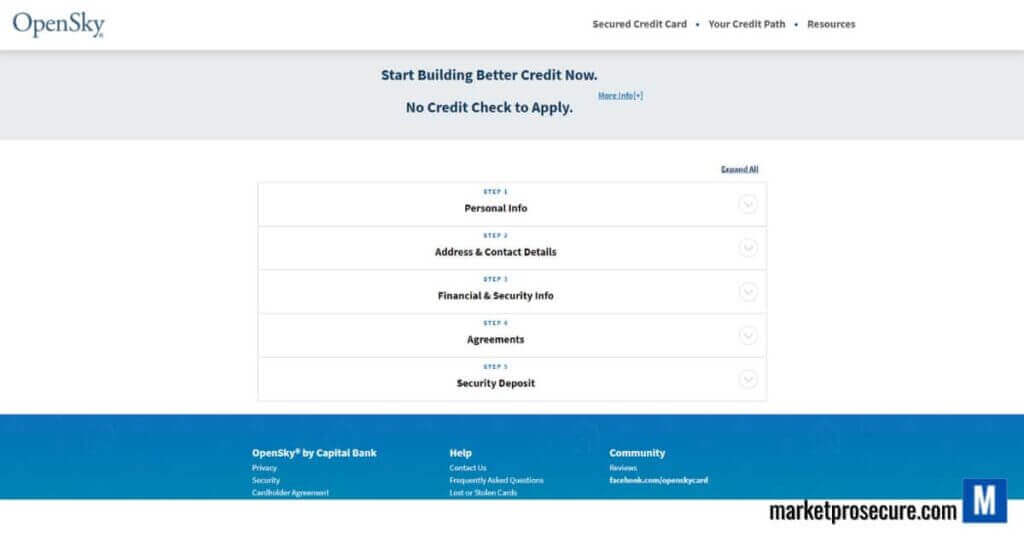 If you're looking to apply for the OpenSky Secured credit card, you'll find that it's a simple, quick, and straightforward process. Everything is done through the internet, so you don't even have to visit a local branch. The first thing you need to do is click on the "apply now" button. Afterward, you'll be brought to the application page. The application page consists of five drop-down menus, all of which you'll need to fill out with adequate information. This information is, in order or appearance, your personal information, your contact and address, your financial and security information, the agreements, and lastly, the security deposit information. After you fill all of this out and make your security deposit, you can expect your card to arrive in a couple of weeks by mail to the address you've provided.
Secured OpenSky Card Alternatives
Also, see: Self Credit vs Chime Credit Builder
Bottom Line
The OpenSky Secured Visa is one of the most popular credit repair cards, and for a good reason. It's renowned for its credit-building features and relatively low APR – and these benefits are only made better with the easy-to-use website and app. While there aren't any bonuses or rewards that come with this card, it reports spending to all three major credit bureaus, allowing you to build your credit score in record time. It's also based on the Visa platform, the most popular payment platform globally. It means that you can use it virtually anywhere where cards are accepted, as long as you remember the foreign transaction fee.
In short, this is a slick, useful, and flexible card that has massive credit building potential for all of your credit repair needs – you don't even need to have a prior bank account to apply. Since it doesn't make a hard inquiry into your credit score, you can rest assured you won't damage it further with any unnecessary checkups!
Frequently Asked Questions