Revenued Card and Revenued Flex Line
Business financing is rarely a simple process. Business owners must go through hoops to improve their personal credit first, then get their business finances in order, go through lengthy approval processes, and face steep fees, fines, and APRs. Revenued Card was designed to simplify this whole process.
Revenued Offer – an alternative small business financing solution to help set your business on a path to success through a revolutionary small business card that looks at revenue instead of FICO score alone
The Revenued card offers convenience, efficiency, and reliability. Here are the main things you'll need to know before signing up.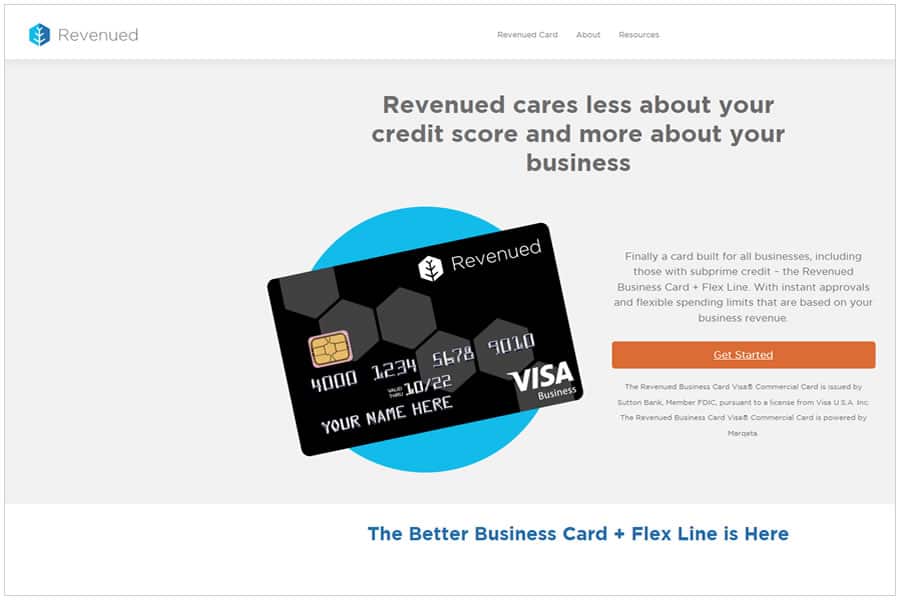 The application process is completely streamlined
Traditionally, the application process for most business financing solutions, such as business loans or Merchant Cash Advances (MCA), is surprisingly complex. You'd need to provide mountains of financial statements and tax returns, offer several references, and provide multiple assets for collateral. It's no wonder that over a third of small business owners1 tap into their personal funds to keep their companies afloat.
However, things are different with Revenued. The application process is almost instantaneous and can be quickly completed online. You don't have to collect paperwork and spend hours on the phone or in-person meetings only to get denied. You'll simply fill in the essential information in the online application form, Revenued will review your banking activity, and you'll receive your funding decision in as little as 24 hours.
It's available to those with a poor credit score
One of the main obstacles many small business owners face when applying for traditional financing solutions is the credit check. Anyone with a low personal credit score will immediately be denied without a second thought. Even those who always ensure to pay their debts on time and in full can have difficulties getting approved if they just started building their credit history.
When it comes to the Revenued Business Card, however, your FICO score isn't the decision maker. Revenued doesn't do a hard credit pull to determine eligibility Therefore, you can still get approved even if you have a subpar score.
The eligibility criteria you must meet include:
Minimal monthly revenue of $10,000;
Average daily business bank account of at least $1,000;
Business operating within the US;
Company in business for at least six months or more;
A business bank account that hasn't gone negative for more than three days in a month.
As long as you meet these criteria, you are eligible for the Revenued Card, regardless of your FICO score or credit history.
You have a flexibility with Revenued Flex Line
The Revenued Card offers the Flex Credit Line, which lets you withdraw funds directly to your bank account. Unlike with regular business cards or other financing options, you won't encounter steep withdrawal fees. You only pay for what you use, and you can use your Flex Line whenever it's necessary.
Additionally, you can always request a spending limit increase. The Revenued Flex Line is designed to grow with your business revenue, so you'll have access to the funds you need to keep your business running smoothly.
This feature can be indispensable when signing new clients or contracts that require hefty initial investments before they start paying off.
Receive a clear financial overview
The Revenued Business Visa Card gives you a clear overview of your business finances. Gain access to an intuitive dashboard that keeps you informed about all transactions – look over your spending limit, examine your payment calendar, and go over your transaction history with a single click.
The dashboard provides you with valuable financial insights that will help you take control of your spending. All essential information is available at a glance, so you'll never have to worry about overlooking critical financial data.
Enjoy excellent rewards with Revenued Card
With Revenued, you'll enjoy a generous welcome bonus, earning $500 back after using your card to make purchases totaling $5,000 within the first 90 days of being a cardholder. Additionally, you can earn 3% cash back rewards on every eligible card purchase you make.
The Revenued Card belongs to the Visa network, allowing you to make seamless transactions virtually anywhere in the world. Accepted at over 100 million merchant locations2 across over 200 countries and territories, the Card with Revenued Flex Line allows you to spend without limitations wherever you are.
You can forget about unnecessary fees
Most business credit cards have steep monthly maintenance fees you'll have to cover. You'll encounter cash advance fees, steep APRs, late payment fees, and more. Though individually, these fees might not seem like much at first glance, they quickly accumulate and eat away at your finances.
With the Revenued Card, you don't have to worry about such unnecessary fees. There are no application fees and no monthly or annual maintenance fees. With this Business Card you simply pay for the money you use, with no hidden costs down the line.
You'll receive priority support at any time
Finally, you can rest easy knowing that you'll always receive priority support with your Revenued Business Card. As soon as your application for the card is approved, you'll receive a dedicated account manager who can help you get your business finances in order and make the most of your card.
They'll guide you through all the available features, answer any questions you may have, and help you set yourself up for success.
Bottom line
The Revenued Card + Revenued Flex Line is a unique alternative business financing solution with everything you need to get your business started on the right foot. With a streamlined application process and powerful features, the card could be just what you need to get your business finances in order.

Frequently Asked Questions
Reference Index
A third of small-business owners have tapped personal funds to stay afloat, CNBC
Visa Fact Sheet, VISA Inc