Comparing First Progress Credit Cards – Prestige vs Select vs Elite Secured Mastercard
First Progress offers three versions of their Platinum Secured cards: Prestige, Select, and Elite. At first glance, many people struggle to differentiate between these cards, with some even assuming they are identical. However, choosing the wrong card can lead to unnecessary expenses, negatively impact your credit score, or cause you to miss out on a better-suited card.
Platinum Elite – Ideal for those who plan to pay their balance regularly and require quick results (Highest APR, Lowest Fee).
Platinum Prestige – Perfect for individuals who occasionally have difficulty paying their balance in full but still need a secured card (Highest Fee, Lowest APR).
Platinum Select – The best option for those who mostly pay off their balance but may occasionally fall short.
It's essential to understand that these cards target people with poor FICO scores (under 600) and are designed to meet their needs. They do not require a specific financial profile, making them accessible to anyone. If you have a bad credit score or lack any credit history and want to start on the right foot, one of these cards could be the perfect fit for you.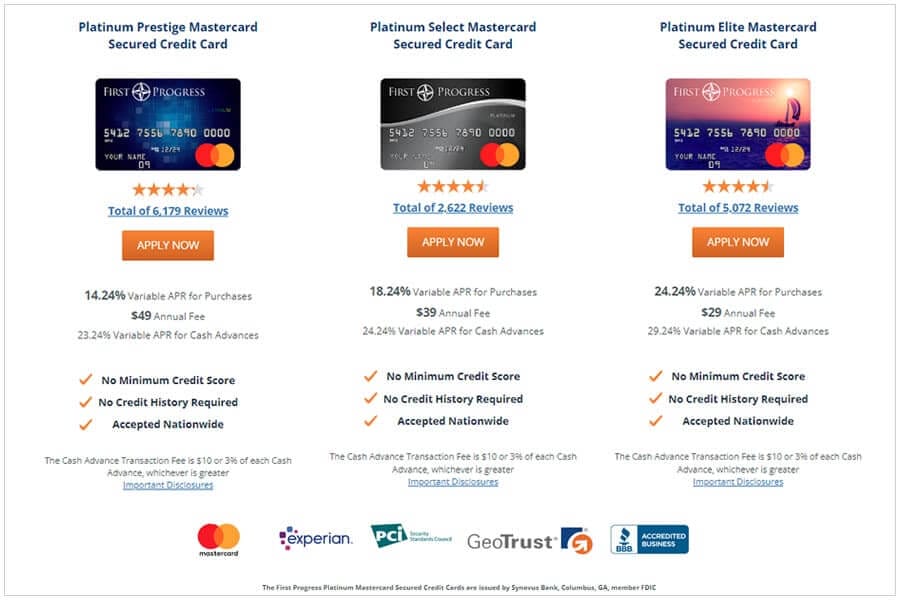 First Progress Secured Cards Comparison Table
| | Platinum Elite | Platinum Select | Platinum Prestige |
| --- | --- | --- | --- |
| Type | Secured | Secured | Secured |
| Rewards | – | 1% cash back | 1% cash back |
| Ongoing APR (Variable) | 25.24% | 19.24% | 15.24% |
| Cash Advance APR | 30.24% | 25.24% | 24.24% |
| Annual Fee | $29 | $39 | $49 |
| Grace Period | 25 days | 25 days | 25 days |
| Credit limit | $200 – $2,000 | $200 – $2,000 | $200 – $2,000 |
| Credit Reporting | 3 Bureaus | 3 Bureaus | 3 Bureaus |
| Credit Recommended | Poor/Limited/No Credit | Poor/Limited/No Credit | Poor/Limited/No Credit |
| More Details | Elite Mastercard | Select Mastercard | Prestige Mastercard |
| Application | Apply Online | Apply Online | Apply Online |
What is First Progress Platinum Mastercard?
First Progress, a US-based credit card provider, offers products designed for individuals looking to build or repair their financial profiles. They currently provide three secured cards that function based on security deposits. Secured credit cards have a credit limit equal to the user's deposit, preventing overspending. The primary goal of obtaining one of the three First Progress secured credit cards is to improve the FICO score. Every time users make their monthly payments, their performance is reported to the three main credit bureaus: TransUnion, Equifax, and Experian.
RELATED: Cards Reporting Credit Explained
Key Features of First Progress Platinum Cards:
Designed for people with poor FICO scores
Credit limit equal to the deposit amount
Performance reported to major credit bureaus
Bank Account Requirements
To acquire any First Progress secured credit card, you must have a verified bank account in your name. The company requires this to ensure you can make your deposits and to monitor your spending. Before applying for one of the three cards, prepare your relevant checking account information or debit card details.
Application Process
The First Progress website allows for a simple application process, accessible via desktop or mobile devices. They accept both Visa and Mastercard. Upon submitting the application, First Progress processes the security deposit instantly, placing the selected funds on hold. If the application is not approved, the account will be refunded within approximately 5 days.
How Do First Progress Platinum Cards Work?
First Progress cards function similarly to other secured cards. To obtain one, you must first place a deposit, which becomes your credit limit. Keep in mind that your initial credit limit will be lower than your deposit due to the annual fee. Each consecutive deposit will reflect the full amount, and this will continue until the next annual fee is due. (See No Annual Fee Cards)
PRO Tip
Make a deposit that allows you to keep your balance low compared to your entire credit line. If not, pay the minimum deposit and clear your balance regularly.
3 Types of First Progress Platinum Cards
First Progress offers three secured cards:
Regardless of your credit profile, you can apply for any of these cards. All three cards have the same fundamental structure, usage, and mechanisms. The only differences are their annual fees, APR rates, and interest. First Progress created these cards to help people adjust their annual fees based on their needs or capabilities, ensuring everyone can work on improving their credit score. The lower the fees, the higher the interest rates, and vice versa.
Security Deposits and Credit Limits
First Progress secured cards require a security deposit, with a minimum of $200 and a maximum of $2,000 for all three card types. Your initial deposit determines your credit limit.
PRO Tip
Compare the 3 First Progress cards thoroughly to determine the best fit for your spending habits and current wages.
Increasing Credit Limits
Although the official credit limit is set at $2,000 for all cards, users can request a credit limit increase by contacting First Progress customer service. The company will assess users' financial habits and decide whether to grant an increase. If approved, additional instructions and fees for depositing more money will be provided.
PRO Tip
Display financial responsibility and timely payments for a few months before requesting a higher credit limit to increase your chances of approval.
Improving Credit Score by Clearing Your Balance
Credit utilization ratio, a percentage representing your balance based on available credit, is an important factor in credit score calculations. With secured credit cards, low credit limits make it easy to reach a high credit utilization ratio. Ideally, it's best to have no balance or keep it below 30% of your limit.
Paying bills on time is crucial to improving your credit score. Keep track of your balance and payments. With low credit limits, interest won't have a significant impact, so consider a card with a lower annual fee.
Selecting the Ideal First Progress Mastercard
Before choosing a First Progress card, it's essential to understand the purpose of these secured cards: building or improving your credit history. Secured credit cards, like First Progress Platinum cards, function as prepaid debit cards. Obtaining a card without the goal of improving your credit score would result in wasted money on annual fees.
To improve your credit score, make sure to clear your balance each month, ensuring positive reports. First Progress reports monthly payments to the three major credit bureaus, which will gradually increase your credit score if you consistently make positive payments.
The Platinum Elite Card is the optimal choice for those solely focused on improving their credit score and committed to clearing their monthly balance consistently. This card has the highest APR rate among the three but is not an issue if the balance is paid regularly. The Platinum Elite Card also has the lowest annual fee.
If you are uncertain about your ability to clear the balance regularly, consider the other two First Progress card options. Assess your current payments and the amount you can allocate for card use, and be realistic while factoring in worst-case scenarios.
PRO Tip
Calculate your income and expenses before getting any of these cards to ensure responsible use.
RELATED: Secured Cards Explained
Sum up Table
| Consideration | Action |
| --- | --- |
| Security Deposit & Credit Limit | Deposit between $200 and $2,000 |
| Increasing Credit Limit | Contact First Progress customer service |
| Improving Credit Score | Clear balance and make timely payments |
| Choosing the Right Card | Analyze spending habits and financial capacity |
Understanding Additional First Progress Card Fees
While the annual fees for First Progress cards are straightforward, there are other fees to consider when using the card. Aim to minimize these fees for better credit score improvement:
ATM Cash Withdrawal Fee: A 3% transaction fee or $10 fixed fee applies to ATM cash withdrawals. To avoid these fees, limit ATM usage with your First Progress card and focus on improving your credit score instead.
Interest and Late Fees: APR rates won't affect you if you clear your balance regularly. However, missed payments incur a $39 charge from First Progress.
Returned Payment Fee: A $28 charge applies if the bank returns a payment. Avoid additional expenses by making timely payments and maintaining a clean balance.
Eligibility for First Progress Platinum Cards
First Progress Platinum cards have specific eligibility requirements, similar to other secured credit cards:
At least 18 years old
Based in the US (excluding Wisconsin, New York, Iowa, and Arkansas)
Permanent or Temporary (Green card holder) US resident
Possess a social security number
Have a checking account
Applying for First Progress Platinum Cards
If you're interested in First Progress secured credit cards for rebuilding credit, follow these steps to apply:
Personal Information: Provide personal details such as your full name, current address, birth date, and social security number.
Financial Information: Share your monthly income with tax and employment status.
Card Selection: Choose one of the three card options and submit your application.
The review process can take 1 to 3 weeks, and once approved, you'll need to make a security deposit for your card. Consider setting up an electronic debit agreement for easy balance clearing each month.
Alternatives and Competition
Maximizing First Progress Cards for Credit Improvement
To make the most out of your First Progress card, follow these guidelines for responsible usage and credit score improvement:
Use the card for regular purchases you'd typically make with cash, such as morning coffee, breakfast, gas, groceries, etc.
Avoid impulsive spending and using the card for unnecessary purchases.
Set aside cash after each purchase to ensure you can clear your balance on time.
Remember that making timely payments is crucial for building your credit score.
RELATED: 13 Reasons to Carry a Secured Card
How to Contact First Progress?
Correspondence Address
First Progress Card
P.O. Box 9053
Johnson City, TN 37615-9053
Bottom Line
First Progress Platinum cards are ideal for individuals looking to rebuild their credit score after making poor financial decisions. These cards may not offer extensive rewards or cashback, but they provide effective payment processing and reporting to credit bureaus. The primary goal when using a First Progress card should be credit score improvement.