Is Deserve EDU a Legit Mastercard for Students?
Deserve EDU Mastercard is a quality card for all students in the world. You need to be over 18 to apply and start building your credit. It reports its transactions to 2 major credit bureaus, which can help you build quality credit quickly. The Deserve team understands that the student population of the world is not very well-versed in finance and financial transactions, and that's why the whole process is thoroughly guided, streamlined, and supportive. It's very easy to get a hold of this credit card, and using it is bound to be a pleasure. It is an integral tool in any student's credit arsenal.
It will help you create a good credit score as long as you are responsible for your purchases. Avoid debt, pay your fees on time, and don't be afraid to get that thing you want. With Deserve Edu, the possibilities are virtually endless. Any place which accepts Mastercard accepts Deserve cards, and the numbers of manufacturers, merchants, and retailers that accept it are staggering. It also comes with Amazon Student Prime, complementary to opening the card. This will give you quite a lot of different discounts and benefits, which is yet another appealing aspect of this card.
Deserve EDU Card is a student Mastercard that offers cellphone protection, No international transaction fees, 1 year Amazon Prime Student subscription, and 1% cash back rewards on all purchases.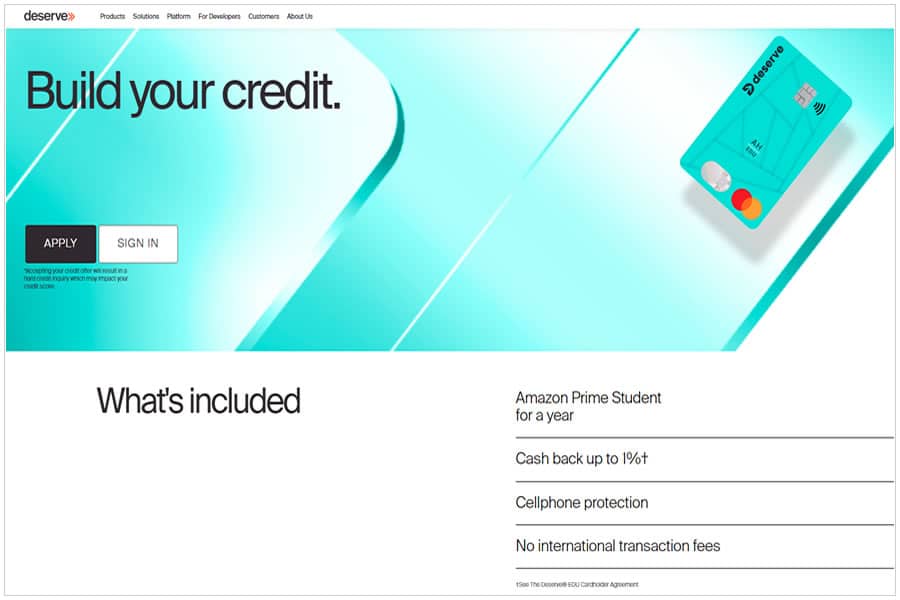 You need to have a credit card these days; there is just no way around it. And, keeping up with it can be a real nightmare, especially if you aren't sure what you're doing. Getting approved for a credit card can be tough if you have bad credit, not to mention loans. There is a reason why the Deserve EDU suits students. The Deserve EDU Mastercard strives to educate students on the importance of credit. It gives students a credit card and a chance to start working on their credit score early and easily.
Deserve EDU Mastercard Offer Details
We all want things we can't afford, and this is why credit cards are a thing. If you're an international student who is looking to start building proper credit and purchasing items out of your budget or needs a credit card for one or two semesters while in the States, this is the ideal card for you. The approval rating that the Deserve EDU card comes with is far from traditional. This credit card is catered to students and international students as well. You don't even need to provide your SS number to get approved.
This idea makes it ideal for students who might be struggling with their newly ruined credit and want to work on fixing the situation. Your credit approval is determined through your college major and your account data collection. But all in all, you're very unlikely to get declined. The annual fee that this card takes from you is null. It doesn't exist; it's completely free!
RELATED: No international Fee Card Offers
PRO Tip
While this credit card is meant for students, you can open it if you're not one. It does come with its flaws, but it's approval ratings make it ideal for repairing bad credit. The Deserve EDU Mastercard reports to all 3 major credit bureaus, which can have a significant impact on your credit score. If you're young, you should give it a thought.
Deserve EDU Key Features and Benefits
While there aren't many rewards for struggling students, Deserve EDU Mastercard has got you covered. A couple of rates and bonuses apply, as well as the Amazon Student Prime and the 1% cash-back guarantee. The card fees are non-existent, as it's free to open, maintain, and use. Here are the bonuses you could be getting with the Deserve EDU Mastercard:
Amazon Prime Student for 1 Year
While other cards might offer you a small APR or cash-back with your purchase on some websites, this one gives you the Amazon Prime Student deal. The yearly subscription comes courtesy of credit card approval. After approval, your Amazon account will become upgraded to Prime Student status, which will yield you additional benefits and discounts.
1% Cashback on all purchases
While this is quite a standard bonus feature found in many credit cards, we can't forget that you're getting additional bonuses on Amazon, and your card is completely free. The Deserve Edu credit card is offering struggling students an excellent package of discounts to get them through the school year. Every purchase made through the Deserve EDU Mastercard is entitled to a 1% money-back guarantee. This feature makes it useful if you use your credit card for everyday things. Using this credit card instead of your debit card is sure to reap more significant money-back amounts at the end of the year.
Cell-phone Protection
It's pretty hard to imagine life without cell-phones. Luckily for us, every single transaction that is made through the Deserve EDU credit card is immediately reported to your cell phone; it's just one click away. The protection feature of this credit card is about insurance. It comes with cell-phone insurance, which is a very generous thing. Not many cards offer this, yet Deserve EDU realizes the importance that cell-phones have for students.
Mastercard Platinum Benefits
Since the Deserve EDU card is a Mastercard, it is normal that it comes with benefits. But did you know that all Mastercard Platinum benefits apply as well? The Mastercard Platinum benefits you can reap are Better Earn Rates, Greater Acceptance Rates, Good Purchasing Power, and Zero Liability Protection. To read the full list of benefits Mastercard platinum has, click here.
Easy Application
Applying for other cards is not the most straightforward process. It would be best if you kept in mind that credit card companies deal in money, which means they are careful about the whole process. The Deserve EDU Mastercard doesn't have such a complicated process. The process boils down to applying, supplying just the bare minimum of information that is required, and waiting for approval. The system does most of the work for you, and it doesn't even need your SSL number, which you can provide if you like. (See Instant Decision Cards)
No Annual-Fee
This Deserve card comes completely free. There are no annual, maintenance, or other fees whatsoever.
Variable APR rates
Some find the APR rates problematic, yet they fail to see the bigger picture. Most users of credit cards don't apply for the cheapest APR rates, which makes its 20% quite regular. The APR rate does rise with Amazon Student Prime.
Why We Like Deserve EDU Mastercard
High approval rates
The Deserve EDU serves an essential role in the student credit world. The approval rates are high and don't require much effort or time. The second biggest appeal of this card is that it supports students, not require much information to get started.
Starter credit card
The card itself is designed for students who are looking to start their credit journey, which will last them their lifetime, most likely. It does have certain limitations when it comes to its use, but they are shadowed by the sheer beneficiary factors of this card.
High purchasing power
The purchasing power of this card is high, and it is accepted by most online e-commerce retailers. A credit card is backed by its community, and the community of developers and users of this card is only growing by the day.
High credit
$5,000 starting credit limit, which is more than most cards offer
Credit reporting
The card also reports all of its purchases to two out of 3 major credit bureaus. This helps build good credit and gives students an important tool to start their financial life on the right foot.
RELATED: Credit Reporting Cards Explained
What Can be Better?
High rates
Even if the credit card is very friendly towards its users, it can improve to some extent. The APR rates are pretty high and are furthered by Amazon Student Prime. The card itself is very versatile, but it is quite limited when it comes to transactions. At 20.41% APR rates, they are far from the standard 16%.
No transactional options
It has sheer purchasing power, but no transactional options whatsoever. This is holding it back to some extent, as you are unable to transfer money from account to account. It does cooperate with Amazon, and that is definitely a plus.
Can damage credit
Students aren't known for their credit responsibility, and late fees, non-payments, etc, only tighten the acceptance that this card sees with merchants and e-commerce platforms. This card can both improve and damage your credit score. If you are a student determined to build a proper credit score, and you're responsible for your payments, the Deserve EDU Mastercard is the option for you.
RELATED: Secured Credit Cards Explained
What are Usages and Applications?
The Deserve EDU card is ideal for students without any or with a small credit history. If you're looking to get a credit card that will help you build good credit from scratch, you can benefit through it. The card accepts any and all students with open arms. EDU card reports all of your transactions to two of the three major credit bureaus. This means that you can make a bad credit score if you're late with your payments. Make sure you're using your credit card responsibly, and avoid creating any debts. Now, say you're a responsible cardholder, and you're wondering how you can get the most out of your brand new credit card. This is where deserves remarkable features make it stick out.
Since Deserve EDU gives a guaranteed 1% cash-back on every purchase made, make sure to substitute your debit card with it. If you play everything smart, you could be getting amazing cash-back at the end of each month. You're entitled to the cashback anywhere. And this card is International, meaning that it is not limited to US use only. Since this card is international, you can use it virtually anywhere. The card is owned by Celtic Bank, like all other Deserve cards – Deserve Pro & Deserve Classic. If you're a student who travels quite a lot, you're going to benefit from the travel insurance that comes with this card. This card also comes with a Priority Pass, which is a feature that you will receive if you spend 1000$ within the first 120 days of opening the card.
This entitles you to numerous benefits, such as:
Travel insurance
Trip Insurance
Hotel Insurance
Car rental Insurance
Luggage Insurance
Airport Lounge Access
The credit limit on this card is capped at 5000$, which is more than enough for students. It also comes with phone insurance, which is very important for students. We're all glued to our smart-phones most of the day, and Deserve EDU understands that. This is why the card comes with complimentary 600$ cellphone insurance. This insurance is only available for use if you bill your monthly cellphone bill to your EDU card, so make sure you get your affairs in order.
Other Deserve EDU Mastercard Benefits
There are a couple of benefits that are exclusive to the cardholders, all of which are very student-friendly.
ID Theft Protection: Even if the card opening process doesn't require your SS number, you still need to provide your identity. In case of ID theft or any other way your identity is put into jeopardy, Deserve EDU provides Identity Theft Resolution Services.
Roadside assistance: Roadside assistance is a credit card perk that is mostly reserved for high-end cards. But since Deserve EDU comes with all Mastercard platinum benefits, roadside assistance is available 24/7.
Late Payment Waive: Let's face the facts; you're going to miss a payment one time or the other. It's completely normal, and it happens to everyone. Having a late payment waiver delivered to you is completely complementary to Deserve EDU. Don't make this a regular thing, though, as the late payment waiver only comes once for your first late payment.
No foreign transaction fees: Foreign transaction fees can never be sky-high, but when you're a student, every penny counts. In order to bypass and avoid these annoying fees, Deserve EDU provides you with no foreign transaction fees at all. This is amazing if you're shopping at foreign e-commerce stores and merchandisers.
What are Associated Costs and Fees?
The most appealing part of all Deserves cards, including the EDU option, is the price tag. The opening, application, maintenance, and annual fees are non-existent. There is no introductory APR, which makes the whole process student-friendly. The purchase APR is a bit higher than other student competitors, coming in at 20%+. The complementary Amazon Student Prime adds about 16% to the APR. If you're careful and you pay all of your transactions on time, you can completely avoid the interest. There are no balance transfer or cash advance options whatsoever. While there is no annual fee, there is, of course, a late fee. The late fee comes up to 25$, depending on how late you are.
Plans
Deserve EDU is free
Amazon Student Prime is complimentary
Mastercard Platinum benefits are complimentary
Fees
No annual fees
There are no maintenance fees
No membership fees
Variable APR
Late fee is up to 25$
Variable Interest Fees.
What are Qualification Requirements?
One of the redeeming features that the Deserve EDU Mastercard has is its high acceptance rates. They are courtesy of the simple and non-invasive application process. The application process is made so that every student can apply for this card and most likely get approved. There aren't any special restrictions on this card. Keep in mind that it is meant for students and that there are better credit repair options. This is a credit-building card, not a credit repair card. In order to apply for the card, you have to fulfill all of the legal requirements. This means you must be over 18 years old, have a college history, income, and address. You don't have to provide your SSN number, as this card is international.
Information Needed for
American Student
Information Needed for
Non-American Student
Full legal name
Date of birth
Educational history
Employment status
Residential address
Income and asset information
Citizenship status and information
Phone number
Full legal name
Date of birth
Employment status and history
Residential address
ID number or passport
Proof of citizenship
Phone number
How to Apply for Deserve EDU Mastercard
Applying for this credit card is fairly simple. All you need to do in order to apply for the Deserve EDU Mastercard is – click here.
The whole process shouldn't take you more than a couple of minutes. You will be brought to a page where you will have to provide all the requested information. All of the required information is provided above. The application process is very straightforward. You fill in the information which is required, push a few buttons to answer a few questions, and then it's all about the waiting game. You shouldn't have to wait too long to find out if you have been approved or not. The whole process is streamlined to perfection. After you've finished approval, you can rest assured knowing that your Deserve EDU card is coming within 7-14 days. After you've received your card, you can activate it on the website. Alter, you can edit your settings to suit your needs. The whole application, approval, and activation process is a breeze – a huge plus that not many cards can offer.
Similar Offers and Alternatives
Bottom Line
Deserve EDU Mastercard is one of the best possible choices for students who are looking to build good credit. It is an important credit tool in any student's arsenal, as building good credit is a great kickstart to life. Users of this card can benefit from all its bonuses and all Mastercard Platinum benefits. It's a solid, modern, and premium credit card. It is very useful, and its use isn't limited to the USA. It is a credit card for all students, all across the world. Everyone needs a credit card in these modern times, and the Deserve EDU should be a serious contender for your first one.
Anyone who is looking to open their first credit card is sure to benefit from the Deserve EDU. It has quite a lot of purchasing power, and the limit is capped at $500. While the APR is high, the complementary Amazon Student Prime and other benefits overshadow it with ease. It will help you get a hold of your spending habits, and it will help you build up your credit score. The best part of the whole thing is that it's completely free of charge – so why not give it a spin?
How to Contact Deserve?
Correspondence Address
Deserve:
PO Box 1286
Menlo Park, CA 94026-1286
Frequently Asked Questions