Fingerhut Store Credit has many benefits as opposed to competitors. People who have had issues with regular credit card approval are perfect candidates for this card. It's a good option for anyone looking to get a proper credit offer without any approval difficulties. The acceptance rates on the Fingerhut Advantage Shopping Card are very high. The users of this service can purchase anything from Fingerhut or their affiliates, which are abundant. The amount of partners that Fingerhut has is also on the rise, giving the card more purchasing power.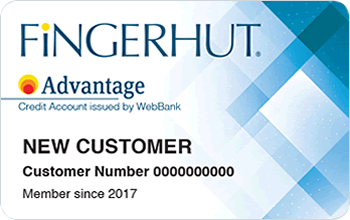 Card Details
Credit Needed
Bad Credit OK
Snapshot of Card Features
Shop over 500,000 items from great brands like Samsung, KitchenAid, and Dewalt
Build New Credit History. The card reports on-time payments to all 3 credit bureaus
Take advantage of low monthly payments with a WebBank/Fingerhut Credit Account
Fast, easy online application process and a quick decision
If you apply and are accepted for a Fingerhut Credit Account issued by WebBank, which determines eligibility and qualifications for the terms of credit
See website for complete Terms & Conditions
Fingerhut Store Credit Details
Everyone who is looking to purchase high-end things on credit is an ideal candidate for this shopping credit card. Buying items all at once can be damaging to personal finance. Drawing out the paying process to a couple of months is not only a life-saving feature in the field of finance but is also suitable for your credit.
Since Fingerhut has quite high approval ratings, you're unlikely to get rejected. You do need to fulfill the legal requirements before applying for a credit card.
Another very redeeming factor of this credit card is its price tag or lack thereof. Applying, maintaining, and using this card is free for everyone.
Since the designers of this credit card understand that people aren't always up to date on their financial habits and knowledge, using the card itself is very simple. Restrictions entail that you're only allowed to do your shopping at Fingerhut and Fingerhut affiliates – yet the process itself is quick and easy to learn, manage, and put into operation.
Quite a lot of different brands are affiliated with Fingerhut and are available for purchase through a Fingerhut Advantage Shopping Credit Card. The card also has a high LOC, making a decent borrowing amount available at any time.
Fingerhut Offer Summary
You're almost guaranteed to get approved. (See Guaranteed Approval Cards)
It's ideal for people suffering from bad credit scores.
Fingerhut Credit Card has a high line of credit.
High-interest rates, always 19% or over
Only available for use on Fingerhut or Fingerhut Affiliates.
Absolutely no maintenance, opening, or using fee whatsoever.
PRO Tip
What makes the Fingerhut Store Card ideal for people
struggling with bad credit
is its purchasing power and reporting to all 3 major credit bureaus. While not damaging your credit, this shopping card can improve it.
Fingerhut Store Credit Advantages
It provides a simple yet effective way to fix your bad credit score.
It allows you to purchase from a wide net of Fingerhut affiliates.
Everyone can apply, and most likely get approved for Fingerhut credit cards.
Tracking the spending on the card is simple.
The card itself is free to use and maintain.
Fingerhut Store Credit Disadvantages
You are limited only to Fingerhut and Fingerhut affiliates, making it a poor choice as the primary credit card.
Even if the approval rating is very high, the approval time can take up to a few business days.
Card processing may take more than with conventional credit cards.
Why We Like it
Fingerhut store credit serves a legitimate and vital purpose. The most significant appeal lies not only with very high approval ratings but with its sheer versatility and implementation. Designed for people who are struggling with bad credit, Fingerhut serves an instrumental role when it comes to credit improvement. With the rising popularity this card has at the moment, it's only getting better.
It is not a scam and is bound to help you get your credit back on track in no time. It does have certain limitations with its purchasing powers, as you're only allowed to shop at Fingerhut and their affiliates. This issue would pose a problem if Fingerhut's range of affiliations weren't as wide as it is. Fingerhut credit affiliates itself with numerous different brands and the number is only growing by the day. The number of partners and affiliates Fingerhut has will overwhelm you.
It also provides a significant service, which teaches its users how to utilize the services of this card to improve their credit score. While the card reports on-time payments to all three major credit bureaus, it does have a late fee. The interest rates and late fees are both high, yet you won't have to worry about the latter if you pay your debt on time, which is 24 days after closing the billing cycle. It makes for a far more favorable time-frame compared to other providers.
What Can be Better
Like any good thing in life, it can always improve to some extent. Even if the Fingerhut store credit is an essential personal financial tool, it has a long way to go before it becomes an integral part of our daily life.
If the card had a universal application like most of its competitors, it would see more widespread use among the general populace. It has quite a long way to go. The number of affiliates needs to grow, or the application needs to develop further. The acceptance of this card is on the rise, but at this current time, it's not near as wide as we would like it to be.
Improving your credit is easy since the approval rates are very high, but if you're looking to open a millionth credit card, you should be wary. Fingerhut can damage your credit if you misuse it.
Like any other card, we always desire a free price tag. Fingerhut is free to use, maintain, and operate, yet it does have late fees. If you are using this service due to bad credit, and you don't have a good habit of paying your debt on time, this is not a good option for you.
If you have reached a point in your life where you'd like to improve your credit score for better approval rates and other benefits, Fingerhut is the necessary stepping stone.
Usage and Applications of Fingerhut Store Credit
There are a couple of different uses that you can commit to with this card. Since this is a card with a very high acceptance rate, there are certain benefits to picking it as a secondary one. Before you get into the implementation of the card itself, we should discuss the possibilities. Fingerhut offers two different credit options.
The WebBank / Advantage Credit
FreshStart Installment Loan
The Fingerhut Advantage Shopping Credit Card
The advantage card is a card like any other. After applying for the credit card and getting approved, you're allowed to reap the purchasing power of it, and pay off your debt. The acceptance rates on this card make it amazing for rebuilding credit, but we're going to get into that later in the text.
The Fingerhut Advantage Shopping Card is only accepted on Fingerhut and on Fingerhut affiliate websites, which are far greater in number than you might think.
The card itself is not only a great way to build your credit back up from its current poor status, but it's also an excellent way to restrict your purchasing habits. After getting approved for a card and spending money on it, you're going to be able to track your spending on the website easily.
The number of affiliates that Fingerhut has is also incredible, and there is quite a lot to pick from. Fingerhut is known for its higher prices, but it's a fair tradeoff for its essential service.
Fingerhut FreshStart
The Fingerhut FreshStart is an installment loan issued by WebBank. We can consider the Freshtasrt a precursor to the Advantage Card, as you're very unlikely to get rejected from the program, no matter your credit score.
Improving your credit score through FreshStart is relatively simple, as after you've found yourself approved for the program, you can make a purchase. Using FreshStart is a simple way to buy things through the internet. It makes the process quick and simple and improves your credit.
After your credit improved via this "trial" method, you're allowed to apply for the Advantage card or another card. Improving your credit score is Fingerhut's primary purpose, and the FreshStart program is a great stepping stone to take if you're looking for better credit.
Rebuilding your Credit
Building and rebuilding your credit is the primary purpose of Fingerhut store cards and their credit programs. It can not only take up much time but money as well.
Bad credit is created through late debt payments and can be a permanent stain on your credit score. A bad credit score is going to prohibit you from getting additional credit, insurance, loans, and other crucial things in your financial life. It can be a straining and dangerous thing if not handled with care.
Fixing your credit might not be that complicated, though, as there are cards like Fingerhut, specifically designed to fulfill that purpose.
Spending With Fingerhut Store Credit
As mentioned before, Fingerhut's credit options can be used exclusively at Fingerhut and Fingerhut affiliates. Luckily, there are no fees when using credit card transactions.
The range of affiliates that the company has is also very favorable and allows you to shop with brands like Samsung. Fingerhut I known for its steep prices though, so make sure you check other reputable dealers to ensure you're getting the best deal.
While these credit options can help you rebuild your credit, they can also decrease your overall score. Making your payments on time is a priority, and you should always strive for on-time payments.
SafeLine Account Protection
The SafeLine is an insurance type program that Fingerhut offers. This insurance protects you from financial liability in certain situations.
The situations are available on the website. This service is available for people who are suffering from bad credit. It will also assist you in proper payments and even cancel some balances if need be.
You will get a contract after applying to this option, which we suggest you give a close inspection. No good thing in life comes for free, and this program will set you back $1.19 per $100 per month.
What are Other Benefits and Perks?
Since these cards are catered to people suffering from bad credit, most perks are centered around that fact. Some of the perks of Fingerhut Credit are:
No transaction, maintenance, or opening fees
Numerous programs designed to help you start improving your bad credit score
The FreshStart Program, which boasts a virtually perfect acceptance rate
Advantage Card, specially designed for people looking to improve their bad credit
The standard safety features
Free Fico Credit Scores
You can rebuild your finances and credit score while learning more about the topic.
There is an abundance of Fingerhut affiliates. This fact allows you to shop for all kinds of things without paying for them all at once.
High-interest rates, letting you watch your money grow and develop.
Fingerhut Store Credit Costs and Fees
The Fingerhut offers two different membership plans and one service. The Advantage Credit Card, the FreshStart Card, and the SafeLine safety feature. If you're looking to apply for Fingerhut SafeLine, you'll first need to get approved for a credit card. If rejected by the advantage program, you're automatically going to be applied for FreshStart.
After finishing the FreshStart Program and paying all of your bills on time, you can re-apply for the Advantage program.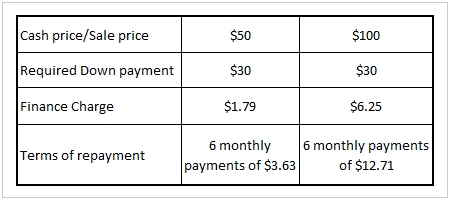 The FreshStart and the Advantage program are free to apply for and use. The SafeLine insurance program comes at the cost of $1.19 per $100 on balance.
3 Main Credit Plans
FreshStart is Free
Advantage Card is Free
SafeLine: Costs $1.19 per $100, which is 1.19 x Your Balance / 100
The Fingerhut Fees
There are no monthly fees
No maintenance fees
And, no annual or membership fees
No overdraft fees
29.99 fixed APR
How Easy Is It to Use the Card?
There is not a store card option currently on the market which can match Fingerhut in its sheer simplicity. It is a well-versed, designed, and manufactured card made for people with bad credit. This particular card is remarkably simple to use. When you're making payments on the Fingerhut website or Fingerhut affiliate websites, all you need to do is input your provided PIN and confirm the purchase. Your account will be charged accordingly, and you're going to get a detailed report on your spending.
People who have trouble controlling their spending can limit it through the Fingerhut website, which takes you through each step. It's a natural process that does not require much to comprehend.
Fingerhut Credit also has another redeeming feature. It will teach you how to utilize it to improve your credit score. Fingerhut Credit is not a card for children or people who are looking to open their fiftieth card, as spending and debt are reported to all three major credit bureaus.
What are Qualification Requirements?
The primary appeal of Fingerhut cards is that everyone is eligible to get one since the approval rates are very high. This feature makes it an ideal option for people suffering from bad credit scores or looking to improve their scores in general. It is an integral tool for your credit card strategy.
There aren't any special restrictions when applying for this credit card service. You need to be over 18 years of age, and hopefully, have a lousy credit score. If you have an excellent credit score or a fair one, you're still eligible to apply for this service.
You need an account with which you can deposit finances to the Fingerhut account, in any case. There are no transaction fees involved in this process. You are required to be a legal US resident who currently lives in the US.
What Do You Need to Provide for Application?
Phone number,
SSN,
Current residential address,
date of birth,
E-mail address,
Monthly mortgage report,
TAI,
SOI.
How to Apply for Fingerhut Store Credit?
The application process is straightforward. It takes only a little bit of your time. After going to the Fingerhut website, click on the Sign-Up button and finish the guided sign-up process. After you've applied to the Fingerhut Advance credit option, your approval should be completed within a couple of minutes. If this process takes longer, Fingerhut might ask for some more information about you.
If you're not approved for Advance Credit Card, you automatically entered the FreshStart program, which works as a precursor to the Advance Credit Card in some cases. The whole process is relatively simple and is immaculately guided by the website. After you've been pre-approved, you can fill out further information to ensure your security.
You have to choose an option with which you will finance the card itself. The possibilities are vast, including: American Express, MasterCard, Visa, Paypal, Most popular e-wallets. The application and approval process is standard – quick, simple, and a definite highlight of this card.
Best Fingerhut Alternatives Available for Application
How to Cancel the Fingerhut Store Credit?
If you decide to cancel your Fingerhut account you should call customer support at 1-800-208-2500 and request cancelation. However, if that does not work, you should send a cancelation request in writing along with a Fingerhut card cut in half to the address below:
WebBank
Fingerhut Credit Account Services
P.O. Box 0260
St Cloud, MN 56395-0260
Level of Security
The level of security with this credit card is often brought into question, as it is available to everyone who is a legal US resident, no matter their current credit score. As the website itself states, they're taking a chance with you. A bad credit score is not a good thing, and Fingerhut strives to help you improve it through its numerous programs and features.
The information is secured via WebBank's advanced encryption, and since the spending is localized within the Fingerhut website, your personal and financial information is as safe as the website itself. There is no third-party access granted to your personal and financial information.
The website is affiliated with some pretty powerful and popular brands, which gives it a deeper level of reliability with the general populace. All of the information is protected through encryption. Transactions are monitored and secured by Fingerhut, and you're often advised to pay your debt on time.
The Bottom Line
Fingerhut Store Credit options are numerous and helpful for rebuilding bad credit. It is an integral tool in every adult's credit arsenal, as having good credit is suitable for both your finances and well-being. Users of the Fingerhut credit options can rest assured that they're getting an honest and straightforward service.
It is a modern tool for modern times. It has a comprehensive implementation process for any struggling bank account. While the service is not available anywhere outside Fingerhut and Fingerhut affiliate websites, it is an excellent service overall. Plus, Fingerhut's potential is only bound to grow with the company's expansion.
Everyone who is struggling with money management will find Fingerhut credit options very appealing. The service itself isn't only there to help you save your money and rebuild your credit. The facility stands to teach and improve your consumer habits, which enhances your standing above all else.
The control is in your hand, and your purchasing power, while limited, is still very expansive. The brands affiliated with Fingerhut are abundant and famous, which makes the company a reputable credit provider. The whole service is completely free of charge – so there is nothing to lose by giving it a shot!
How to Contact the Fingerhut?
Correspondence Address
Fingerhut Support
6250 Ridgewood Road
St. Cloud, MN 56303
Advantage Credit Accounts
Fingerhut
PO Box 70281
Philadelphia, PA 19176-0281
FreshStart Account Credit Accounts
Fingerhut FreshStart
PO Box 70283
Philadelphia, PA 19176-0283
Fingerhut Store Credit Offer Recap
Fingerhut is a provider of quality credit for anyone over 18 who is looking to build up their credit score. It welcomes anyone and will provide a substantial learning curve to any consumer. It will teach you all the basics.
While it can improve your credit score, it can also put a dent in it if you're not careful. You're going to be notified and reminded of your upcoming debts and purchases all the time, which adds to your credit score improvement strategy.
No service can be responsible in your place, though, so do try to pay your debts on time. Since the service is free to use, maintain, and put into action, you might wonder what gives this platform reputability.
The amount of users that use Fingerhut is staggering, and it's a time-tested tool for credit strategies. This platform serves a vital role in your credit score, reporting your payments to all three major credit bureaus.
Frequently Asked Questions