Comparing Greenlight vs Famzoo to help you choose a better option for your kids and teens.
As your kids grow up, you start thinking about giving your kids their spending money. However, this can become a pain and more of a nuisance than anything else. You don't have enough money, such as it is, and you don't want to give your kids more than they need. Since the time comes for every child to learn about financial responsibility and the importance of knowing how to manage cash, you start looking for financial solutions that could solve your problem. First of all, let's get one thing clear – allowance money in cash is a thing of the past.
Famzoo – is best for those who have younger kids, are more sensitive to pricing, and are eager to explore a larger financial knowledge base.
Greenlight – is best for families with teens, who can pay more and are interested in such extra features as an investment.
Table of Content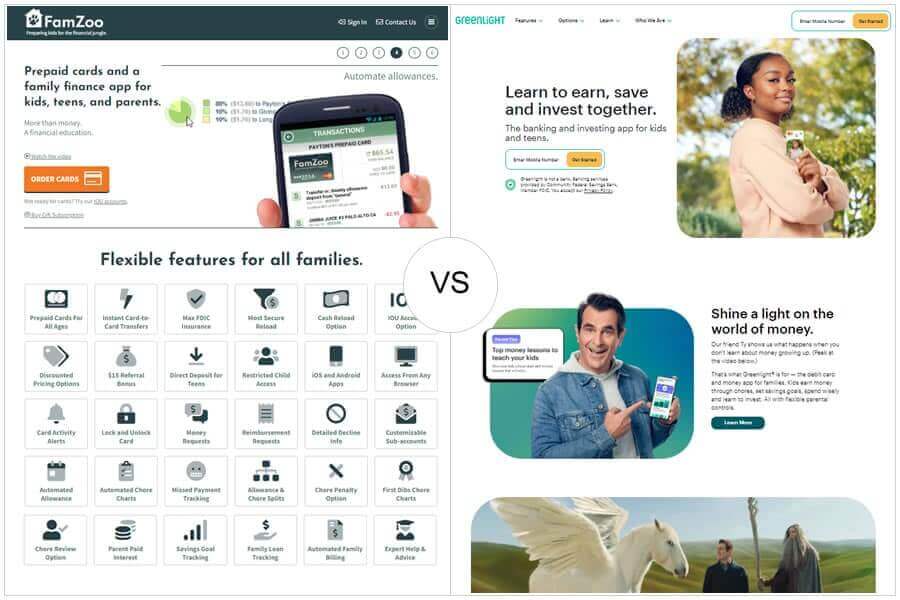 Modern kids are increasingly online – they shop online, play games, use social media networks, etc. Giving them cash doesn't cut it. You need a more modern approach. The solution is quite a simple one, honestly – a new generation of prepaid debit cards specifically created for younger children, tweens, and teens. These are kid-friendly cards that put you in control of their spending. With all this in mind, we're going to make a short comparison of Famzoo vs Greenlight kid-friendly card solutions. These cards give both your child and you control and freedom to learn money management skills and financial responsibility, all the while avoiding the risks of using a credit card.
Famzoo and Greenlight Comparison Table
Famzoo
Greenlight
Available plans
4 Plans: Monthly, 6 months prepay, 12 months prepay, and 24 months prepay.
3 plans: Base, Base+Invest, and Max
Monthly price
$5.99, $4.33, $3.44, or $2.50 – the price depends on prepayment options
$4.99, $7.98, or $9.98 – the price depends on the plan levels
Discount
up to 58% if prepay for 24 months
No
Free trial
Yes. 30 days (card account), 60 days (IOU account)
Yes. 30 days
Kids per account
unlimited*
up to 5 kids
Products
1. Famzoo Debit card account
2. Famzoo IOU Account
1. Base: Debit card + Educational App
2. Base + Invest
3. Greenlight Max (includes Base and Invest)
Prepaid debit card
Yes, Mastercard
Yes, Mastercard
Card customization
Yes, (pricing not provided)
Yes, ($9.99 fee)
ATM withdrawal fee
$0.00
$0.00
Account reload options
Direct deposit, bank transfer, Mastercard rePower, Google Pay, Apple Pay, Samsung Pay
Direct deposit, card transfer, Google Pay, Apple Pay, Samsung Pay
Real-time alerts
Yes
Yes
Saving goals
Yes
Yes
Money requests
Yes
Yes
Best for
Kids (up to 8 yr, but suitable for all ages)
Teens (8-18 yr, no minimum age)
Summary
Lower priced, fewer members per account, larger knowledge base, suitable for all ages
More expensive, more members, have invest option, suitable for teenagers better but no age restrictions
More information
Famzoo Mastercard, Famzoo Review
Greenlight Mastercard, Greenlight Review
Claim this offer
Claim this offer
*Greenlight supports more than 5 kids. You just have to pay a ONE-TIME $3 fee for each additional card after the 5th card to cover shipping
Famzoo and Greenlight Kid-Friendly Financial Tools
Sooner or later, your kids will start using plastic at some point. Since it's inevitable, it's better to get them started on using a debit card. With both the Famzoo and Greenlight debit cards, your kids can only spend the amount that's on the card. There are no additional charges or an overdraft fee. Using debit cards is one of the best ways to teach your children how finances and transactions work. Both debit cards are application-based and come with a range of great features that traditional debit cards linked to checking accounts don't offer. The specifics vary from company to company, but all kid-friendly debit cards allow parents to:
Load means from anywhere, any time
Set a limit on how much their kids can spend and where
Enable or disable ATM withdrawals
Turn off the card
Automate allowance payments
Monitor all finances and transactions on the debit card account
PRO Tip
Despite the fact that kid-friendly debit cards are designed to have just a few or no fees other than the monthly or annual service fee, we recommend that you make your comparison before you do anything to find the best solution for your needs and budget.
The FamZoo Debit Card
The thing with the FamZoo debit card is that it comes with a kid-friendly learning curve and an educational component. It's a prepaid card that's also an informative and educational tool. It teaches your children about managing money responsibly. Since this isn't an easy thing at all, parents need an effective and easy-to-use solution they can control completely. Well, this debit card is all that and then some. With it, parents control how and when the card is used, the bill and the amount spent, monitor transactions, and so much more. Parents get complete control over the flow of money to and from the card and teach their kids good money managing and spending habits.
What Is the FamZoo Debit Card?
FamZoo is a prepaid card company on a mission to teach young kids, teens, and tweens the fundamental principles of responsible financial behavior and money management. The company has dealt with kid-friendly prepaid debit card solutions since 2006. The reason for this is a simple one – no other financial institution offers kid-friendly solutions but rather only adult-centric solutions that lack the learning curve and simply aren't designed for families. FamZoo was founded to better communicate the concept and allow families and their children to become educated and experienced consumers. It's a safe and secure prepaid debit card that provides all the necessary financial compliance a family needs.
How it Works
With this debit card in your hands, you are the bank for your children. The company has its own network of prepaid cards that families acquire through subscriptions. Each family gets a primary debit card, which they control completely, and a number of additional cards for the kids. The primary card is in charge of the additional cards, and it funds all other cards. Parents can load the additional cards anytime, anywhere. Each additional card comes with its account, and routing number parents can use to set up bank transfers and direct deposits. Each child can receive several cards they can use for different spending goals.
The cards don't require a credit check and include the one-time shipping fee and per-family subscription fee. If the family takes four cards, there are no additional fees. Reloading is mostly free, but there are banks that charge a fee for reloading. The company also offers several different plans to save by reducing the subscription fee.
PRO Tip
You can save additionally by paying in advance as it provides the most savings.
The FamZoo Bank
Parents hold all the cards and decide whether to add money to the primary account. They can use several funding sources to do that. However, the biggest advantage is the ability to set up different rules to load money onto the additional cards. Parents can either set up automatic payments or do it manually. In case they need to react if the child incurs a penalty, they can also move money from the card back to the account and deduct the amount from the total amount on the card. They can also split recurring payments to different accounts via the Split Credit feature to teach their kids the importance of saving money.
To view and control transactions, parents can use the FamZoo mobile app and website, with the website being more transparent than the app. The site is fully mobile compatible for both Android and iOS users. Parents can even email or text commands to FamZoo to check the status, transactions, and so on.
FamZoo Products
FamZoo offers two products – IOU Accounts and Prepaid Card Accounts. The latter product includes four cards you can get for free, with monthly fees varying depending on your payment plan. If you need more than four cards, additional cards include a shipping fee. IOU Account allows you to track your funds that are deposited elsewhere for your kids. All FamZoo prepaid cards are FDIC insured.
4 Famzoo Features that we Like Most
One fee. The whole family (up to 4 cards free) pays one monthly fee and gets an extra discount if they choose to prepay for 6, 12 or even 24 months.
The unlimited number of kids. There is no limit of kids per account. Initially, you get 4 free debit cards, then $3 per additional card (as many as you need) to cover shipping.
More ways to load. The card doesn't require a bank account and has more ways to load the account
Advanced knowledge base. The account comes with a learning curve that helps kids learn about spending responsibility and money management
The Greenlight Debit Card
Similar to FamZoo, Greenlight also offers debit cards for kids. Parents have all the control over how much kids can spend and where they can spend it. These debit cards benefit both parents and kids. Parents get a safe and easy way to control the funds they give to their kids, while children learn all about how to spend money on their own.
What Is the Greenlight Debit Card?
Just like its counterpart, the Greenlight card is a prepaid kid-friendly card that comes with a learning curve and serves as an educational tool that parents use to teach their kids how to spend money responsibly and more wisely. The money flow and the transactions are controlled on the mobile app. Parents can manage, monitor, and control all card transactions through the app, set up recurring transfers, list chores to check them off, and pay. The card provides the following tools:
Instant money transfers to your children
Turn the card on and off
Receive notifications for each card use
Store-level spending control limits your child's spending to specific stores
Parents paid interest to teach kids how savings work
Set savings goals
Enable and disable ATM withdrawals
Limit withdrawals
Employed kids can directly deposit into the account
Weekly and monthly allowance payments for saving, saving, and spending
Chores management
PRO Tip
The Greenlight debit card is a Mastercard, which means that it can be used for in-store and online purchases, and anywhere else Mastercard is accepted, including in conjunction with both Google Pay and Apple Pay.
How It Works
Greenlight offers kid-friendly debit cards that you can use for one month for free. After the trial period, there is a monthly fee. The company offers up to 5 cards per family. There are no foreign transaction fees, inactivity fees, fees for contacting customer service, requiring a balance at an ATM and withdrawing money, or making purchases. There is only a shipping fee for a custom card that's completely optional and a card replacement fee that is charged only if you want expedited delivery. You can avoid all other fees except for the monthly fee if you never lose your card or don't require a custom card.
RELATED: Greenlight vs Current
Greenlight Features that we Liked the Most
Chores management. Greenlight debit cards come with a range of features, but we find chores management to be the most interesting one by far. Parents can set up one-time and weekly chores programs. The kids need to complete these chores in order to earn rewards or allowances. Aside from being an excellent and useful way to motivate kids to start earning their share, this feature teaches kids about the link between compensation and work, as well as responsibility and what it means to be organized.
Round-ups savings. Spending round-ups is also an excellent feature that teaches kids about savings. Parents can set the round-up purchases to the next dollar, automatically allocating any change to savings. There is also a referral bonus. If your child refers a friend to a Greenlight debit card, both the person referred and your child will receive a $10 referral bonus.
Summing up FamZoo vs Greenlight
While both debit cards have their advantages, we have to say that our favorite is Famzoo. It provides better control over your kids' spending while it also teaches them about money management. And, there is no limit of kids per account.
On the other hand, Greenlight is also an excellent app that comes with good features and includes only a few fees.
It all comes down to your personal needs, the number of cards needed, service levels wanted and of course the budget.
If your kids never used debit cards before, we recommend you go with FamZoo. If you have a teen who is 8 to 18 years old, Greenlight is a more suitable solution for their needs.
Alternatives to FamZoo and Greenlight Debit Cards
In case you need more options to make an informed decision, we can name a few alternatives to FamZoo and Greenlight debit cards for kids that offer plenty of great features and don't include too many fees. These alternatives include:
The Bottom Line
So, what did we understand by comparing Famzoo vs Greenlight? Apparently, kid-friendly debit cards have built out an entire ecosystem through financial tools like specialty accounts and prepaid debit cards. These tools enable, empower, and encourage parents to start controlling and monitoring how their children manage and spend money. They provide total parental oversight that helps teach your children how to develop good money managing and spending habits. That aside, these debit cards are also a more modern approach that kids will know to appreciate, as it matches their spending persona and preferred method of shopping. In other words, both FamZoo and Greenlight provide an exceptional value for parents who aspire to instill good spending habits in their kids, and it's a matter of little things and your personal environment which of the compared offers is better for your current needs.