FamZoo Review
FamZoo service comes with an established ecosystem through which parents can teach their kids to be responsible with their money. At the same time, parents have the option to track their spending and act in case they notice red flags. It is a very modern approach that makes the whole process easier for parents. At the same time, kids quickly get the hang of things like digital payments and debit cards. Parents who have older kids (teenagers) can make great use of FamZoo IOU account or debit cards to teach them proper money management. All features give a lot of variety and control. It can be difficult for modern parents to get their children's attention from smartphones, TVs, social media, and video games. This is where FamZoo exceeds expectations and brings personal finance into the digital world. In a way, the whole thing is presented as a teaching game that offers interactive elements. It is worth trying out. With the 60-day trial period for IOU account and a 30-day trial for a prepaid debit card, there won't be any harm done even if you don't like it.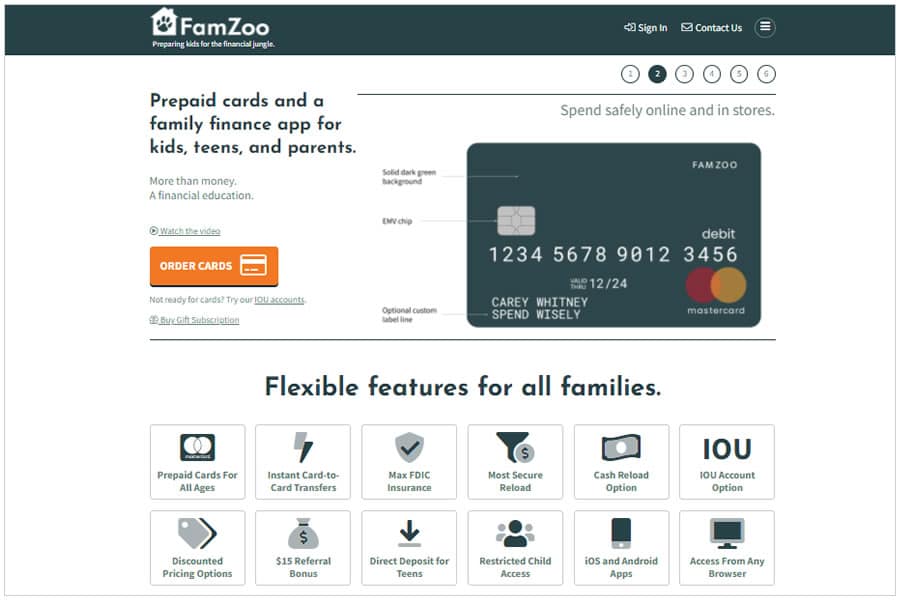 FamZoo offers its own variation of teen debit cards and is designed for the whole family to use. All parents need to teach their kids about personal finance and money. It's what parents can do with IOU or a card. After all, it's important to learn about personal finance at an early age. That is how people develop good habits that they will retain throughout their adult life. It allows kids to manage finances practically and learn from this whole experience. This is not just an account, but a virtual bank for the whole family. Also, FamZoo allows parents to take the role of bankers while their children are their customers.
What is the FamZoo?
The FamZoo is offered for kids from preschool age and up to college students. However, kids don't use the account on their own, it is managed by parents. All families have the option of using FamZoo IOU or up to 4 debit cards for a membership fee. A single-family needs one membership account, and one of the parents is the main account holder. That parent transfers all the money to the account of their kids. No matter what age they are, children can also have sub-accounts of their own.
RELATED: Famzoo vs Greenlight
Both children and parents can use the FamZoo mobile app or website to track their savings and spending. It is build to help parents teach their kids about financial responsibility and how digital payments work. Along with their services, FamZoo offers up to 4 customizable prepaid debit cards that are stored value cards and don't drain the checking accounts of parents or charge additional overdraft fees. With these prepaid cards, parents have absolute control over their spending. You won't get into a situation where your kid makes a thousand-dollar bill you can't afford. Tracking all transactions on a daily basis is simple and easy. Control the way your kids are using their money and make sure that they aren't developing any bad habits.
What Are 7 Key Features of the FamZoo?
The whole family can get prepaid cards (up to 4 per account).
No matter what package you get, you get a flat monthly fee without transaction charges.
The financial transactions can be tracked on each card individually.
Cards are free unless you get over 4. From that point, each card requires a $2 shipping fee.
Doesn't have any hidden or overdraft fees.
Free ATM and card loading.
No credit check is required.
PRO Tip
What's unique about these prepaid cards is that they can be used to divert money to other accounts. Users can create different categories for giving, investing, saving, and so on to easily separate all the spending.
What are FamZoo Advantages?
It is legit. First of all, FamZoo cards are legitimate, and they really work. They aren't a scam or a toy designed to fool people around. If used properly, FamZoo cards can, in fact, help you teach your kids financial responsibility and make it easier for parents to track their spending.
Available for everyone. Every family member can have a prepaid card and an IOU account.
Has a free trial. free trial for IOU account is 60 days, thus for debit card ic 30 days.
Many users & community. The legitimacy of their service is also reinforced with a lot of active users. It's very important, as you can see whether a certain service is legitimate or not by the number of users. FamZoo cards are used across the United States, and there is a large community around it.
Financial knowledge. Allows young children to start learning about financial responsibility by using a lot of resources provided. It has a lot of features that can be a bit overwhelming, especially for people who haven't used these kinds of services. A large community means that you can find many guides and lots of advice on how to use FamZoo right away.
Large Facebook group. We like the fact that there is a private Facebook group where parents can share experiences and help each other. Additionally, the company's team is also active, and they post tips and important feature updates to make sure all their users are up to date.
Easy to use. The account is made the way that it's very easy to use for both – parents and kids. Not only that, this service improves your ability to teach kids about money, but it also makes the whole process a lot easier. For example, we particularly loved that you can automate all individual allowances for every card so that you don't forget to give some money to each of your children.
What are Famzoo Disadvantages?
Not free. Even though it's an effective way of teaching kids about finance, it doesn't come for free.
Way too many features. Even though both the website and the app are mostly easy to use, they can be confusing at times. This goes along with the abundance of features available. Simply put, there are a lot of options you can choose from, adjustments you can make, and numbers you can track.
Confusing for first-time users. When you dive into the whole system as a new user, all of this can be really confusing. Navigation can be complicated, and you might have to start things over. It's our general impression that users need to take it slow with both the app and the site. Learning to use the basic features and getting to know the whole system is essential. After you've done that, you can continue to explore other options.
Might not be suitable for everyone. Every family has its own rules and ways of managing money. Simply put, not every family will be able to fit in FamZoo in its methods. Still, it's worth trying out the tool and exploring its options. At first, it might seem it's not for you, but after a while, you can start discovering the benefits.
Not all activities included. All transactions that don't come from FamZoo cards need to be added manually.
Famzoo Usage/ Applications
Each of the FamZoo plans comes with prepaid debit cards and IOU accounts. To know how to use them properly, you need to understand what they are.
Explaining IOU Accounts
IOU accounts are digital platforms that allow you to track how much money your children are spending. In a way, IOU accounts are like checking account ledgers that allow you to keep the account balanced. Multiple IOU accounts don't transfer money between them. All of the funds need to be moved from current bank accounts. All of the transactions made outside of a FamZoo card need to be added manually. You can link as many debit cards you want to the IOU account, and this is how transactions will be automated. IOU accounts can be created by both parents and kids for various goals. You can create several spending accounts to build your own cash envelope system. On the other hand, you can create three accounts for different purposes:
Charity
Savings
Spending
FamZoo Prepaid Cards
IOU accounts are there to help you teach kids how to create their own spending plans. However, they need to apply what they learned, and they can do this through FamZoo debit cards. It's important to understand that prepaid debit cards aren't the same as typical debit cards. When a purchase is made through these cards, they don't withdraw money from a tied checking account. They have a balance that limits spending to a certain amount like gift cards. However, these debit cards don't require credit checks when applying for them.
It's important to mention that your activity with these cards doesn't have an effect on your credit score. Anyone 13 years old or older can get one. Additionally, parents can get these debit cards for kids under 13 if they want, and they need to be present during the process. The first ordered card is the primary one, so whenever the balance is added to a child's card balance, the amount is pulled from this card.
Spending With FamZoo Cards
These debit cards can be used at most online or physical stores. There are no fees for credit-type transactions. With in-store purchases, it's also possible to get cashback. Whenever a purchase has been made through a card, a parent is notified of the purchase. This makes it easier to track spending. Additionally, parents have the option to freeze their kid's cards and unfreeze them whenever they like.
Using FamZoo Cards
The best way to use these debit cards is within their ecosystem. Teach your children to use them at the ATMs that support them, which is why there will be no withdrawal fees. Additionally, make sure to transfer money on their cards through your FamZoo cards to ensure you aren't losing any money. However, there are banks that have fees for external transfers. If this is the case with your bank, go with a direct deposit enrollment to avoid the fee. There are money transfer services that allow you to do this for a smaller fee.
Other Benefits and Perks
Since Famzoo is designed to help you teach children how to use money, most of the benefits revolve around the 2 main areas:
Teach kids financial skills
Save families time
No need for kids to ask you for money constantly.
Kids will know their spending limits and whether they can get something.
You will know exactly how much you gave to your children, how much they spent, and on what.
Your kids will learn how to use cards, use PIN codes, and buy things themselves.
They will learn about sales taxes.
You can reward your kids with additional balance for good behavior.
In case of an emergency, you can add to their balance instantly.
Kids can't lose cash. If they lose the card, you can lock it right away.
Famzoo Plans and Fees
FamZoo offers four types of membership plans, all of which come with four debit cards. If you want additional cards, you will have to pay $2 for each.
Plans
Monthly plan: costs $5.99 per month and is billed every month.
6-month plan: billed $25.99 every 6 months – $4.33 monthly price.
1-year plan: billed $39.99 every 12 months – $3.33 monthly price.
2-year plan: billed $59.99 every 2 years – $2.55 monthly price.
Plans are flexible, and users can switch between them by contacting the company.
Fees
No annual fees apart from the plan. (See more No Annual Fee Cards)
Incidental fees are charged in extreme situations.
No overdraft fees.
Inactivity fees is $0
No reload fees for FamZoo transfers, digital wallets, and direct deposits.
$3 foreign transaction fee. (See No International Transaction Fee Cards)
ATMs out of the network will charge you fees (the charge depends on the ATM).
No ATM withdrawal fees for devices within the network.
Reload Fees
It's important to understand that there are reload fees if you use certain services:
$0 – $3 bank transfer fees (charged by a couple of banks only).
$0.95 fee with PopMoney.
$4 – $6 fee with MoneyPak, GreenDot, the Register, GreenDot, and MasterCard repower.
What are Qualification Requirements?
The beauty of FamZoo is that almost everyone can get them. There aren't any real requirements set by the company. Every family that can pay for their membership can get their own sets of cards or IOU accounts. It doesn't matter what kind of cards you are currently using or whether you have a good credit score or not.
The family gets a single main account that acts as a bank. All kids get sub-accounts that are linked with the main account and their cards. Kids age 13 or higher can get FamZoo debit cards on their own. On the other hand, if parents want, they can give their permission for their kids to get cards even if they are younger than 13. Of course, parents should have a bank account through which they can add money to their main account and distribute it to their kids. The main account holders (parents) need to be at least 18, and they need to be US citizens that currently live in the country. You also need to provide your social security number, current address, and date of birth.
FamZoo Competition
How to Apply for Famzoo?
To sign up for your prepaid card, simply go to the official website and click on the "sign up" button. Here you will first be asked whether you just want to open up IOU accounts or you want prepaid cards as well. Make sure to check the credit cards to get them. You will be asked to add your family name and your personal name. From there, the procedure is quite standard – you will be asked to add your login credentials, email address, and phone number for your main account.
You will also have to choose your bank so that you can add money to your main card and a funding option. The options include PayPal, American Express, Mastercard, and Visa. Once you've finished doing this, you will be able to order cards. You will receive the cards in about a week via mail. All of the cards are activated online, and you can set the PIN for them individually. The process is quite simple, like with any other debit card. It will last several minutes, and there is nothing complicated about it.
Level of Security
Neither the FamZoo website or their app holds personal information about its users. Prepaid card accounts are linked with TransCard, and all of the information is stored there. This credit card processor is endorsed by Mastercard, and they have the latest security layers.
However, the biggest worry for most parents is how the kids will use their cards. For younger children, many users of prepaid card service recommend that parents hold their children's cards with them. Make an effort to show them that you're buying their things with their cards.
This is how you can slowly develop their financial consciousness. When they are ready, you can give them their cards and see how they will use it. Remember that it's up to you as a parent to explain to your kids how they need to use their cards in a safe manner.
How to Contact FamZoo Company?
Phone Number: N/A
Founder & CEO: Bill Dwight
Headquarters Location: Palo Alto, California, USA
Online Contact Form: here
Community: Members Community
FamZoo Login: Sign in to your account (for members & family). If you want to register – click here
The Final Word
FamZoo is basically a virtual bank for the whole family. Through the main account, parents can give money to their children. At the same time, they can monitor how the kids are using their cards, what they are buying, how, and perform various actions to control their behavior. Instead of letting your kids make many financial mistakes that you did, these debit cards can help them develop financial responsibility at an early age. You can get up to 4 cards for your kids for free. The cards are mostly free of any fees, and using them isn't expensive in any way.
The pricing for this service is pretty straightforward. You pay a fixed amount for a certain period of time, depending on the package you choose. The platform comes with various features that can help you automate, analyze, and track your children's spending habits and keep yourself up to date. With 90 days free trial you have nothing to lose.
Frequently Asked Questions