Comparing Current Versus Greenlight Financial App
Current and Greenlight are two well-known and trusted financial institutions that provide a range of useful services and products for customers. Both companies offer debit cards for kids. Their products for kids come with user-friendly tools for parental control that parents can rely on to teach their children a thing or two about spending and the importance of smart banking habits. Their debit cards are best referred to as training tools that help your kids learn a lot about financial responsibility, money management, and good spending habits. The cards encourage transparency for spending, limits, transactions, and financial literacy for both kids and parents.
Greenlight – is the best choice for those who are interested in more than just saving and spending. The Greenlight offers a financial learning center, investment options, cash back rewards, card personalization, and a VIP status card. There are no age restrictions and it cost more than the Current.
Current – is best for families with kids over 13 years old. It's a great online banking option and financial tool to teach teens about everyday spending, savings, and responsibilities.
Table of Content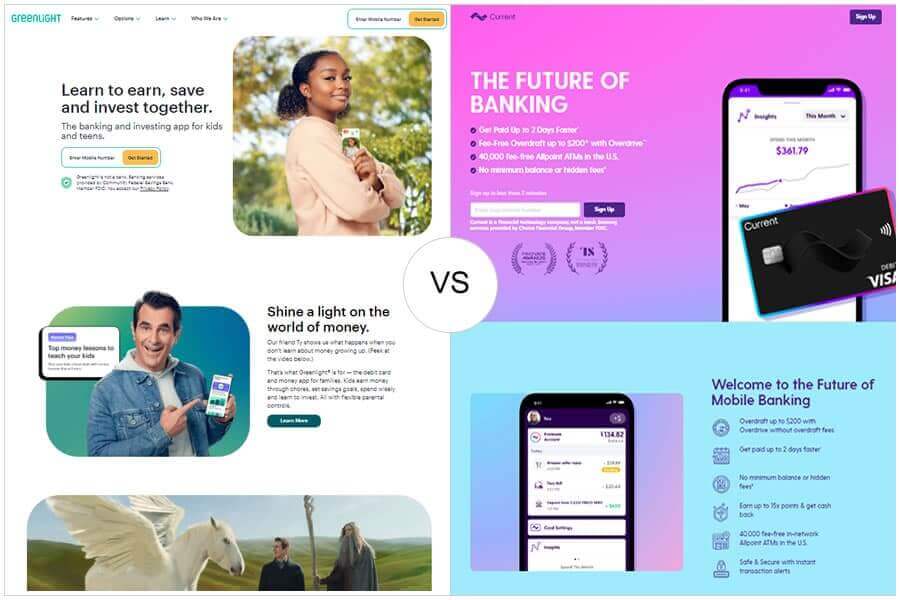 Detailed Comparison Table
Current
Greenlight
Company Behind
Finco Services, Inc.
Greenlight Financial Technology, Inc.
Founded
by Stuart Sopp, June 2015
by Johnson Cook, Timothy Sheehan, 2014
Banks With
Choice Financial Group
The Bancorp Bank
Metropolitan Commercial Bank
Community Federal Savings Bank
Business Category
FinTech
Banking Services
FinTech
Financial Services
Virtual Card
No
Yes
Physical Card
Yes, Current Visa
Yes, Greenlight Mastercard
Custom Card
No
Yes, $9.99
VIP Card
No
Yes, Black. Bold. Modern. For Max Kids.
Deposit Options
– Direct Deposit
– Bank Transfer
– Direct Deposit
– Bank Transfer
– Debit card
Best Suitable
Teens (13 years old and up)
Kids and Teens (No age restriction)
Plans
3
3
Investing
No
Yes (Needs plan upgrade)
Savings
Yes (4% APY)
Yes (up to 2% plus Parents Set/Paid)
Checking Account
Yes (Basic, Premium)
Yes
Rewards
No
Yes, 1% Cash back
Spending Goals
Yes
Yes
Allowances
Yes
Yes
Chores
Yes
Yes
Financial Education
No
Yes
ID Theft Protection
No
Yes
Cell Phone Protection
No
Yes (Limit to 5 kids)
Apps
App Store, Google Play
App Store, Google Play
Contact Email
support@current.com
support@greenlightcard.com
Customer Service
(888) 851-1172
(888) 483-2645
Support Availability
24/7
24/7
Opening Minimum
No
No
Foreign Transaction Fee
Yes, 3%
No
Mobile Payment Options
Apple Pay
Apple Pay
Samsung Pay
Google Pay
ATMs
55,000+ Fee-Free Allpoint ATMs
55,000+ Fee-Free Allpoint ATMs
ATM Fees
In-network: $0.00
Out-network:$0.00
In-network: $0.00
Out-network:$0.00
FDIC Insured
Yes
Yes
Years in business
7
8
Number of Employees
100+
250+
Address
217 Centre St Ste 180
New York, NY 10013-3624
303 Peachtree St NE STE 4300
Atlanta, GA 30308-3266
Review
–
Greenlight Review
More
Current Visa Debit Card
Greenlight Debit Card for Kids
Comparisons
Current vs Extra
Greenlight vs Famzoo
Claim this offer
Claim this offer
One of the important similarities that both debit cards for kids share is that both financial instruments have almost the same parental controls. Each debit card comes with a user-friendly mobile app that gives parents total control over their kids' card accounts and spending limits. Parents get to decide the daily amount their kids can spend and choose the retailers where they can shop. However, there are a few differences that you should keep in mind when making a selection. Below is a quick breakdown of how both debit cards work.
Greenlight Debit Card for Kids
Greenlight debit cards for kids are perfect for teaching your young ones about investing, giving, saving, and earning. The company's cards provide your kids with access to three separate accounts for giving, saving, and spending. The savings account is quite interesting as it can earn interest that the parents pay. Parents decide on the percentage they are willing to pay on the first of each month. The cards come with full parental control features that allow them to:
Turn the card on and off;
Determine the places where their kids can use the card;
Track their kids' spending;
Set up purchase roundups to motivate their kids to achieve savings goals.
Greenlight debit cards also provide parents with access to Parent's Wallet. This feature allows you to add money to your kids' cards using your debit card or bank account. You can either allow your children to transfer money or set up automatic weekly transfers.
Current Debit Card for Teens
As an online bank, Current also offers debit cards for teens. Parents have complete control over the card's usage by using a mobile app to track their teens' daily spending and determine where their kids are allowed to use their cards. With the Current debit card, parents have the liberty to decide on how much their kids can spend daily and set up automatic transfers to add money to their kids' accounts daily, weekly, bi-weekly, or monthly.
Current provides two accounts that your kids can use for saving and spending. Parents can set savings goals for their kids using the Savings Pods features. There's also an option to set up roundups to save the difference on the nearest dollar with each transaction. In addition, Current also allows parents to set a daily spending limit and turn the card on or off.
Similarities: Greenlight vs Current
Even though there are fundamental differences between the two debit cards, there are also quite a few similarities worth mentioning:
Both services offer user-friendly mobile apps;
Both debit cards provide options for intuitive money management;
Parents can set up spending limits, savings goals, and allowance transfers according to their needs;
Both debit cards give both parents and kids a decent level of freedom to make better, smarter financial decisions.
If you don't want your kid to spend all their money on Amazon shopping or gaming, you can influence their money management and spending decisions by setting limits.
While Current is compatible with Apple Pay only, Greenlight works with Samsung Pay, Google Pay, and Apple Pay. Both cards have no initial deposit requirements and allow users to accumulate small amounts of money.
Subscriptions, Plans, and Fees
Current
Greenlight
Plan 1
Teen Banking
Free
Greenlight
30 days trial
$4.99 per month
per family (up to 5 kids)
Plan 2
Basic Checking
No Free Trial
$4.99/ month

Greenlight + Invest
30 days trial
$7.98 per month
per family (up to 5 kids)
Plan 3
Premium Checking
No Free Trial
$4.99 + / month
Greenlight Max
30 days trial
$9.98 per month
per family (up to 5 kids)
Differences: Greenlight vs Current
Here is a list of the most significant differences between the two services you should keep in mind before deciding which one to choose.
Greenlight allows you to invest. Compared to Current, Greenlight offers two fantastic features that parents can use for investing. With Greenlight Max or Greenlight+, parents get the option to teach their kids about money management by investing small amounts and earning interest.
Greenlight offers more security. With the Greenlight Max plan, users get quite a few protections, such as Identity theft protection; Cell phone protection (limited to five kids); and Purchase protection.
You can add money to the Greenlight kid's account using your debit cards. Current allows you to reload and fund your kid's account with your bank account. On the other hand, Greenlight offers more flexibility by allowing you to use both your bank accounts and debit cards to fund accounts.
While current is for teens only, Greenlight is for all ages. Greenlight has no age requirement, while Current requires your kid to be at least 13 years to qualify.
Current doesn't require minimum/maximum balance. While Current doesn't require a deposit minimum or maximum, Greenlight has a few requirements, such as making an initial deposit to your Parent's account and a minimum deposit that ranges based on whether you're using a debit card or a bank account.
Current and Greenlight Ratings and Reviews
| | Current | Greenlight |
| --- | --- | --- |
| Trustpilot* | 4.0 stars (1,994 reviews) | 4.2 stars (3,740 reviews) |
| Apple Store* | 4.7 stars (120K ratings) | 4.8 stars (219K ratings) |
| Google Play* | 4.6 stars (131K ratings) | 4.1 stars (18.1K ratings) |
| BBB Ratings | B | – |
| BBB Accreditation | Not BBB accredited | – |
| BBB Reviews* | 1.54 stars (56 reviews) | – |
| MarketProSecure | 4.0 stars (16 reviews) | 4.3 stars (142 reviews) |
| Review it | Review Current Visa | Review Greenlight Mastercard |
| | Try it | Try it |
* – ratings and reviews as of evaluation time. Subject to change daily.
Bottom Line
After comparing Greenlight vs Current we can confirm that both offer excellent services and products for teaching your kids about the importance of money management. Which one you choose depends on your money management preferences.
Current is an excellent choice for parents who just want to provide their teens with some money for shopping, gas, lunch, etc. Current has no activation fees, no transfer fees, no overdraft fees, no minimum balance, and a low annual fee.
Greenlight, on the other hand, comes with a higher price than Current but provides more options for teaching your kids valuable lessons on money management, such as educational content on how to earn interest, among many other things.
Other Similar Offers and Alternatives
Frequently Asked Questions