Comparison Table
#1 Freedom Gold Shopping Card
The Freedom Gold Card is a card that is focused on giving individuals an opportunity to buy what they want within an online outlet. There are no interest charges and for a small membership fee, members receive much more than the opportunity to shop. The Freedom Gold card gives its cardholders an unsecured credit limit regardless of credit status. The card issuer guarantees approval gives a generous limit, does no credit check, does not check employment, and the online application is fast.
Basically, this card gives its cardholders the opportunity to have some spending power without having to own an actual credit card. This spending power takes place within the online store that has merchandise available that individuals may not be able to obtain otherwise without the card. The card gives members the opportunity to buy name brand merchandise without having to pay full price upfront.
How It Works
How it works is rather simple. It starts when you activate your account and you are automatically enrolled in the monthly benefit plan. The issuer is Horizon Card Services and they provide a generous card limit, prescription benefits, privacy protection, roadside assistance, and legal assistance benefits. There is a membership fee that is paid each month and it is low. It is auto-debited from the credit or debit card on file so that cardholders do not have to worry about remembering to make their payments. All cards that remain active on the monthly benefit plan do not have to pay the monthly card maintenance fee.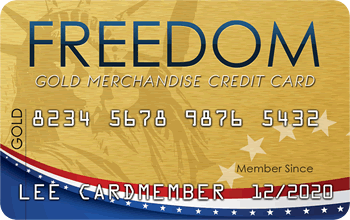 Card Details
Credit Needed
Bad Credit OK
Snapshot of Card Features
$750 Unsecured Credit Limit (Usable only at The Horizon Outlet)
Instant Approval*
No Credit Check
No Employment Check
Fast online application
Bad Credit OK
Late Payments
Accounts are considered in default when the payment is made late or if the terms and agreements are ever breached for any reason. If the account is in default, Horizon Card Services may demand the entire unpaid balance.
In the case that a payment is returned due to insufficient funds, there is a fee for returned debits or checks the second time the payment is returned. If the payment never goes through, then the payment is going to be considered late. If the payment is considered late, then the consequences of a late payment may apply. The company may take one of several actions with one of them being the member being required to pay the entire balance that they owe all at once.
You will be billed electronically or by paper each month for the minimum payment due on the card. If members choose electronic billing, then the bill will be sent to the email address on file each month. This is a way to secure your account because a lot of identity fraud occurs because individuals steal statements from mailboxes.
Fees And Rates
There are a number of fees and rates to be aware of. The financed amount is equal to open balance that is on the card. There is not APR on purchases, so you do not have to worry about there being any interest.
There is a shipping and handling charge for the items that are purchased in the outlet and those fees must be paid prior to the item being shipped. These fees vary based on where a customer is located. There is also a processing fee that varies per item purchased. This is charged in addition to the delivery signature verification and store residential delivery charges that are accrued from the order.
When the account is opened, there is a small Card Issuance and Account Validation fee that is charged to the account. There is also a monthly maintenance fee, but this is waived for active Horizon Card Services members. Horizon Card Services members are those paying the membership fee each month to take advantage of member benefits, such as prescription discounts, legal assistance, roadside assistance, and other deals that are made available to members.
After applicable fees are paid, there is a minimum monthly payment that is required to keep the account in good standing. As long as the account remains in good standing, cardholders are able to take advantage of all of the benefits available to them and will not be required to pay the balance in full or risk monies being paid for other items being applied to the late payment.
Fraud Protection
Fraud protection is an important quality in a card because it means that a person is going to be protected in a specific way in case the card is used fraudulently. Fraudulent use is defined as the card information being used fraudulently. A person may use it to make a purchase or they may use it fraudulently in some other way.
If that is the case, Horizon Card Services fully cooperates with law enforcement to ensure that the matter is taken care of. If a person believes that their personal debit or credit card has been fraudulently charged for application or processing fees, Horizon Card Services vows to make every effort to find a resolution. Before any action can be taken, however, the police report has to be mailed to the card company that details the alleged fraudulent activity. The portion of the account statement showing the date and the amount of the charge must also be provided. It takes approximately two weeks for a resolution to be reached.
To ensure that the card is not used fraudulently, it is best to keep an eye on the account online. Always check your statements carefully. The same applies to any debit or credit cards that you have on file with Horizon Card Services. While the card company does not share the debit or credit card information of its Freedom Gold card members or any of its members with anyone, being cautious can protect you and the card issuer. (Related: ID Security Tips)
Final Word
The Freedom Gold Card is a merchandise shopping card that gives its cardholders spending power, while also giving them a number of other benefits that will save them money. When looking for a way to buy the merchandise you want without having to pay interest or pay all at once, this is a way to go about it.