4+1 Key Things About The Point Debit Mastercard – Best for, Cons, Pros, Difference and Competition
The Point Debit Card is a great card if you are into cash-back rewards. It's issued by the LendingClub Bank in association with Point. It comes with some attractive perks, including an estimated yearly value of $1,180, the Point app for smartphones, and two free ATM withdrawals per month. Due to the unique cash-back program, this card is perfect for people frequently using food delivery and rideshare services.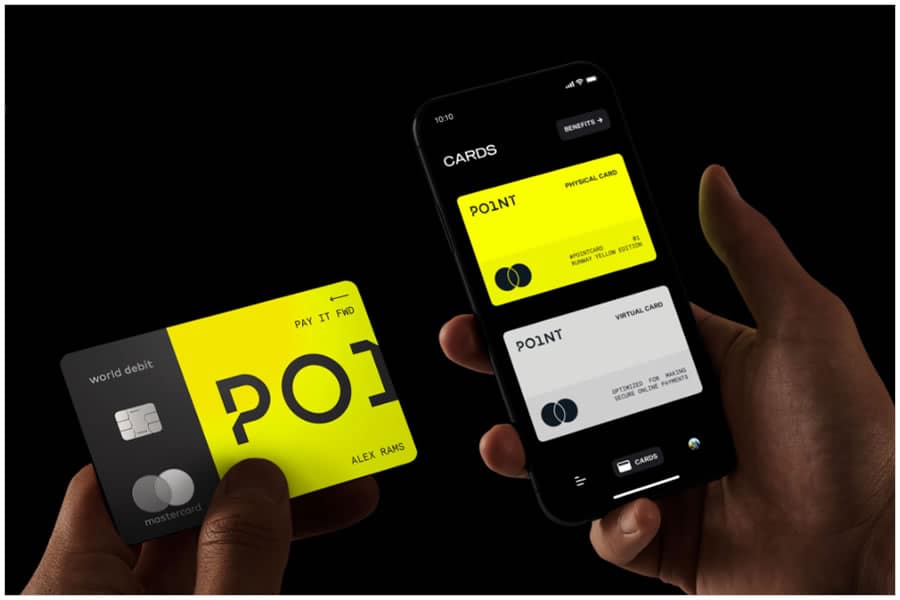 Best for…
When you can't qualify for a credit card;
When you have many active subscriptions;
If you are frequently using services such as rideshare and food delivery;
When you want credit card rewards but can only afford a debit card;
When you don't want to worry about interest rates and debt.
RELATED: What is Point Debit Card?
Point Debit Card Advantages
If you decide to get the Point Debit Card, you'll also get access to many benefits associated with the card.
Easy application
Applying for a Point Debit Card World Mastercard is straightforward. You will need to complete the application process on their official website, download the Point app, and follow the onboarding steps. Once you complete the process, your physical card will arrive via mail. You will need to activate it before you can use it, though.
No credit check
The card is the result of Point's partnership with LendingClub Bank. The bank doesn't require applicants to have a specific credit score like most debit card issuers do. It won't even perform credit checks with any of the major credit bureaus. This is great for consumers with bad or poor credit scores as they get the chance to experience the benefits only some credit card offers.
Two free ATM withdrawals a month
The Point doesn't have its own network of ATMs. However, it does make up for it to consumers who would like to make cash withdrawals. You will be able to be reimbursed for two ATM withdrawals every month. Keep in mind that reimbursements are limited to $8.
Great referral program
Point offers a solid referral program called "Pay it Fwd". If you and your friend invite five people and they end up joining Point, you both receive a free membership for one year. When the friends you've got into the Point network make a purchase, you will be rewarded 1,000 points.
Attractive rewards
Point membership includes access to cash-back rewards. Consumers get 5x points on subscriptions, 3x points on food delivery and rideshare, and 1x points on everything else. They can also stay tuned to the latest offers on Point App to earn even more points and increase the card's value.
Enhanced protection
Point Debit Card comes with credit-card-grade protection even though it is a debit card. Consumers can benefit from zero liability coverage, car rental insurance, trip cancellation coverage, and deposit insurance.
Disadvantages
There are a couple of disadvantages you should know about before deciding whether or not to apply for this card.
There is only one option to redeem points
While Point does have a good cash-back program, it doesn't offer that many ways to redeem the points you earn. For every 1,000 points, you will earn $10, but you can only have it deposited in your checking account. Other cards allow consumers to redeem points for travel or gift cards.
Poor access to customer support
If you run into some problems, you will find out that Point doesn't offer direct access to customer support. You will be able to contact them via text or email. Live chat and phone calls are simply not available.
You can access money in a couple of ways
Other cards enable you to e-deposit checks. You can also do wire transfers. With Point you can't deposit cash in either of these two ways. You can fund your card through a mobile app by using an existing debit card.
Annual fee
Finally, you will have to pay the annual fee. The Point doesn't offer you a way to waive your annual fee as some other issuers do.
What Makes Point Debit Card Different
This card comes with several unique features.
The most value comes from cash-back rewards on subscriptions, food, and rideshare services.
You will be able to get the card without even leaving your home.
Plus, you'll get a virtual version of the card when you create an account with Point. You can use your virtual card for both online and in-store purchases.
Point Card Competition
Bottom Line
Point Debit Card is a solid option for people who have a bad or poor credit score and can access credit cards with similar cash-back rewards. While the cash-back rewards are really attractive, this issuer doesn't report your records to major credit bureaus in the US. It simply means that you won't be able to improve your credit score while using this card. If this is not an issue for you, and you use subscriptions, rideshare, and food delivery services, then this is the perfect card for you.
Frequently Asked Questions