Build Your Credit the Easy Way with Kovo Account
Kovo is for those who want a better credit score and courses to work toward achieving their goals. You can purchase them on credit and develop valuable skills to succeed as a professional. Another excellent feature of Kovo Credit Builder is rewards – gift cards for reward cards and loans.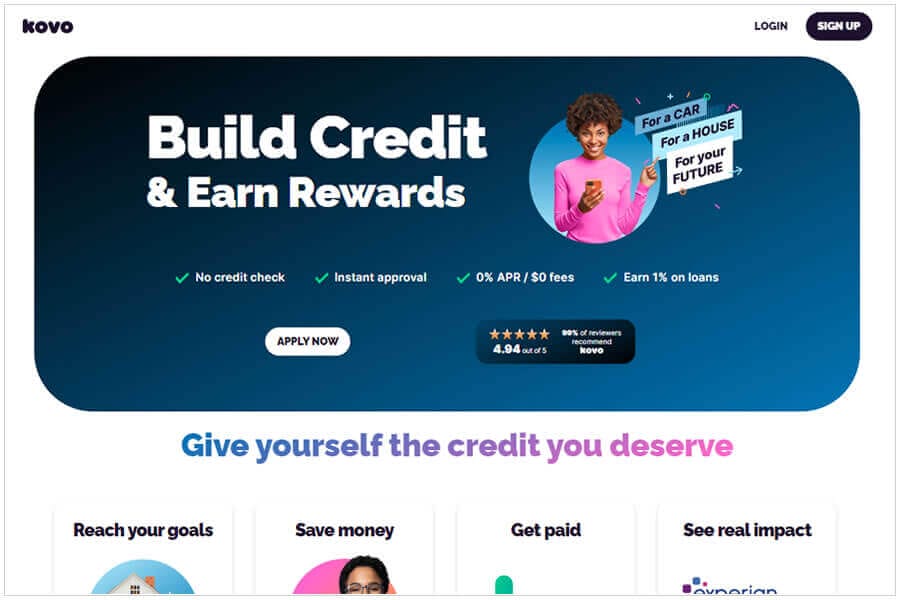 Best for
People with poor scores
People with no history of credit use
Consumers seeking rewards on cards or loans
People looking for affordable courses on credit
Kovo Credit Builder Data Table
Kovo Credit
Company
Kovo Inc.
Founders
Nimit Jain, Charles Li
Alternate Business Names
Kovo Credit, Kovo Credit Builder
Type of Entity
Corporation
Incorporated
October 22, 2019, in DE, USA
Years in Business
3 years
Employees
1-10
Category
eCommerce
Financial Technology
EdTech
Service Area
United States
Services
Credit Building
Annual Fee
$0
Plans & Pricing
1 Plan
New to Credit
OK
Recommended Credit
Accepts All
Limit
Not Disclosed
Credit Pull
Soft
Reporting
Yes. Equifax, Experian
Score Tracking
Yes. FICO Score
Courses
Yes
Rewards
Yes
Rewards Rates
1% on Loans
Rewards Distribution
Gift Cards
Credit Builder Loans
Yes
Line of Credit
Not Disclosed
Loan Types
Installment Loan
Personal Loan
Yes
Business Loan
No
Sample Loan Offers
Upgrade Loan ($1,000-$50,000)
Upstart Loan ($1,000-$50,000)
Opp Loans ($500-$4,000)
iLending Auto Refinance ($500–$150,000)
Sample Card Offers
Upgrade Cash Rewards Visa
Upgrade Bitcoin Rewards Visa
Upgrade Triple Rewards Visa
Offers Listing
By State
Mobile App
No
Address
101 Convention Center Dr STE 370
Las Vegas, NV 89109-2018
BBB Ratings
A-
BBB Accreditation
Not BBB accredited
Google
Not Rated
Trustpilot
Not Rated
App Store
–
Google Play
–
Website
kovocredit.com
Social Networks
Kovo Linkedin, Twitter,
Facebook, Instagram, TikTok
Phone Number
(855) 965-5686
Support Email
support@kovocredit.com
Online Application
Claim this offer
How Does Kovo Builder Work in 3 Steps?
1. Build with Repayment
If you're looking to build credit safely, you can do so by taking out a Kovo offered loan with Installments. You'll only have to pay $10 per month for 24 months, and your payment history will be reported to the bureaus.
2. Learn with Courses
Not only can you boost your credit with credit building loans, but you can also pick up useful skills with offered online Courses. These courses can help you find better outcomes and improve your overall situation.
3. Earn with Rewards
And finally, you can earn rewards with Installments by taking out loans. You'll get money back on loan offers, and you could earn up to $1,075. (Reward Cards)
What Are Kovo Advantages?
Kovo offers many advantages that make financial goals fun and rewarding. Let's see the most notable.
Skill-building courses
This credit builder gives access to a collection of interactive skill-building courses. They can help you build job interview skills, develop confidence, and improve time management to avoid stress, anxiety, and burnout. You can also learn about sales, ecommerce, the Google Sheets fundamentals, starting a business, and building a personal brand. Kovo Courses are available on credit; purchasing them can help you improve your score1. You pay them in 24 monthly installments of only $10. Sample of courses:
Personal Branding Path To Top 1% Influencer Personal Brand
Job Interview Skills, Interview Strategy & Answer Scripts
Self Confidence & Self Esteem: Confidence via Self-Awareness
How To Start A Business From Business Idea
Entrepreneurship: Sales Training, Techniques, and Methods
Intro to Programming
Try Coursera for Free or Coursera Plus with unlimited access to 7,000+ world-class courses.
No fees
The people behind Kovo Inc. understand how important it is to be able to rebuild score without having to overpay. For that reason, this credit building app is completely free of charge. You won't have to pay for opening an account or monthly or annual maintenance fees. You can start building credit for free once you purchase the courses and make monthly installments. If you are late with your payments, there is no need to worry since the company won't charge you any fees for late payments. However, that might negatively affect your score.
No credit check
This company gives everyone a chance to build their credit score, even if it is from the ground up. Whether you have a bad credit score or no credit history, you can get instant approval and start improving your finances. Kovo doesn't pull a credit check to see if an applicant qualifies for its services. Anyone can use it to build a better future for themselves and their families.
Helps to reduce interest
When you increase your score using Kovo offered tools, your monthly interest payments will be lowered. This will save you a lot of money in the long run.
Reporting to credit bureaus
Kovo sends a monthly account and payment performance report to two major credit bureaus2 – Experian and Equifax. It will report the progress you make every month, helping you with the credit building process. That's why it's crucial to make on-time payments. They will appear on your credit report, improving your chances of getting lower interest rates on any future loan or credit card. (Cards Reporting Credit Explained)
Rewards
Once you start using Kovo account, you can become eligible for Kovo Rewards – gift cards. You can earn them when getting a credit card or a loan from specific issuers and lenders. A credit card from partner issuers will get you back $75, while you'll get 1% back for taking out a loan. A personal loan from featured lenders will provide a gift card of up to $500, while student loans (including refinance) offer gift cards of up to $250.
You're eligible if you've made at least four on-time payments for Kovo Courses.
Opens new posibilities
Having better credit makes it possible for you to purchase a car and a home, with a greater number of financing options and a better chance of approval.
Are There Any Disadvantages?
Kovo Credit Builder doesn't have many disadvantages that might prevent you from choosing it as your credit-building tool.
Some consumers may not like that the company doesn't report to TransUnion, but sending monthly reports to the other two major credit bureaus is undoubtedly an excellent benefit.
The only notable drawback might be having to purchase the entire course collection. Although affordable, you might need only one or two courses to build or hone your skills. Still, buying the whole bundle on credit will help your credit utilization score as long as you make on-time monthly payments.
4 Things That Make Kovo Different
Kovo Builder is undoubtedly one of the best credit improvement apps on the market. With no hidden fees, you can rebuild your score regardless of your credit history. This program allows everyone to improve their finances and work toward their goals while offering free and paid courses.
Most credit builders offer the possibility of build or rebuild credit through a credit card. This one lets you do it while investing in your future through educational courses. You only need to buy the course collection on credit and make on-time monthly payments to improve your credit score.
Another feature that makes this credit builder unique is its interest rate3 – or the absence of it. You pay for the courses without interest and can get more favorable loans and credit cards in the future. This option can be genuinely motivating and make you eager to perfect your credit score.
This credit builder also has an excellent return policy. You can request a refund if, for whatever reason, you don't like the courses. Whether you expected something else or changed your mind about the service, you can get your money back without paying any fees. Contact the support team for help anytime.
Let's not forget about the rewards. Getting a loan or credit card from Kovo's partners can get you up to $1,075 in gift cards. That's another excellent reason to purchase its courses and build credit.
Kovo Credit Builder Competitions
Bottom Line
Kovo Credit Builder might be one of the best score builders in the US. No matter your previous credit score, it lets you build better credit and work toward your goals. This builder app also featured as Best for Payment History has many benefits and few to no disadvantages. You will undoubtedly enjoy using its services to improve your financial future. The best part is instant approval since the company doesn't check your score. That makes you eligible even if you have no credit history.
Overall, we recommend using this credit builder since you will have the chance to enhance your creditworthiness and get better offers in the future. Moreover, you will invest in your knowledge with practical skill-building courses and reach your financial goals faster. Apply Now!
Frequently Asked Questions
Reference Index
What is a Credit Score Anyway? CNET
What Are the three Bureaus? First Republic
Interest Rates: Different Types. Investopedia