Prepaid Visa Card from Metabank with Cash Back Rewards, Faster Payments, and No Credit Requirements
Netspend Visa is a prepaid debit card that works similar to a classic bank account and doesn't require good credit scores. Credit cards with the Netspend trademark are all issued by Metabank, an official member of FDIC. The cards are an excellent solution for people who don't make enough money to be eligible for traditional financial services, and those who don't want a bank account. It allows users to make transaction payments without a bank account, and it doesn't require a good credit score.
Netspend Visa Card – is best for those with not a perfect credit score who are in need of a traditional bank account with a card for everyday spending and don't wanna have their credit checked.
Table of Content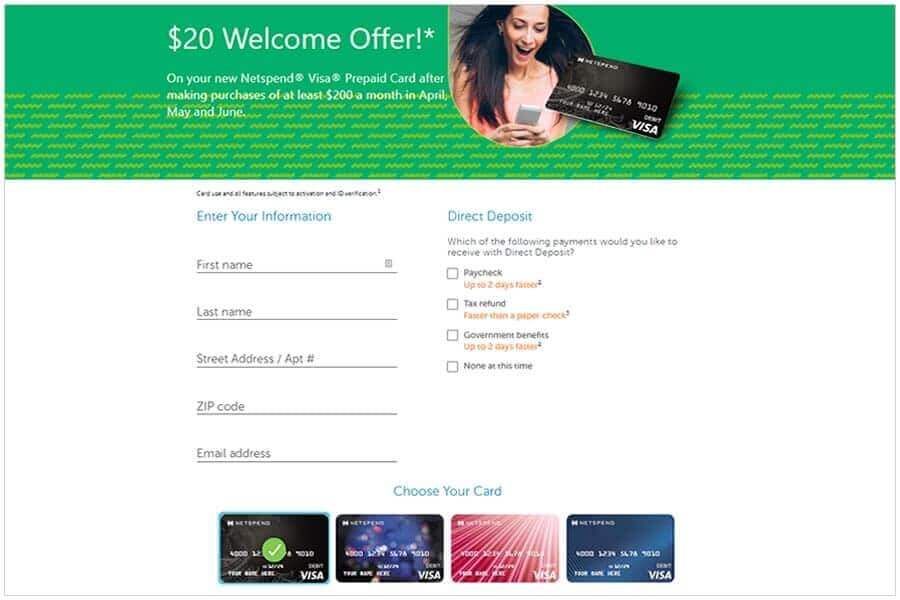 Why Do We Like NetSpend Visa?
No credit check. The Netspend Visa card is the perfect choice for young people who need a visa card occasionally, and people with bad credit scores. You don't need to provide scores from any of the three credit bureaus.
Easy to get. The qualification process is easy, and anyone can do it in just a few minutes. You can also buy the card at some local retailers, but it won't be free. When ordered online, all you have to do is to provide the information asked, and the card will arrive in your mail in about 10 days. This card is currently used by over 10 million people everywhere because it allows money transactions without a bank account. That's a life-saver for people who lost their job or have a really poor credit score. Most cards are hard to get after going bankrupt, but this card doesn't require any additional information.
Choose your plan and fees. While most people have problems with high fees, Netspend allows you to pick your own fee plan when you apply. So, if you use the card a lot to pay for stuff every day, the fixed monthly plan is the way to go. However, if you don't use the card that often, the Pay-As-You-Go plan is the best option. Instead of paying a fixed monthly fee, you'll pay a smaller fee every time you use the card. Transaction fees cost 1 dollar, while signature purchases are 2 dollars each.
Get money 2 days earlier. If you want to receive paychecks directly on the card, you'll be able to do so 2 days earlier than with standard transfers. The direct deposit feature is great because you get access to the money the moment it's deposited. That's definitely faster than waiting for the check to arrive in the mail.
Cashback bonus. Furthermore, the card also offers cash back bonuses at different retailers. You can receive cash rewards for buying at stores that are a part of the network. All the cash you earn will be transferred to your account automatically. Naturally, you'll receive a text notification whenever that happens.
Text Alerts. The text alerts are fantastic because you'll always get reports on your latest transactions, deposits, and other details. You can customize the notifications as you see fit. The alerts can be sent daily, weekly, or with every transaction.
Purchase cushion. If you ever run out of funds, Netspend offers a 10 dollar purchase cushion, which can be a lifesaver in some situations. Lastly, you can create a profile on the online account center, where you can track your spending on a monthly basis.
What Can Be Better
Has a number of fees. While the Netspend card is a good choice for people with bad credit and those that don't want a bank account, it does come at a price. The card comes with a number of fees you can't work around, depending on the program you select when applying for the card. You can either pay a regular monthly fee of about 10 dollars or pay a 1-2 dollar fee every time you use the card.
Inactivity fee. Then, you have the inactivity fee that has to be paid in case you don't use the card for at least 90 days. The fee is around $6, so it's not that bad, but it's still paying for something you're not even using. Furthermore, if you want to withdraw your remaining funds via a mailed check, you'll have to pay another fee.
ATM withdrawal fee. If that's not enough, there are even more fees you have to consider. You'll have to pay a $2.5 fee every time you use an ATM to withdraw money. The same fees stand for over-the-counter withdrawals in banks and credit unions. Even if your card is declined, you still have to pay a 1 dollar fee for trying.
Cash reload fee. You'll also have to pay a fee for every cash reload, and a 1% to 5% fee for mobile check deposits if you want them to be processed the same day. Otherwise, you have to wait 10 days for the money to transfer for free.
Those are just about all the fees you'll have to consider, but there are some other downsides as well. Since Netspend uses a third-party provider called MoneyGram, you'll have to pay a fee for online purchases, unless you give your account numbers and card routing to the seller. You also can't write any checks, and you might even run into additional fees for checking your account balance and asking customer service for help with money transfers.
Usage and Applications
Get cash. You can use the Netspend visa card at any ATM to withdraw money, but you have to place a deposit first. You can do that in over 130,000 locations in the US, and they include convenience stores, gas stations, CVS, Walmart, and many others.
Separate business expenses. The card is widely used by business owners who want to separate their business credit cards from their personal visa cards. That allows them to keep an eye on spending and makes it easier to deal with taxes afterward. Since it's a prepaid debit card, it's great for managing employee spending. You can give it out to employees with a limited amount of money to make sure that they can't overspend.
Everyday spending. Since there is no credit check involved when you apply for the card, you can use it to pay for products and services, no matter what your credit scores might look like. One of the biggest benefits of using Netspend cards is that you can get paid faster than with a paper check. Your salary will be available two days faster than it normally would.
Transfer money. Furthermore, this card allows you to make money transfers without owning a bank account. You just have to load the card with money via any of the available methods, and then you can use the funds any way you like. It allows you to get the same benefits you would by opening a bank account, including checking your account balance, transferring payments, and cashing checks.
Other Benefits and Perks
FDIC insured. All the money you deposit is FDIC-Insured, so you don't have to worry if anything happens to your account. You can get notifications every time you make a transaction. That will allow you to track your spending and always know what's going on with your card.
Mobile check load. Last but not least, you can use the Mobile Check Load service to load your card on the go. The process takes anywhere between 5 minutes and an hour to complete. The complimentary mobile app will allow you to stay on track with everything happening with your account, but you can also make direct transactions and check the map for the nearest reload locations.
Helps to budget. If you want, you can also create an online budget and track your spending against it. That will help you save some money and limit your spending when you go out on a shopping spree.
Virtual cards. You can also create temporary virtual card numbers you can use for online transactions, but they stop working at the end of each month.
Referral bonus. Lastly, the referral program grants you $20 if your friend creates a Netspend card too. The person you refer needs to load at least 40 dollars to the card for both of you to get the prize.
Netspend Visa Costs and Fees
As we already mentioned, the Netspend prepaid card comes with all kinds of fees you have to consider before applying. Those fees can quickly eat through your interest if you don't deposit a large amount of money or if you use the card too often with the Pay-As-You-Go plan. That's why it's important that you estimate how often you'll use the card before selecting one of three available plans. The fees are higher than they are with most other cards because there is no credit check involved. You'll have to look out for inactivity fees, high monthly fees, and other possible fees in case you break the limit and similar things.
How Easy and Convenient is It to Use the Card?
The Netspend Visa card is one of the easiest cards you can use. The application process takes only a few minutes to complete, and once you get the card and make a deposit, you are ready to start spending. The card is accepted everywhere you can pay with a Visa or Mastercard. Once you run out of funds, you can visit one of 130,000 reload locations to place another deposit on your card. The Netspend SMS notification system will always tell you how much funds you've got left, so you won't be surprised by an empty account in the middle of a shopping spree. As long as you pay the fees, this card will work perfectly. If you ever run out of funds, just check the nearest reload locations on the complimentary app and add more cash you can spend. If you make a big deposit, you'll also earn interest on a yearly basis.
Qualification Requirements
One of the main reasons why people use the Netspend Visa card is because anyone can get it. Since you don't need to provide any credit scores, you only have to be 18 years old to apply for the card. Of course, you need to leave your name, address, date of birth, and social security number. When you've got that covered, the card will arrive at your address within 10 business days. When the card finally arrives, you'll have to verify your identity before you can use it. Visit the Netspend site and complete the registration, or call 877-973-1223. You can also get the Netspend Visa card at local retailers like CVS Pharmacy and Walmart, but it comes with a fee. Online applications are free, so that's always a better option.
How to Apply for Netspend Card
The application process for the Netspend Visa card is very straightforward. Just click here and follow the instructions. Since there is no qualification process, you just have to enter the required information, and you are done. The process takes about two minutes to complete. You have to fill out a form, and make sure that you enter all the information asked. Here is what information you have to provide:
First name
Last name
Address
City
State
Zip Code
Date of birth
Social security number
Email address
Phone number
You can also pick your own card design from the available options. If you don't like them, you can upload any photo you want and your Netspend Visa card will get a unique look (Blue, Black, Pink, or Classic). When you're done, just hit the apply button, and you are done.
Competition and Alternatives
Also, check – Netspend vs Chime comparison article.
The Bottom Line
The Netspend Visa prepaid card is an excellent choice for people who want to make money transactions and receive money but without an active bank account. You don't have to provide any credit scores, which makes the card easy to get. There are 4 Netspend Visa card designs – Classic NetSpend, Black NetSpend, Blue NetSpend and Pink NetSpend. All the cards are issued by MetaBank, a member of FDIC. Each of them shares the same features and fees, the difference is only in the color of the cards. The requirements are the same, and your choice of color is a thing of personal preference. The card doesn't have a standard 25-day long billing cycle as you have to deposit money directly before you can use the card. You'll have to pay the monthly fees or pay fees every time you make a purchase, and you must be aware that there's a 90-day inactivity fee. The Netspend Visa card is a great choice for everyone who wants to transfer money but doesn't want to open a bank account. It's also widely used by people with bad credit scores since you don't have to provide credit information when you apply.
Frequently Asked Questions