Deserve Pro Review
The Deserve Pro is perfectly suited for people with fair to good credit who want to start improving their credit and earning money via cashback rewards. The cashback bonuses this card offers make it perfectly clear that it is suited for people who love spending time out. There is a cashback on entertainment and travel, and there is also a cashback at restaurants. You should know that the cashback only applies to the first $500 you spend in each of the categories mentioned above. But the bonus resets every month, and you can take your Deserve Pro Mastercard out with you to get those neat cash backs again.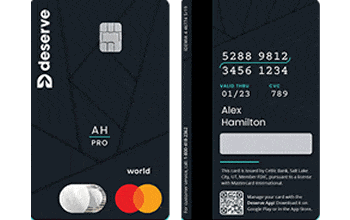 Card Details
Ongoing APR
17.49% -24.49% Variable
Snapshot of Card Features
Enjoy Priority Pass Membership on us (Lifetime value worth $99)
Earn 3% cash back on Travel, 2% on Restaurants, and 1% cash back on all other purchases automatically.
Cell Phone Protection up to $600
No Annual Fee
No Foreign Transaction Fees
No Late Fee on the first late payment.
Mastercard Platinum Benefits
Using this Mastercard to pay for items and services outside of these categories yields only 1% cashback, which is the industry average for cash rewards cards. On a side note, you don't have to worry about whether having this card pays off or not. There is no annual fee attached to it. When it comes to initial bonuses and APR, Deserve Pro Mastercard doesn't have much to offer. It comes without a 0% introductory APR for purchases and no sign-up bonus. This Deserve card doesn't support cash advances and balance transfers, something you should definitely keep in mind when shopping for a credit card.
Deserve Pro Mastercard Offer Details
To deliver PRO Mastercard, Deserve has partnered with Celtic Bank, a Utah-Chartered Industrial Bank, Member FDIC.
The card is created to cater to the needs of people with good credit scores. Unlike other credit cards, Deserve is not that strict when it comes to issuing new cards to its clients. The process of getting is not complex, and it doesn't require a security deposit. (See: Secured cards)
Since the requirements for getting this master credit card are light, people can use it and pursue a convenient opportunity to build credit and devise a good credit card strategy. Once you start using PRO Mastercard, Deserve will report your payment activity to TransUnion and Experian credit bureaus.
RELATED: Cards Reporting Credit Explained
It's cashback bonuses allow clients to make money while spending money. Another great feature that makes this credit card attractive to people with less-than-perfect credit scores who want to get some rewards at a low cost.
This Mastercard belongs to the category of Rewards Credit Cards. Since there are three basic types of rewards cards, including cash back, points, and miles (aka travel), we have to be more specific. Deserve Pro Mastercard is a cashback card.
Many people value cashback cards above the other Rewards Credit Cards because of the flexibility they offer. Instead of figuring out the best or most efficient way to redeem points, this card will reward you with real money – money you can use for anything you want.
There are three basic types of cash back cards, including flat-rate, bonus category, and tiered cards. Deserve Pro Mastercard is a cashback bonus category/ flat-rate card. What does this mean? This card offers the highest cashback on travel and entertainment – 3%, and at restaurants – 2%. That's what makes it a bonus category cash back card.
But it also rewards 1% cashback on all other purchases, which is why we had to add a flat rate card to define its type completely.
Now let's put it in one simple sentence. Deserve Pro card is a bonus category/ flat-rate cashback card.
Deserve Pro Mastercard Offer Summary
Good cashback credit card
Cash back applicable to payments in entertainment, travel, and restaurant categories
Low approval requirements
Ideal for people with less-than-perfect credit score
Reports to 2 major credit bureaus (TransUnion and Experian). See Cards reporting credit
1-month billing cycle
$10,000 limit and no fees
PRO Tip
Deserve Pro Mastercard is an excellent option for people with a limited credit score. Since Deserve reports payment info to two credit bureaus, this Mastercard can help you improve your credit score and make some money while doing so. With APR as high as Deserve Pro's, you should plan to pay your bill in full every month to avoid unnecessary expenses.
Deserve Pro Mastercard Rewards
We've already established that this card is a reward credit card. More specifically, a bonus category/flat-rate cashback card. The card runs on a monthly billing cycle. We will get back to the billing cycle in the "Earning and Redeeming Rewards" section and explain why it is important. Here are the rewards you get for using this credit card.
3% Cash Back on Travel and Entertainment – This card is a great option for people with industry-specific spending habits. The biggest reward is a 3% cashback on travel and entertainment. You will get 3% of the cash you spend on entertainment and/or travel back.
Example A
Let's say you spend $300 on entertainment. You will be rewarded with $9. The same applies to travel expenses you cover with your Deserve Pro Mastercard. The travel and entertainment category includes hotels, airlines, car rentals, tourism, and general entertainment.
2% Cash Back at Restaurants (Bars Excluded) – Deserve Pro Mastercard also offers cashback for payments in the restaurants. Be careful, though, as this doesn't apply to payments made in bars. For payment that you make in bars 1% cashback will be applied. If you spend $300 in a restaurant, Deserve will reward you with $6.
1% Cash Back On All Other Purchases – This Mastercard has that "flat rate" cash back affix because it comes with a 1% cashback on all other purchases. Even if you use the card outside of travel, entertainment, and restaurant categories, you will still get 1% of the cash you spend back.
One-Year Priority Pass Select Membership – One-year Priority Pass Select is a complimentary reward. To qualify for this reward, you will have to make $1,000 in purchases with Deserve Pro Mastercard within 90 days of opening your account. This complimentary reward will get you into lounges in airports across the world at a lower price. In fact, you will get a discounted lounge entry for $27 per visit. The normal lounge fee is $32.
Referral Bonuses – Deserve offers great referral bonuses to their clients. To qualify for a $30 reward in statement credit, you have to refer someone who qualifies for the card. Once the person you referred joins, both of you get $30 in statement credit. You can refer as many people as you want and get them on board, and you will still get $30 for each one of them, as there is no cap. There is also a $200 reward in statement credit for every 10th referral that qualifies for the card.
Deserve Pro Mastercard Advantages
No annual fee
No foreign transaction fee (using this card across the world comes without additional costs)
Great opportunity to build credit score (reports payment transactions to two credit bureaus)
Fair application requirements
3% cashback on travel and entertainment, 2$ cash back at restaurants, 1% flat cashback
Deserve Pro Mastercard Disadvantages
Bonus Reward Limit Capped at first $500 spent across bonus categories
No sign-up bonus whatsoever for new clients
Doesn't allow cash advances and balance transfers
1% flat cashback is standard cashback rewards
Why We Like Deserve Pro
There are plenty of reasons to say that we like this card. First of all, this card is not as hard to get as other credit cards on the market. Deserve has very reasonable requirements when it comes to issuing this card. Even the people with less-than-perfect credit scores can get. The recommended score of 670 is far below the excellent credit score.
Deserve's proprietary algorithm also factors in education and income to assess the eligibility of applicants. We also like that this card is not reserved solely for the citizens of the US. People with Green Cards, and L-1, O-1, or H-1B visas can also apply for it.
The cash rewards are also attractive. You stand to earn 3% of your payments made in the entertainment and travel sectors. 2% cashback is active for payments made in restaurants. There is also a 1% flat cashback reward for payments made outside of the bonus categories.
If you plan to take your card along with you on your travels, we have some good news. There is no foreign transaction fee, so you won't have to worry about fees piling up when using the card outside the US.
Deserve PRO also provides a way to keep building your credit score. In fact, Deserve reports payment info to Experian and TransUnion. Pay your bills on time, and you will see your credit score going up.
What Can be Better
The credit card has a $10,000 limit that resets every year. You won't be able to make purchases with this card once you reach this mark. If you plan on using this card as your primary credit card, you will burn through the yearly bonus way before the yearly reset arrives.
The 3% cashback on travel and entertainment, and 2% cash back at restaurants don't apply once you spend $500 combined across these categories. Once you spend $500, the cash back automatically reverts to 1% cash back. The flat 1% cashback is well-below what other cash back card offer, making this card only beneficial for people who spend not more than $500 on travel, entertainment, and at restaurants. We also found out that a 2% cash back doesn't apply to payments made in bars, which is very important to know because many people look at bars and restaurants as the same venues.
$500 limit is attached to a billing cycle, which is 30 days or one month. Once you get into a new billing cycle, you will be eligible for 3% and 2% cash back once again. The $500 limit still applies and is active throughout every billing cycle.
Many card issuers offer a welcome sign-up bonus to new customers. Sadly, this is not the case with Deserve. You get to open your account and receive a card, but that's basically it. While we are at welcome sign-up bonuses, we have to point out that there is no introductory 0% APR. The APR is applied the moment you start using your card. Deserve Pro's APR is variable and above industry standard.
If you are looking for a credit card that allows cash advances and balance transfers, we have to disappoint you. This credit card doesn't allow it.
Usage and Applications
Deserve Pro Mastercard is a great option for those of you that have established some credit history but still experience problems getting cards from other issuers. Thanks to Deserve's lower requirement, you will be able to get this card and leverage it to start building your credit.
Deserve reports your payment transactions to 2 bureaus. To start building your credit, make sure that you are not late with payments. Tracks your purchases and make sure to pay your bills on time.
To get the most out of Deserve Pro cashback rewards program, make sure to use it on your travel, entertainment, and restaurant purchases. Track your expenses as 3% and 2% cashback rewards don't apply once you spend $500.
Cards' cashback applies to all your hotels, airlines, car rentals, tourism, and general entertainment purchases, both on the US and foreign soil.
RELATED: How to keep your Credit Cards Safe
You can get a 1-year complimentary Priority Pass Select Membership if you spend $1,000 in the first 90 days. To benefit from the Priority Pass Select Membership, use the code Deserve sent you and sign up for Priority Pass. The average lounge visit at airports costs $32. With Priority Pass Select Membership, you will pay $27 to enter a lounge. The pass is valid worldwide, and there are over 1,300 accessible airport lounges.
To earn more cash, make sure to tell your friends about Deserve and credit cards in its offer. If any of your friends successfully applies for a Deserve card, you will get $30. Get a bonus $200 reward after successfully referring 10 friends.
Plan ahead, as there is a yearly $10,000 limit. It will help you avoid finding yourself abroad with only Deserve Pro card in your wallet, which is close to reaching its limit.
How to Earn and Redeem Rewards
With the fixed percentages, the monthly and yearly limits, it's very easy to calculate how much cash you can earn with this Mastercard. This card operates on a yearly limit and monthly billing cycle basis. A yearly limit is set at $10,000. Once you make payments in total worth of $10,000, you won't be able to use your Deserve Pro Mastercard until the next year starts.
The monthly billing cycle is important because it presents the time window during which you can benefit from 3% and 2% cash back bonuses. The 3% and 2% cash back rewards are only active for the first 500$ dollars you spend on entertainment, travel, and restaurant categories. Once the month is up, this resets and you get access to the 3% and 2% cashback rewards again for the next $500.
Since the monthly limit for 3% and 2% cashback is $500, the amount to which this percentage of cashback applies is 12 x $500 = $6,000.
Example B
If you spend all your redeemable amount in restaurants, you stand to earn $120 plus the $40 reward from the last $4,000 you get a 1% cashback on. In total, this amounts to $160 earned.
Example C
Let's say you use Deserve Pro Mastercard to cover the costs of travel and entertainment. At 3% cashback, you stand to earn $180. But this leaves you with $4,000 since the yearly limit is $10,000. On the last $4,000, you get a 1% cashback, which is $40. In this use case scenario, you stand to earn $220.
Example D
If you spend all your year's limit outside the bonus categories, only 1% cashback rule will apply, and you will earn $100.
With the Pro Mastercard, Deserve introduced Automatic Reward Redeeming, which made the rewarding process very easy to track for its clients. The rewards redeem automatically, which is pretty convenient as you don't have to do anything to get cashback. Once your earnings hit $25, your reward will redeem automatically. You can see it in the transaction reports as a "Statement Credit". The rewards will not be available if your account is closed, over the credit limit, or delinquent. The rewards get stored, though, and once your account becomes eligible to redeem again, you will get an appropriate "Statement Credit" increment.
What are Other Card Benefits?
There are several other benefits that PRO cardholders can enjoy.
ID Theft Protection – this service is tailored to minimize the risks associated with identity theft. If your identity is compromised in any way, Deserve provides identity theft resolution services. It's a nice perk to have given the incidence of identity theft worldwide. (See: ID Protection Services)
Cell Phone Insurance – Deserve Ppro cardholders can get cell phone insurance. Up to $600 in coverage damage and theft is available to all cardholders who charge their monthly cell phone bill to their Deserve Pro Mastercard. (See: Insurance)
Late Payment Waiver – You don't have to worry if you forget to make a payment on time. Deserve has your back, and it will waive your first late payment as a courtesy.
Fraud Protection – You can not be held legally responsible for any unauthorized transactions on your card. You will also get an alert notification via email if a hard inquiry is made on your TransUnion credit file. (See: ID Security Tips)
15% savings on Airport Meet and Greet services – Mastercard Airport Concierge program is available to Deserve Pro cardholders as part of standard Mastercard Platinum Benefits. (See: Visa Card Offers)
What are the Costs and Fees?
The best thing about Deserve Pro is that there is no annual fee. There is also no 0% introductory APR. Regular purchase APR is variable and higher than the industry average. But, you can completely avoid interest on purchases as long as you keep paying your balance in full and on time. The card doesn't allow balance transfer nor cash advances, which is why the fee listings for these two state Not Applicable. There is a fee for late payment, though, and it can go up to $25. The card also charges a fee for returned payments, and it can go up to $37.
What are Qualification Requirements?
The verification process when getting Deserve Pro is not as thorough and unforgiving as it is with other credit cards. People with fair and good credit can potentially qualify for this card. Even people with no credit history at all stand in the line to get approval for Deserve Pro. Some experts state that the recommended minimum credit score for Deserve Pro is 670.
Don't get us wrong – there are still requirements you have to meet to get it. But unlike when applying for other credit cards, this time proof of income and employment, and a Social Security number will qualify you to get this PRO Mastercard.
When you apply for Deserve Pro, the issuer will look into your financial and credit background but only to evaluate your income, U.S. bank account balances, and employment. On top of these financial documents, the issuer uses a proprietary algorithm to determine your ability to pay. The most important factors for the algorithm are your income and education.
To make sure that you are trustworthy of the card, Deserve will also consider your contact information. The company will check your physical address, phone number, email address, and the history of changes, which helps Deserve to determine whether you are easy to reach or not.
Deserve Pro is available not only to U.S. citizens. Residents with L-1, O-1, or H-1B visas or green cards also qualify to potentially get this Mastercard. The minimum age for applying is 18 years.
There is one thing that puts Deserve together with other card issuers, though. The company doesn't accept co-signers. If you want to get your hands on this card, you will have to meet the requirements on your own.
The application is straightforward, and anyone can initiate it online. What's even more important, this action will have no impact on your credit score as Deserve doesn't engage in detailed financial background checks, nor does it log the financial checkups with any of the credit bureaus.
How to Apply for Deserve Pro Card?
The application process for Deserve Pro Mastercard is straightforward. The online wizard will take you through all the application steps. If you are an international student, Look for Deserve Edu, and you don't need a Social Security Number to apply for it. Once you complete the prequalification process, you will receive an email. Now you have to wait for Deserve to approve your application and issue you a credit card if you get a green light. During the process, you will have to allow Deserve to connect to your bank account. Deserve has to verify your current balance before reviewing your application. The prequalification process is quick and has no impact on your credit score.
How to Contact Deserve Card Issuer
Correspondence Address
Deserve:
PO Box 1286
Menlo Park, CA 94026-1286
Offer Recap
Deserve Pro Mastercard is the most popular card in the Deserve's offer. It doesn't surprise us, considering the list of benefits it offers. It is a great offer for people without a pristine credit history. The 3% cashback for travel and entertainment and 2% cashback for restaurant purchases are really attractive. What sets this card apart from the competition are the light requirements, no annual fee, and no international transaction fees. A fair or good credit score is more than enough to qualify you for this card. Deserve issues this card to US citizens but also to people with a Green Card and L-1, O-1, or H-1B visas.
Mastercard Platinum Benefits, Priority Pass Membership for a year, and effort-worthy referral program are additional perks that make this credit card even more attractive. Deserve decided to make the offer more valuable by waiving the first late payment. The application process is easy, fast, and can be done online. The card's maximum credit limit is $10,000. The maximal credit limit is determined for each client individually, and it is based on credit score, income, and education. Deserve doesn't offer any sign-up bonuses with this credit card, nor is there an introductory 0% APR period. Deserve Pro Mastercard is rewarding for people with good or fair credit. It provides neat perks and ways to earn cashback rewards for entertainment, travel, and restaurant purchases.
Frequently Asked Questions
Non-Affiliate Offer Disclosure
Information about Primor Secured Visa Classic Card has been collected independently by Market Pro Secure. The card issuer did not provide the details, nor is it responsible for their accuracy.