Prepaid RushCard Review
Not all credit cards are created equal, but sometimes none of these serve your purposes. Sometimes, a prepaid debit card might be better suited to your needs. In this case, you could look at something like the Prepaid RushCard offers.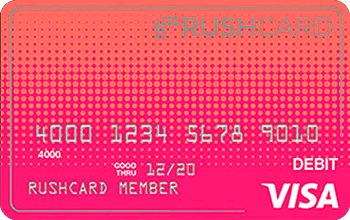 Card Details
Credit Needed
Bad Credit OK
Snapshot of Card Features
Stay connected - keep track of your money on your mobile phone with the RushCard app*
Get your government benefits up to two days early with Direct Deposit. Certain restrictions apply*
Safer than carrying cash. With the Visa Zero Liability policy your funds are protected if your card is lost or stolen*
Real time activity alerts sent to your mobile phone via text or email.*
Your funds are FDIC-Insured through MetaBank®, Member FDIC. Card accounts are subject to ID Verification*
How RushCards Are Different?
Before we take a look at RushCard prepaid cards so that you can understand how they are different, we are going to take a look at some of the more common credit and debit cards that you would find in the market. The majority of the debit cards that you find at most other banks are used as a way to store income. Most of the salaries that we earn through whatever means are usually transferred to a particular account for which we have a debit card. Using this same card, we are all known to make purchases whether it is online or at a high street outlet. Choosing and using your card, especially online can be quite a risk, especially knowing that your entire savings and earnings are all in one account. This is where these prepaid cards are different.
As one can probably guess from the name, these cards are pre-paid. What that basically means is that these debit cards more or less act as a top-up card. You only put in a certain amount of money that you would like to use. Many people are known to use this prepaid credit card as a shopping card. Whenever then need to make a particular purchase, all they do is simply transfer the amount that is planning to spend and use the prepaid card like any other normal visa debit card. What this ensures is that in the case where your card details get stolen or lost, all of your lifetime earnings will not be tied up in one card. Using such cards has not only proven to help increase financial security but has also helped in increasing one's credit ratings.
Benefits of Having RushCard Prepaid Visa card
There are endless benefits to having this card. For starters, the great thing is that there are no monthly fees. You only put the money that you want to use and you can start shopping. With the baby phat card in particular, if you make more than ten purchases in a month using that card, you will get a certain percentage back in the form of cashback. The other benefits that you will be entitled to will include; free direct deposit, free 24-hour customer service for seven days a week, and many more. The best part about these particular debit cards is that there are no hidden fees. What you see is what you get. There is only an activation fee that you have to pay which is very low as it is. In comparison to the benefits that this card has to offer, the activation is a small price that one has to pay.
If you are thinking of applying for this card but are worried about your credit history, you don't have to worry. When applying for a Rushcard prepaid card, you do not have to worry about your credit history as there are no credit checks. Acceptance is guaranteed for anyone that applies. One of the best parts of this prepaid card is that there is no concept of having any debt. Seeing as one only uses what he tops up in the first place, there is no chance of you finding yourself in any form of debt.
Gloss Prepaid Visa RushCard Review
Russell Simmons was largely responsible for one of the largest record companies in the world. He parlayed his success into the development of other brands and companies and has passed that legacy onto his family. Even his wife, Kimora Lee, was getting in on the game. One of the projects she had been working on, apparently, was the development of a series of prepaid debit cards that were designed to make personal finance easier and more accessible to everyone. This has resulted in her artistic sensibilities designing several cards like the Prepaid Visa Pink Diamond RushCard credit card.
The Prepaid Visa Pink Diamond RushCard was later been rebranded to Gloss Prepaid Visa® RushCard as Simmons stepped down from his roles including prepaid card business "after third assault allegation was published in a guest column by Jenny Lumet in The Hollywood Reporter on November 2017″. (Source)
The RushCard Prepaid Visa® Cards are now issued by MetaBank®, N.A., and serviced by Green Dot Corporation.
Saving Money
The main benefit of this card is to provide customers with the ability to use credit without having to worry about the cost. Traditional credit cards can cost you money because of several different programs that financial companies have designed for profit:
Interest rates (which vary based on the types of balances you carry)
Fees (which can vary based on the benefits of your card)
Penalties (including both fees and interest rates)
Of course, this card does have some fees, but you might be surprised to learn that many of the more common ones are absent. This gives you more opportunities to save. This prepaid debit card will never charge you a monthly maintenance fee, an annual account fee. Direct Deposit is free and so is using your card to make online purchases, so the only fees you might have to pay include:
Up $10 month in retail purchases
ATM Withdrawals
Online bill pay
Convenient Online Access
Credit cards are supposed to make managing your money easier by bringing the world of commerce to you. Online account access also brings your account to your fingertips so you can more efficiently and effectively manage your money. If you are trying to avoid credit, the Gloss Prepaid Visa RushCard is a great alternative because it also allows you to make purchases online as well as pay your utility bills, rent, cell phone bills, or other bills from the comfort of your own home. The available online tools also make it possible and convenient to track your spending and formulate a budget so that you can take more control of your money.
Protect Yourself
One of the reasons why credit cards are popular is because they are safer than carrying cash. If you carry cash in your wallet or purse you will lose it if they are stolen. However, you can always cancel and reissue a credit card without worrying about losses.
If you cannot qualify or do not want to get a credit card, you may have previously been reserved to cash, but the this prepaid debit card allows you to take advantage of not only the convenient spending benefits of credit cards, but their safety features as well. With this convenient and innovative financial product you will enjoy:
Advanced Fraud Protection, a state-of-the-art fraud detection security service that protects your online actions. This makes sure that no one can jeopardize your online account and steal your information or use the card to make unauthorized purchases
Visa Zero Liability protection is available to all Visa customers, whether in credit or debit form, in the event that their card is lost or stolen. This is the service that protects you from having to pay for unauthorized charges after you report that your card is missing
Additional Benefits
On top of all this, there are a few other things that make this particular debit card stand out among other prepaid debit cards:
Worldwide acceptance of Visa
Text and e-mail alerts (to monitor your budget and watch for fraud)
The ability to transfer balances to and from other cards you might have.
Final Word
With the Gloss Prepaid Visa RushCard, you'll get the inexpensive convenience of free Direct Deposit and online bill pay. You could also save money with discounts on health products as well as lower fees than traditional credit and debit cards.
How to Contact RushCard?
Correspondence Address
RushCard
PO Box 42482
Cincinnati, OH 45242
RushCard Prepaid Cards Application
If you are planning to apply for this prepaid card, the best place to look would be at Rush Card website. They have an online application form that you can simply fill in and get started right away. All the information in regards to the activation fees and any other costs that may be associated with the card are all clearly disclosed on their site. They are currently offering a few different card designs, so you can choose one that suits you the best. Just make sure you read the fine print before committing yourself to anything.
Prepaid RushCard Offers
Available RushCard Alternatives
Non-Affiliate Offer Disclosure
Information about Baby Phat RushCard Prepaid Visa cards has been collected independently by Market Pro Secure. The card issuer did not provide the details, nor is it responsible for their accuracy.