The Consumers Credit Union has been around for almost a century. The headquarters are in Lake Country, Illinois. Now, you may think that this is just another credit union, but it isn't. In fact, Consumers CU is very different from other credit unions. The most obvious thing that makes it better than the competitors is that it welcomes anyone. Regardless of where they work or live, this creditor accepts people of all profiles. Branch locations are in the area of Chicago, but members have over 1800 service center partner branches all over the country. The company also has more than 30,000 ATMs all across the nation. When it comes to who can count on them to improve their financial situation, the answer is quite simple. This is ideal for people who don't depend on paying visits to a branch and feel comfortable using online banking services.
Consumer Credit Union Rewards Checking
Review
Who Can Benefit Most from CCU Services?
The Consumers Credit Union banking service is a perfect choise for individuals who:
Are looking for an effective way to earn a competitive APY on CD, checking, and savings accounts.
Want to join a credit union that doesn't include lengthy and complicated membership requirements.
Are looking for a way around paying expensive fees for savings and checking accounts
Need an affordable and purposeful car loan or a mortgage deal.
Are small business owners and need all their personal and business needs in one place.
Before we delve deeper into this review and disclose all details you should know about this credit union; it's worth mentioning that the biggest appeal of this credit union is the checking account.
The rate can go as high as 4.09% APY. To get such great terms, every consumer will have to meet certain transaction requirements. The checking account is aimed at those who are ready to fulfill all the requirements that apply them for free rewards checking accounts with high-interest rates.
Advantages
High APYs on deposit accounts
Anyone can become a member
Variety of accounts
Additional benefits for members using online banking services
Benefits for members with higher deposit account balances
Lower fees
Consumer-centered banking
Higher credit card rates
Flexible service
Disadvantages
Limited branch access
Earning higher APY on rewards checking requires monthly activity requirements
No limit on daily overdraft fees
Offer Details
There are several types of accounts:
Money market accounts
IRA savings
Share certificates
Business accounts
CCU Free Rewards Checking
Free rewards checking means there are no minimum balance fees or monthly maintenance. This the most popular checking account. Since the creditor has a huge ATM network nationwide, the users of this checking account can withdraw money on any of the 30,000 surcharge-free ATMs. More importantly, all fees related to foreign ATMs are reimbursed. Each member who successfully meets all the necessary requirements gets a payback. That's why free rewards checking accounts are considered to be high-yield accounts. Here's how it works:
Balances up to $10,000 allow you to earn .09% APY – each member who completes a minimum of 12 purchases using CCU debit cards totaling at least $100 or more every month, can apply for this. They can also add ACH credits in a total of $500 or more to their account per month or post direct deposits.
Balances up to $10,000 allow you to earn .09% APY – the same as %2.09 APY with one addition; members can apply by spending at least $500 or more with their Visa credit card per month.
Balances up to $10,000 allow you to earn 4.09% APY – the same as 3.09% APY only members are required to spend at least $1000 or more with their Visa credit card per month.
PRO Tip
Free rewards like high APY rates only apply to the first $10,000 in the user's account. For balances between %10,000.01 and $25,000, the APY applied is 0.20%. For balances above $25,000, the APY applied is 0.10%.
CCU Student Choice Checking
Students can get great deals, too, if they become members. Teens ranging from 13 to 17 years old can apply for a student checking account with features such as:
Debit card with a $310 daily limit
Free mobile and online banking services
Free electronic statements
ATM fee reimbursements going up to $25 monthly
Access to a huge ATM network
The only downside of student checking is that this type of account doesn't earn interest or include checks. On top of that, the account requires a joint account holder, such as a legal guardian or parent. What makes it good is that it can do well in educating young teens on the basics of money management.
CCU Free Checking Account
The most basic account on the offer doesn't include monthly maintenance fees or minimum balance requirements. While members won't earn any interest with this account, it does offer some of the essential banking tools:
Unlimited check writing
Mobile and online banking
Bill paying services
Access to the ATM network
PRO Tip
Free checking account is the best option for those who are into low-cost banking solutions. It's a great account if your banking needs revolve around everyday spending, withdrawing cash at the ATM, or just paying bills.
CCU Membership Share / Savings Account
If you want to become a member, this is the best type of account. Even though it's quite basic in terms of savings, there are some good benefits members can count on to improve their financial situation.
These benefits include:
Online banking access
Regular balances earn you 0,05% APY
The minimal requirement to open an account and become a member is to lay a 5$ deposit
The only downside to this account is that it earns lower APY rates when compared to the free rewards checking account.
PRO Tip
Only individuals that are 18 or above can apply for this type of account.
CCU Money Market Account
A money market account is intended for those with a good balance. Although the rates might be tiered, this account does a very good job of earning interest. How much APY a member earns depends on their minimum balance. It takes a minimum of $2000. Here is the list of minimum APY-earning balances:
$2,000 – 10%
$20,000 – 15%
$40,000 – 20%
$70,000 – 25%
$100,000 – 30%
PRO Tip
All dividends will be accumulated and credited to the accounts monthly.
CCU IRA Savings / IRA Money Market
If you're a person with special financial needs looking for convenient tax advantages, the IRA savings type of account might just be a suitable solution for your needs. It's also a perfect account for people making retirement plans or saving for their retirement. There are three types of IRA savings accounts available to savers:
Education IRAs
Roth IRAs
Traditional money market account
All three types include the following banking benefits:
All balances include 0.25% APY
Guaranteed yields
To open an account, new members are required to lay down a minimum deposit of $10
PRO Tip
IRA money market accounts earn the same APY interest as standard money market accounts. To apply for this account, members have to lay down a $2,000 minimum deposit.
CCU Christmas Savings Account
Everyone needs some extra cash on the side when the holidays come. If you're looking for a fantastic savings solution, the Christmas savings account might just be a perfect option. Pair it with your checking account and start saving like a professional. Set up your monthly savings budget and let your deposits transfer each month automatically. Here are some interesting details:
All balances earn you 0.25% APY
It takes a $5 minimum deposit to apply
Automatic account renewal
No monthly fee
PRO Tip
All fund transfers to membership share savings account occur on the 1st of November.
CCU Regular Certificates
Share certificates are the same as CD accounts. That means the members can count on all the regular benefits, including dividends compounding on a daily and monthly basis, a guaranteed rate of return, etc. To apply for such beneficial terms, a minimal requirement is a $250 deposit. The terms range from three months to 5 years.
PRO Tip
Regular certificates are the equivalent of IRA certificates. The rates are tiered based on the term, not the balance.
CCU Jumbo Certificates / Jumbo IRA Certificates
Both Jumbo IRA and Jumbo certificates are intended for individuals who are extremely good at savings. To apply for this type of savings account, you'll be required to make a deposit of $100,000 minimum. The range of maturity dates spans from 7 months to 5 years.
PRO Tip
Both Jumbo IRA and jumbo certificates include higher rates than regular certificates.
Additional Offers
Aside from savings accounts, there are additional financial solutions to help members manage their everyday expenses and improve their savings. There are numerous borrowing options including:
Vehicle loans – this financing option is available for boats, motorcycles, recreational vehicles, used and new vehicles. Rates start at 2.49%, and it's possible to finance the amount of the purchase in its entirety. Monthly payments are predictable due to fixed rates.
Signature loans – these unsecured personal loans don't include any collateral and are convenient for any purpose, including debt consolidation, vacation planning, home repairs, home improvement, etc. Signature loans include fixed rates, up to $40,000, and the possibility of early repayment free of penalty.
Secured loans – this type of personal loan requires collateral, such as a boat or your car. You can use either a certificate account or savings to further secure your loan. Secured loans include a lower annual interest rate.
Mortgage loans – there are several mortgage loan solutions, including home equity credit lines, home equity loans, refinancing loans, and first home purchase mortgage loans.
All of them include rental property and investment financing, conventional and government financing, unique, jumbo and conforming loans, 3% down payments, adjustable and fixed-rate options.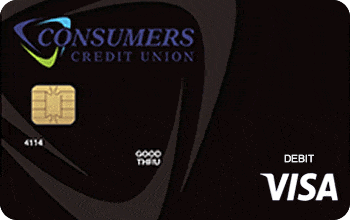 Card Details
Credit Needed
Accepts All
Snapshot of Card Features
Free online account
Rewards Checking account earning 100X the National Average Rate
Easily track and manage your money
No annual fee
Automated Fraud Alerts
Free VISA card fraud monitoring
Check out quickly and safely with contactless technology
EMV smart chip-enabled
Visa's Zero Liability protection insulates you from unauthorized purchases and withdrawals*
CCU Business Accounts
CCU takes banking very seriously. Aside from personal banking, there are business banking services and carefully tailored, customized products such as:
Corporate and commercial checking accounts
Money market and business savings accounts
Commercial mortgages
Equipment financing
All businesses that accept debit and credit cards can count on special merchant card processing services.
How to Apply for Consumers Credit Union Services
To become a member, you'll need to complete the online application form and accept three electronic disclosure statements.
While all new members are required to open a Member Share / Savings Account, they can also apply for a loan, certificate, money market, or checking account.
Information Needed for Application Process
Consumer Credit Union requires the following personal information:
Name
Address
Social Security number
Birthdate
Employment information
Phone number
Email address
New members are also required to create a 6-six-digit password and PIN number. Once you've submitted your application, the creditor will review it. If you're approved, you can either visit a branch to make your initial deposit or transfer funds from your bank account using an electronic transfer service.
Managing Accounts on Mobile and Online
You can manage your account through your mobile device or online. Both services allow you to:
Pay bills
Deposit checks
Transfer money between your accounts
Check your account history
Review e-statements
Schedule payments to CCU loans
Why We Like Consumers Credit Union
What really separates Consumers Credit Union from its competitors is the fact that it offers the highest rates for rewards checking by far. No competition can come even close to this. On top of all that, this is a full-service credit union, meaning that it offers much more than just the regular services that many credit unions provide.
All consumers can easily enjoy a full range of banking services, covering all their business, personal, banking, and savings needs. Regardless of whether your banking needs are business-related or personal, you can find a suitable solution for virtually any situation here.
Whether you want to apply for a loan to start a business or improve what you already have, or you're looking to buy a home or just improve your savings, there's a solution for every type of consumer. With a huge, surcharge-free ATM network of more than 30,000 machines nationwide, every cost-conscious user can easily access their funds anytime, anyplace.
That aside, their ATMs are simply perfect for savers who don't like expensive ATM fees, which is the case with most credit unions. The lender offers open memberships to anyone who can afford their terms. It's safe to say that the Consumers Credit Union is more affordable and accessible than any other credit union in the country.

The absolute upsides here are that it's the credit union that's very easy to join. Even though it is located in the Chicago area, you don't have to live there to apply.

The only requirement new members have to fulfill is laying down a 5% deposit with the Consumers Cooperative Association, the sponsoring organization of CCU. This deposit makes you fully eligible to apply. That aside, being a member also provides you with access to a shared branch network, with 1,800 branches nationwide.
Last but not least, the union has extremely effective customer service. Members can access this service by web chat or phone. Customer service working hours include Saturday mornings and weekdays.
The free Rewards Checking program is probably the best thing about this credit union. It's perfect for consumers with average certificate options and savings. This goes especially for those members who can avoid paying overdraft fees. It allows every member to maximize interest earned. The lender offers much higher APY rates than most traditional banks – it offers a wide variety of accounts and no-fee rewards checking. Any member that can meet the transaction requirements should give this union a look.
What Can Be Better
The first downside is that savings accounts offer lower APY rates. While it's true that the company offers great rewards, the higher the rewards, the more requirements members have to meet. All three requirements might not be suitable for some consumers. This makes earning high rates a bit of a challenge, and not every member can enjoy such privileges. Shared savings also have a downside – low yields. Members won't earn much with savings accounts as the offered APY is only 0.05%. Most online banks offer higher rates, while savings account APY is way below the national average. The creditor has solid rates, but they could be much better. For example, CD accounts with one-year terms earn 1.70% APY. If the term is five years, the APY rate goes up to 2.15%. Most online banks offer better rates for one-year terms.
One of the most noticeable downsides is that most users noticed that the mobile app isn't quite as functional as the company would want them to believe. In fact, their mobile app has low ratings as most members find the app to be either glitchy or not so easy to use.
We also noticed that overdraft fees don't include any limits. The union doesn't put any limits on how many overdraft fees members can be charged with.
What does this mean when overdraft fees don't have limits?
It means that members with three negative transactions face fees of $90 in a single day. In case a member wants to ensure overdraft protection, there's a fee for that too. You can avoid overdraft fees by linking your checking to a savings account, but you will be charged $10 for each transfer. Aside from these things that could be better, we also noticed limited branch access. The branch footprint is somewhat limited, which is a major drawback. Those that don't live near a branch location might find it difficult to manage their banking needs. There's also one important thing to mention. While rewards checking allows members to earn competitive APY, there are monthly requirements that they need to meet to apply for earning those extra rates.
Best CCU Banking Alternatives Available for Application
How to Contact the Consumers Credit Union
Correspondence Address
Consumers Credit Union:
1075 Tri-State Parkway, #850
Gurnee, IL 60031
Bottom Line
Consumer Credit Union offers plenty of financial and banking options to individuals that need either personal financial support or business banking services. Becoming a member is a relatively easy and quick process, and memberships are available to anyone who can meet the transaction requirements. Getting started includes making a small 5$ deposit. This deposit will provide a new member with an account. What makes this credit union highly competitive is the fact that they offer much higher APY rates than most top banks or credit unions.
The best option is to apply for the Rewards Checking accounts. These accounts include lower fees for business and personal banking products. Regardless of what your financial needs are, whether you're a student or a serious businessman, there's a wide range of banking services and products that fit anyone's financial situation. It's important to understand their terms and conditions to make the best of your CCU experience. This guide is aimed at providing you with all the things you should know to make an educated decision before you decide to join or pass.
Frequently Asked Questions