The Choice Privileges Visa Credit Card is designed to give cardholders the most out of it. With membership in the Choice Privileges rewards program, the card, and the program work together to help you travel cheaper. You can even transfer balances from higher interest cards.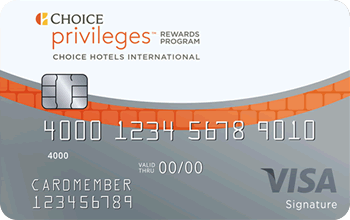 Card Details
Ongoing APR
17.49%, 22.24%, or27.24% Variable
Snapshot of Card Features
Bonus Offer: 32,000 points for spending $1,000 on purchases within the first 90 days
Earn 15 points per eligible $1 spent at over 4,200 Choice Privileges® locations
Earn 2 points per eligible $1 spent on everyday purchases
Cardmembers will get Automatic Elite Gold Status, which offers*:
Ability to book free nights 50 days in advance instead of 30 days
Every time you earn points for eligible stays, Choice Privileges gives you a 10% point bonus
No Annual Fee
See Terms and Conditions for complete details
Whether or not you frequently travel, chances are you like to save money when you do. If you do, then this Visa credit card is going to save you money. Although there are fees associated with the account and there is an APR, cardholders earn points toward hotel stays. It is very possible to earn enough points for free nights. In fact, there are bonus points that are awarded to cardholders. The first set of bonus points are received after the first purchase. The second set is received when a stay at Choice Hotels is paid for with the new credit card.
Cardholders also automatically receive Elite Gold Status, so there is also an opportunity for bonus points. Any time points are earned for eligible stays, Choice privileges gives a percentage of bonus points. This allows individuals to keep gathering points toward their next trip. You can accumulate as long as you need to in order to save as much money as you can on your lodging with Choice Hotels. This will allow you to use your money on other aspects of the trip instead of just your hotel.
What are Choice Privileges Card Fees And APR?
To emphasize the savings that the card promotes, the fees are low or average and the APR is also considered low or average.
Here is how the APR works: The purchase APR and the balance APR are the same. However, cardholders are given one of two rates. The rates can vary day-to-day because they are based on the market, which is based on the Prime Rate. One is considered quite low for a rewards card and the other is considered average. The cash advance APR is more or less in line with the industry. It is higher than the purchase and balance transfer APR.
If you wish to avoid paying interest on purchases, you can pay off your balance by your due date to do this. You have 23 days after the close of your billing cycle to pay off your entire balance to save money on interest. If you have done any balance transfers or cash advances, the APRs associated with those transactions will still apply. However, money can be saved by paying your balance off in full. If you do this each month, the savings compound and paying off has no impact on whether or not you get to keep your points.
If you decide you want to use your card internationally when traveling out of the country, you can do so at retail locations that accept Visa cards. There is, however, a foreign transaction fee that is charged as a percentage of the transaction amount. Cash advances and balance transfers also have a transaction fee for each or a minimum dollar amount, whichever is greater.
Lastly, you have your penalty fees. The only 2 on this account, are the late fee and the returned payment fee. Both of these fees can vary in amount by state. They can also be charged at the same time if a returned payment results in a late payment. However, there is no over-the-limit fee, so the card issuer's own fees driving the balance over the credit limit will not result in a third fee. Also, more cannot be charged on the account than what's available.
Helps Saving Money
There is another money-saving opportunity associated with the card and that is the balance transfer. You can save a lot of money through balance transfer if you have credit cards with very high-interest rates.
The amount of interest that a person pays on a high-interest card before they pay it off is in the thousands of dollars. Actually, it can be in the tens of thousands of dollars if you only make the minimum payment. This can take a toll on your wallet. When you transfer your balance to a lower interest card, you can save hundreds or thousands, depending on your card balance and your interest rate.
If you decide to do the balance transfer, there is a fee and there is an APR for balance transfers. However, it is the difference between the new APR and the old one that will save you money. The balance transfer fee is just a small percentage of the transaction.
Managing Your Choice Privileges Card
When it comes to managing your card, you are given an online account management feature. This feature allows you to opt for paperless billing so you can view your statements online in your own time. You can evaluate transactions, look at your balance, see what your available credit is, and even make a payment. Your points are kept track of through the Choice Privileges website. You can check them there to see what your balance is.
Be sure when you apply for the card that you specify whether or not you are already a Choice Privileges member. If you are, you simply enter your member number on your application and the card will be tied to your Choice Privileges account upon approval.
You can also use your online access to your account to see if there has been any fraudulent activity on your account. That way you can report any such activity to the card issuer and the appropriate measures be taken so you can put a stop to any fraudulent use of your card and protect yourself financially.
The Final Word
The Choice Privileges Visa Card affords cardholders a number of benefits from no annual fee and low interest to the ability to earn points that save on lodging while traveling. It is even a card that saves cardholders more via balance transfers, removing the burden that high-interest cards can cause.
Non-Affiliate Offer Disclosure
Information about Choice Privileges Visa has been collected independently by Market Pro Secure. The card issuer did not provide the details, nor is it responsible for their accuracy.