Choose the First Premier Classic card when your credit is bad. The application process takes minutes to complete and you can find out if you've been approved in under a minute. You can then take advantage of all the benefits and a credit line when you pay the processing fee.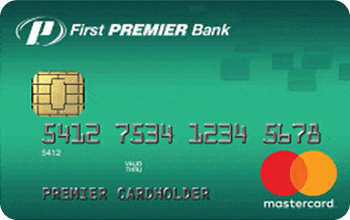 Card Details
Credit Needed
Bad Credit OK
Snapshot of Card Features
Must have a checking account to qualify
A credit card offer for those with less than perfect credit!
Just click it! Responses in 60 seconds
Don't be fooled by debit and prepaid offers - this is a real credit card offer
How the Premier Bank Classic Card Works
The First Premier card application is available online. Within a few minutes, you can fill out all basic information, including personal details to verify your identity. The card's approval depends on you having a checking account and being at least 18 years of age. The card is ideal for you if you don't have a perfect credit score.
After submitting the application, a credit decision will be given within 60 seconds. If you are approved, you will need to pay a processing fee to open your account. After paying the fee, a card will be sent out to you and your credit line will be available.
On a monthly basis, you will pay a service fee and annually there will be a maintenance fee to keep the card activated.
The Benefits Of Premier Bank Classic Card
A number of benefits are offered with the Premier Classic Mastercard, allowing you to track your spending effectively and contact customer service when you have questions. Features of the card include:
Online account management
24/7 Customer service
Fraud protection
Personalize Your Card
The online account management is an option you can choose. For a low monthly fee, gain access to your account online with an internet connection. You will get a username and password to log onto your account anytime of the day or night. Find out about your account balance, available credit as well as transactions you've made on the account – either in the current billing statement or previous ones. It will also be possible to make your credit card payment online.
Customer service is available 24/7. Representatives are available by email or by calling a toll free number. Whether you have questions about your account, unauthorized transactions or any other account issue or feature, someone will be available to take your call.
You can pull cash out when having a credit card isn't enough. A PIN number will be provided to you. Visit any ATM machine around the globe and pull out the cash you need. As long as you have the open credit, your request will be processed instantly.
If you don't want the standard green card, that's an option you have. By going onto the bank's website and logging on, you can choose to upload your own image. Consider using a family or vacation photo instead to personalize your card. Once uploaded, a new card will be sent out to you.
The Power Of Mastercard
The power of Mastercard can be in your wallet. The card features the Mastercard logo, enabling you to use your card just about anywhere. The card is accepted at over 20 million merchants worldwide. You can choose to pay for purchases online or in person. You may also pay for your gas at the pump and even at various kiosks. The card allows you to purchase anything you need at any time and at any location as long as you have the available credit.
When you carry a Mastercard in your wallet, it also provides you with fraud protection. The bank will monitor your account for any fraudulent activity. If anything out of the ordinary is noticed, your card may be suspended until you can confirm or deny the transaction. This is for your protection to ensure your card is never compromised. (See Identity Theft Protection Offers)
You will not be liable for any fraudulent charges on your card. If someone gets ahold of your card number illegally and makes purchases, you won't be responsible for paying for those charges. If the bank notices them first, they will be removed and you will be contacted. Or, If you notice them first, call customer service, explain the situation and the charges will be reversed. A new card will also be issued to you for safety and security measures.
Other First PREMIER Bank Offers
First PREMIER Bank Contacts
Correspondence Addresses
First PREMIER Bank, PO Box 5524, Sioux Falls, SD 57117-5524
Mail Payments: First PREMIER Bank, PO Box 5529, Sioux Falls, SD 57117-5529
Express Payments: First PREMIER Bank, 3820 N Louise Ave, Sioux Falls, SD 57107
The Final Word
You don't need perfect credit to obtain credit with this First Premier Bank Classic Mastercard. The credit line varies from person to person and the interest rate is in line with the competition. Plus you get the Mastercard logo, making purchasing around the globe easy. however the card carries high fees.
Non-Affiliate Offer Disclosure
Information about the First Premier Bank Classic credit card has been collected independently by Market Pro Secure. The card issuer did not provide the details, nor is it responsible for their accuracy.