Synovus is a reliable bank with thousands of loyal clients across the Southeastern states and beyond. Its prepaid Visa card can offer you great benefits at surprisingly low fees. The card will enable you to make online transactions, pay your bills, and make purchases in brick-and-mortar stores with ease as long as the merchants accept cards from the Visa network. With the available companion cards, you and your entire family can take hold of your budget and achieve greater financial stability. Overall, it's a very useful card that can allow you to make safe and easy transactions wherever you are. It comes with several advantageous features and perks and can be an excellent addition to some other Synovus Bank financial products.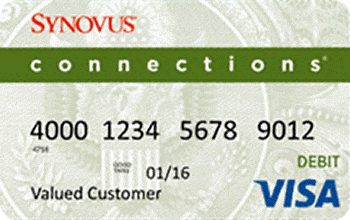 Card Details
Credit Needed
Accepts All
Snapshot of Card Features
Free Direct Deposit
Free Synovus Connections Mobile App
Text and email alerts
View Monthly Statements
Order Companion Cards
Easy to loan at Visa ReadyLink, Green Dot Network
$20 minimum required when the Card Account is loaded
Synovus Bank is a trusted issuer headquartered in Columbus, Georgia. Established in 1888, the bank has set itself apart to become the preferred choice for the people in the Southeastern states. It offers a wide variety of different cards that are designed for different users, and its Synovus Connections Prepaid Visa can suit almost anyone's needs. However, before you apply for this card, you should learn everything there is to know about it. Only then can you be sure that it will meet your expectations. So, let's see what Synovus Connections Prepaid Visa has to offer you.
Synovus Connections Prepaid Visa Card Offer Details
Synovus Connections Prepaid Visa comes with a full array of Visa services, and the bank includes many of its distinctive advantages. Let's take a look at the offer details and see what Synovus Bank has in store for you.
Synovus is considered to be a reliable card issuer with rates and fees that are lower than average. The bank offers cards that are mostly marketed toward those with a poor credit score or no credit history at all, although many of their cards can be suitable for those with good or excellent scores as well.
When it comes to the Synovus Connections Prepaid Visa, anyone, regardless of their credit score, can be approved for this card as long as the age requirement is met.
It's a prepaid debit card, so you will need to load it with funds before you can start using it. The amount that you've deposited beforehand is all that's available for you to use. You cannot use more money than you have on it, so you won't ever have to worry about having a negative balance and paying for the overdraft fees.
Once you've run out of funds, you can easily reload the card and continue using it without a problem. There are a few ways that you can reload your card with funds: Via direct deposit using a checking account, On Green Dot® Network, Via Visa ReadyLink, By using a money transfer from your Synovus Bank check card, or By visiting the branch and making a cash deposit
Once you receive your Prepaid Visa card, you'll also get free access to their Synovus Connections mobile app, which is compatible with both Android and iOS devices. You can access the app 24/7 and gain real-time insight into your account and card usage.
You can keep an eye on your account activity, and if you so choose, you can even receive text alerts or emails when there's activity on the card.
Visa cards are accepted virtually everywhere, so using them instead of cash is often a more convenient choice.
PRO Tip
Synovus Connections Prepaid Visa debit card can be used by those with poor credit, but it will not have an impact on
the credit score.
If you want a card that can build up your credit score, opting for one of
Synovus Bank's secured credit cards
might be your best choice.
Why We Like Synovus Prepaid Card
All the cards in our recommendations have been thoroughly tested and studied so that we can provide you with a genuine review that will help you make better financial decisions. The same has been done with the Synovus Connections Visa, and here's what we've concluded about the card's greatest assets.
Stored value card. The Synovus Connections Prepaid Visa is an all-encompassing stored value debit card that enables you to get a hold on your finances.
Suplementary cards. What we like the most about it is that up to four additional cards, also known as companion cards, can be added to a single account. This can be very useful to families teaching children how to be responsible with their allowances. The main cardholder has complete control of the account and can still receive alerts and notifications when the companion cards are being used.
Little fees. Another benefit of this Visa card is that it comes with very few fees. The main reason why many cardholders choose not to have a prepaid card is that it can become quite expensive. Most people don't like to pay to use their own money, and any benefit of having a debit card is far outweighed by the cost of it. The Synovus Connections Prepaid Visa has some of the lowest fees we've encountered with a debit card, making it ideal for those on a budget who want to receive the benefits of having a card.
What Can Be Better
Although there are many things we like about it, we've noticed a few things with the Synovus Connections Prepaid Visa that could be made better. Let's take a look.
No advanced app features. It's a great benefit that the Synovus Connections Prepaid Visa comes with an accompanying app that's entirely free for cardholders to use. However, the main issue is that the app has no advanced features.
No rewards or bonuses. Besides the app, we've found just one more thing that could be improved upon – rewards and bonuses. Synovus Bank doesn't offer any rewards with its prepaid Visa, and this is its biggest disadvantage. Many prepaid cards offer varying rewards such as cash-back or points, but you won't get this with Synovus's Prepaid Visa.
PRO Tip
If you're interested in collecting rewards,
shopping cards
can be a good choice. They do have some limitations but can help you save money with price reductions and discounts.
Usage and Applications
Like most prepaid cards, the Synovus Connections Prepaid Visa is designed to help you make easy and secure transactions. Most cardholders primarily use this card for making online purchases, but this isn't its only application.
It's a very common card for paying bills online and making purchases in brick-and-mortar shops. It can be used just like any other debit or credit card, and as long as a merchant or store accepts cards from the Visa network, you'll be able to use your prepaid card for almost any kind of transaction.
PRO Tip
This card is also commonly used as a starter card for teens and young adults. If you want to teach your children about handling their finances responsibly, you can apply for a prepaid Visa companion card.
Rewards Program & Bonuses
The Synovus Connections Prepaid Visa debit card does not offer any rewards.
What are Associated Costs and Fees?
One of the most important things that you need to keep in mind before applying for any type of card is the fees that come with it. No card is completely free to use, so let's take a closer look at all the fees that you can expect to encounter with the Synovus Connections Visa. Synovus Bank doesn't typically have very high fees, and this is one of the main reasons why so many people trust it and use its financial products. The only fees you'll encounter with your prepaid Visa may include:
Monthly card maintenance fee
Account activation
Companion card
Cash Reload at a Non-Synovus Location
Out-of-network ATM withdrawal
International transaction
Out-of-network ATM balance inquiry
International balance inquiry
International ATM withdrawal
You might encounter additional fees in certain situations:
Replacement (lost/stolen) card standard delivery
Replacement (lost/stolen) card express mail
Companion card express mail
Instant issue (lost/stolen) card replacement
Stop payment
As mentioned, since you cannot have a negative balance on your Synovus prepaid Visa, you will not encounter any overdraft fees, and you will not be charged interest.
How Easy and Convenient It Is to Use the Card
Using the Synovus Connections Prepaid Visa is just as easy as using any other card. Visa cards are accepted in over 200 countries around the world, so you will be able to use your card almost anywhere you go. Any shop or merchant who accepts payments made through the Visa network will accept your card as long as you have adequate funds available on it. However, even though you can use your prepaid Visa for making purchases in countries around the world, this isn't always your best option. Synovus Connections Prepaid Visa has foreign transaction fees (cards with no FX fees) that can quickly add up and drain your card.
What are Qualification Requirements?
Synovus Connections Prepaid Visa has very low requirements for the applicants, and the whole application process isn't nearly as strenuous as it is for credit cards. Here's what you will need to qualify for this card:
Be at least 18 years old (19 in countries where this is the age of majority)
Have a valid state-issued ID
Be a legal resident of the US, the District of Columbia, or Puerto Rico
Have a verifiable US address (PO Boxes are not accepted)
Be a current client of Synovus Bank
If you want to add a companion cardholder, they will need to:
Be at least 13 years old
Be a legal resident of the US, the District of Columbia, or Puerto Rico
As long as you (and the companion cardholder) meet the requirements mentioned above, you will be able to receive the Synovus Connections Prepaid Visa card. The bank doesn't look into your credit history and doesn't take your credit score into consideration.
How to Apply for Synovus Connections Prepaid Visa
Applying for your Synovus Connections Prepaid Visa is a rather straightforward process. You can apply both in-person at one of the Synovus branches, or you can easily do so online on their website. You will only need to have a valid ID with you and answer a few basic questions. While the bank doesn't consider your credit score when reviewing your application, it might obtain this information from credit reporting agencies to verify your identity.
Other Cards Issued by Synovus Bank
PRO Tip
Synovus only has branches in Georgia, Alabama, South Carolina, Florida, and Tennessee. If you want to apply for their card in-person, you will need to visit their branch in one of these states.
How to Contact Synovus Consumer Support?
Correspondence Address
Synovus Bank
P.O. Box 120
Columbus GA 31902
Bottom Line
Synovus Connections Prepaid Visa is one of the easiest cards to apply for and use. You only need to meet the minimum requirements for age and residency, and since it's not a line of credit, your credit score isn't taken into account when you apply for it. Once you receive your card, you will get access to the free mobile app, which gives you greater insight into your account balance and transactions, so you can use it to keep a closer eye on your finances. The card is easily reloadable, so as soon as your funds run out, you can load it back up in one of a few convenient ways. As the account owner, you can request a companion card, which will allow another authorized person to use the funds available on the card. You will encounter just a few affordable fees, making this card a great alternative to using cash.
Frequently Asked Questions