The ThankYou reward points can be redeemed for a wide variety of rewards including merchandise, concert tickets, gift cards, travel, movie passes, electrical goods, and many more. The reward program is even cashing in on the current social networking craze by teaming up with the game company Zynga and allowing members to swap ThankYou reward points for in-game currency for popular social games such as Fortnite, Farmville, Treasure Isle, and Mafia Wars.
How Are ThankYou Points Earned?
ThankYou points are awarded every time you shop with a participating CitiBank Credit or Debit card. There are also additional points available related to special promotions operated by your particular card. Consumers with an active Morgan Stanley Smith Barney Financial Management account can also earn ThankYou points from purchases made on that card.
Citibank customers who have an eligible checking account linked to their Citi ThankYou Rewards account can also earn points from using their debit card and additional services such as personal loans, mortgages, and bill payments. The more Citibank products you make use of the more points you can accumulate. Shopping at participating ThankYou Rewards stores can also help members to accumulate points faster.
Citi Forward Credit Card
There are various credit cards on the market which are affiliated with the ThankYou Rewards program. One such card is the Citi Forward Card. This credit card has no annual fee and offers customers an APR reduction if they stay within their credit line limit and make payments on time for three consecutive months. In addition to earning points for every dollar spent, the Citi Forward card also offers a large points bonus for signing up to paperless billing and spending a minimum amount within the first three months of joining. There is also an option of a Citi Forward College account aimed at college students. This card, unlikely many student credit cards, does not require a co-signer and it does offer rewards for sensible spending.
ThankYou Rewards For College Students
College students can also apply for the Citi mtvU Platinum Select Visa Card for College Students. Just like the Citi Forward Card for College Students, this card carries no annual fee and does not require a co-signer. While points are awarded on all purchases, they can be accumulated at a higher rate when the card is used at restaurants, bookstores, movie theaters, video rentals, and music stores. The unique selling point for this card is that it offers a large number of bonus points twice each year if the student has maintained a good grade point average.
Premier Reward Card from Citi
At the higher end of the scale, Citi also offers a Citi ThankYou Premier Card. This card does carry an annual fee and the joining bonus has a higher minimum spend. The rate of ThankYou points earned is variable, with additional points being awarded for using your card for purchases made at gas stations, supermarkets, and drugstores. The card also offers a discount on air travel when used to purchase airline tickets from the affiliated travel provider, Spirit Incentives.
Rewards for Business Users
There are also cards available on the ThankYou Rewards program that come from the Citibank range. One such card is the AT&T Universal Business Rewards Card. Aimed at business users the AT&T Universal Business card offers various rates of points awards based on how the card is used. The quickest way to accumulate points is by using the card on AT&T products and services. The next highest rate is awarded for purchases made at selected office supplies merchants, gas stations, and professional services. All other purchases still receive points, but at a much lower rate. The card does not carry an annual fee and offers a low APR on all purchases for the first six months. There is also the opportunity to name employees as additional cardholders with set credit limits.
The Final Word
In conclusion, ThankYou reward points offer an easy way to accumulate loyalty points and earn rewards over a wide range of products. With the ability to earn points from several different cards and banking services and save them all in one account there seems to be less confusion. There are also several affiliated retailers who offer extra points and even discounts when using a credit or debit card affiliated with the ThankYou Rewards program.
Citi ThankYou Preferred Credit Card
Credit cards can offer you many benefits. Of these benefits, the most popular is probably incentive rewards and low-interest rates. Citi ThankYou Preferred Card offers you both, competitive features and a large affiliate store that expands the potential for earning rewards. When it comes to credit cards, you probably agree that simple is the best way to go. While there are many credit cards on the market that pose flashy offers or complicated reward structures to lure you in, make sure that you aren't distracted from the simple ones that could make reward redemption and saving money easier in the long run. Take the Citi ThankYou Preferred Credit Card. This card minimizes fees and interest rates to make it easier to understand, but it also maximizes rewards.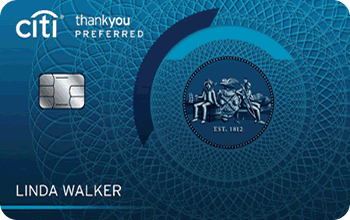 Card Details
Ongoing APR
See Terms Variable
Snapshot of Card Features
Enjoy 0% Intro APR on Balance Transfers and Purchases and low variable APRs based upon your creditworthiness*
There is a balance transfer fee of either $5 or 3% of the amount of each transfer, whichever is greater*
New: 2x Points on purchases for dining and entertainment 1 ThankYou Point on other purchases.
Points do not expire and earn unlimited ThankYou Points
Redeem ThankYou Points for merchandise, travel rewards, gift cards, cash and more
Travel with ease and enjoy global acceptance with Chip Technology
No annual fee*
Earning Citi ThankYou Rewards
Many credit cards offer some kind of rewards program as incentives for using it instead of cash. Depending on the card, these programs will offer a wide variety of benefits with some focusing on cash rebates and others on travel. The ThankYou card gives you access to all of it as well as one of the simplest earnings schedules you will find.
Earn 1 point for every $1 spent on standard purchases
An anniversary bonus of up to 3% every year you keep your account active
Bonus points for enrolling in online account access
Extra points for enrolling in paperless statements
Bonus points for shopping within the ThankYou Bonus Center, an affiliate shopping network of over 600 participating retailers
It is important that you read the details on earning points as there are a few purchases that may stray from the basic structure.
Redeeming Citi ThankYou Card Rewards
As easy as it to earn points, it is also easy to redeem them for a wide range of incentive rewards. Plus, you can begin redeeming your rewards for as little as 100 points. Use your points towards things like:
Gift cards with participating retailers
Travel perks with participating hotels and airlines
Consumer electronics
Cash rebates
Introductory Offer
Like many other credit cards currently being offered on the market right now, this one also brings you a set of introductory rates that could save you a great deal of money. While the incentive rewards are probably quite attractive, this is something that will affect your day-to-day dealings.
The remarkably low introductory interest rate for 15 months on standard purchases
The similarly low introductory interest rate for 15 months on balance transfers
Competitive variable interest rate range thereafter
Other Benefits And Features
Of course, because this is a typical credit card, you can also expect to pay a few fees and service charges. These are designed to make sure that you maintain responsible credit use and to ensure that the issuer of the card is not solely responsible for the processing charges. Most of these fees are standard across the industry, so you should not be surprised to find fees for:
Foreign purchases (up to 3%) (See: No FX Fees Cards)
Balance transfers (while the introductory rate could be as low as 0% if you qualify there is always a balance transfer fee, which is usually either $5 or 3% of the total transfer, whichever amount is greater)
Cash advances (either $10 or 5% of the total amount withdrawn, whichever is greater)
Service charges aside, this card does not have an annual fee, which is something that is quite uncommon these days. There other benefits which come along with carrying this card though:
$0 Fraud liability on all unauthorized charges (simply report questionable charges on your account and you will not be held responsible). Check ID Theft Protection Services
Online account management (which also carries bonus rewards)
Online statements
Faster online payment processing
The Application Process
Applying for this card is also easy, as you can access the application online 24/7. Like most other cards, you simply have to supply them with a few basic pieces of information to get the information started. This includes contact info like:
First and last name
Social security number
Phone number
Your e-mail address
It also includes financial information:
Your annual salary or wages
Annual income
Your monthly mortgage or rent payment
Information on other financial accounts you might have
The Final Word
You will find it is easy to save money and earn rewards points with Citi ThankYou Preferred Card. With a streamlined earnings schedule, no annual fee, and low introductory interest rates for up to 15 months the benefits are undeniable.