Grocery shopping is more affordable with the 1-2-3 Rewards Visa. For every dollar you spend, you will earn between 1 and 3 points. These points add up to free groceries every quarter. The card also contains other benefits with no annual fee.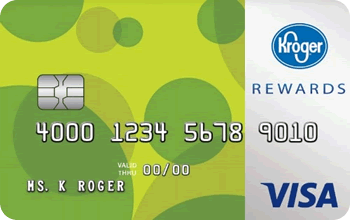 Card Details
Ongoing APR
11.99% -23.99% Variable
Snapshot of Card Features
Save an Additional $.25 a gallon for the first three months when you redeem 100 fuel points at participating Kroger family of stores fuel centers
Earn free groceries faster at Kroger, King Soopers, Dillons Smith's, Fry's, and QFC; 3 points per $1 spent on Kroger family of brand products
2 points per $1 spent in the Kroger® family of stores (excluding fuel centers)
1 point per $1 spent anywhere Visa Cards are accepted
Every 1,000 points earned gets $5 in free groceries. Rewards sent automatically every quarter
0% intro APR* for the first 9 billing cycles on purchases and balance transfers. After that, a variable APR currently 11.99%-23.99%
$0 annual fee*
Applying for the Card
Applying for the 1-2-3 card is very easy. The online application will take just minutes to complete. There is no application fee. You will enter your basic personal information and hit the submit button. Once you are approved for the card, it will be sent out in the mail to you. Often, you can receive a credit decision within minutes.
Once you activate the card, you get 3 cards in one. This includes a rewards card, shopper's card, and Visa card. The reward and shoppers card will allow you to take advantage of various deals and savings at Kroger stores all over the country.
How Does 1-2-3 Rewards System Work?
The reward system on the card works simply. For every dollar you spend, you earn at least one point. Anywhere that Visa is accepted, you will earn a point. If you use the card at the Kroger family of stores, you will earn 2 points. Then, if you use the card at quality brand Kroger stores, you will earn 3 points. With multiple ways to earn points, it will be easy to quickly accumulate points.
All the points will translate into free groceries. Every 1,000 points will equal $5 in free groceries. As a cardholder, you don't need to do anything in order to get the rewards. All you have to do is wait for your quarterly statement to arrive. Each quarter, you will receive the reward based on the number of points you earned in the previous three months.
1-2-3 Rewards Visa Credit Card Features
The 1-2-3 credit card has a number of features that you can take advantage of. When you use all the features to the fullest, you get more control of your money and more spending power. Such benefits include:
Visa buying power
No annual fee
Zero fraud liability
Online account tools
24/7 customer service
Visa is widely accepted on all 7 continents. When you want to make a purchase with a merchant, it can be done easily. You can buy gas at the pump, pay for groceries, travel around the world and do much more with a Visa card in your wallet. If you want to pay for purchases online, it will be easy. Should you want to make transactions over the phone, it can be done. And when you need cash, you can take a cash advance at any ATM nationwide.
There is no annual fee on the 1-2-3 card. This allows you to earn benefits without spending any additional money. The only fee you will have to pay is that of interest. Depending on your credit score, your APR will be issued. If your credit score ever improves, you can request that your APR is lowered in conjunction with the new score that you have.
Zero fraud liability is a critical feature. You will never be forced to pay for a purchase that was made fraudulently. Security is tight, but things do happen. Your account will be monitored at all times. If suspicious activity is noted, you will be the first one to find out to help get the issue under control. (Related: Identity Guard Review)
Online account tools are complimentary to use. It's important that you stay up on the activity of your account. To help you with budgeting, spending, and avoiding debt, you need to know about your account levels. With a secure log-in, you can find out about your balance, available credit line, view statements, pay bills, and much more. You will have 24/7 access to make it more convenient for you.
Customer service operates 24/7 as well. There is an automated system to provide you with the latest account details. With the press of a button on the phone menu, you can also talk to a customer service representative. This free call will allow you to get questions answered with a live person.
The Final Word
Saving money in today's economy is important. When you the 1-2-3 REWARDS Visa Credit Card, that's exactly what you will do. The card is packed with features that you can enjoy each and every day – especially when you go grocery shopping at Kroger stores.
PRO Tip
Information about 1-2-3 Rewards Visa Credit Card on this page has been collected independently by Market Pro Secure. The issuer of the card mentioned on this page did not provide the details, nor are they responsible for their accuracy.