Indigo® Mastercard® Review
The Indigo® Mastercard® cards are unsecured cards suitable for applicants with a damaged credit history or with poor or bad credit scores. All cards with the Indigo prefix are issued by Celtic Bank and serviced by Genesis FS Card Services. These cards are perfect for people with less than perfect credit scores. People that are just out of college or high school can also use them to rebuild or fix their credit.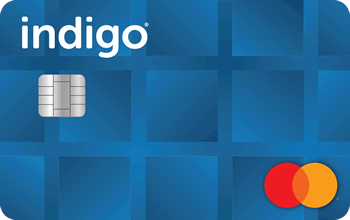 Snapshot of Card Features
Pre-qualify today without an impact on your credit score
Keeping your account in good standing may help establish and/or improve your credit
24/7 access to your account, even on mobile!
Protection from fraud, if your card happens to be lost or stolen
Account history is reported to the three major credit bureaus in the U.S.
All Indigo credit cards have the same purpose – help cardholders rebuild credit conveniently and safely. Thanks to high approval ratings and a simple application process, everyone stands in line to get one. The Indigo® Mastercard® cards are as follows:
While these cards come with standard Mastercard® and security features, they don't particularly shine in the rewards and cash-back departments. On the other hand, the issuer reports to all three major consumer credit bureaus in the U.S. (Experian, Equifax, and TransUnion). If you are interested in getting this card, you will be happy to find out that pre-qualification doesn't trigger a hard inquiry into your credit history. If you are interested in finding out more about these cards, read further.
Indigo® Mastercard® Offer Details
With transparent billing practices, regular reporting to credit bureaus (Explained), and online account management, Indigo credit cards make a valuable opportunity for people who plan on improving their credit score. Celtic Bank issues all Indigo® Mastercards®. These cards are specifically designed for people with a less than perfect score. Since they are advertised as credit cards for people with financial problems, we expected to see a smooth application process and high approval ratings. The issuer not only met this expectation but did far better.
This card can work even for those with a credit score of 600 or below. If your score is below this threshold, you probably know how hard it is to get the line of credit. Well, with Indigo cards, you have a chance of getting it. The target audience is people with poor and bad credit scores. To help them keep their score intact, the issuer allowed potential cardholders to send pre-qualification applications. The pre-qualification application can be completed online. The response is ultra-fast, and you can receive it in a matter of minutes. It will leave no trace on your credit history and won't reflect your credit even if you get declined. Why would you apply directly when you know that it will result in a hard inquiry. Indigo's pre-qualification process is a great way to mitigate these risks.
All the Indigo cards can be used as credit rebuilding cards. They are meant to help people continue their credit journey, fix or bring it to the next level. You can leverage this card to demonstrate that you are responsible and creditworthy. The issuer reports to all three major consumer credit bureaus. If you use one of these cards regularly and make on-time monthly payments, the bureaus will be notified of your card usage. Being responsible will reflect positively on your credit score, and you will be able to see the improvement in the next couple of months. All Indigo cardholders can benefit from mobile account access 24/7. You can check your balance, transaction details, fees, and pending transfers on the go, or you can log into your account from home.
PRO Tip
The APR we talk about is a standard purchase APR. The company will charge your account only if you carry a balance on your card. Make your payments on time. If you don't carry a balance, the APR charges and late payment fees don't apply. Taking care of your bills in time will send a strong signal to credit bureaus, and your credit score will start climbing up.
Why do We Like Indigo?
Fast pre-qualification process. Indigo Mastercard® Cards is an easy-to-acquire card for anyone who needs a fresh start. The issuer has an ultra-fast pre-qualification process and high approval ratings, and also takes applications from people with a bankruptcy on their file into consideration and reports the purchase history to all three credit bureaus.
Low application requirement. The low application requirement is the strongest point of these cards. The offers are even viable to people with bankruptcy in their credit history. After a financial disaster, it is really hard to get your hands on a credit card. Well, the company will not automatically decline your application. It will be reviewed like any other even if you've hit financial rock bottom in the past, and send you a response.
Unsecured card. We also love the idea of being able to use a credit card without having to put down a cash deposit. Indigo cards are unsecured cards. Some people can't afford to pay cash upfront to use a credit card. If you qualify for Indigo card, you will be able to use your entire credit limit. Unsecured cards are more valued at credit bureaus than secured cards. Using an unsecured card will help you increase your credit score more efficiently and faster.
Custom card designs. The issuer also allows credit cardholders to choose their own credit card designs from available ones. This is only a visual perk, and it has nothing to do with the card use cases, fees, or any other benefits.
No hard credit inquiry. The pre-qualification is also quite beneficial. When you apply for a credit card, the issuer has to make a hard inquiry in your credit file. If you get declined, it will pull your credit score down and show up in your file. It is great that you can find out if you qualify for any of the Indigo cards without affecting your score. The pre-qualification application is accessible to everyone interested in acquiring Indigo cards. Once you qualify for the Indigo, you will have to submit a regular application and attach all the necessary documentation and provide the requested information. Applying to the card will generate an inquiry.
Advanced security features. Finally, it's great that the issuer allows cardholders to benefit from security features. In our day and age, identity theft and cybercrime are realities. Having access to features that can help you mitigate the risks is important. Indigo cards come with quick identity theft and fraudulent charges resolution services, which add to their value.
What Can Be Better?
Website has little info. We live in the age of information. Sadly, the official Indigo Card website provides little information about the financial products they are offering. There is a FAQ page that provides very short and not-so-much informative answers to very credible questions. People who arrive at the Indigo website also expect to check if they qualify for any of the cards in the offer. The issuer is very transparent about the fact that you will receive an offer to apply for a card from another bank if you don't qualify for the Indigo Platinum.
High APR. The regular APR can be considered as high. While this should not concern you if you make regular payments and never carry a balance to a new month, it is something that you should know. The APR charges may significantly slow you down and turn into a quiet expense.
High late fee. On top of the APR charges, you will have to pay a late payment fee. The fee is also high, and you will always have to pay it if you carry your balance to a new month. The amount you have to pay goes down if you pay your bills in time 6 months consecutively.
No rewards or bonuses. Even though we are aware that it is a credit rebuilder card, we have to address the fact that there are no bonuses. Before you choose this card, you should know that there are no cash-back rewards or any other type of bonuses.
High annual Fee. The annual fee could also be lower. Or, at least it could be fixed. People who apply for this card won't know how much the annual fee will be until their application is approved. It would be much better to know this in advance because it would help make a better decision. If you decide to continue using your card after the first year, you will be paying more for an annual fee. Starting with the second year, the annual fee can go up to $99. Since the starting fee can be up to $75, you will be spending $14 more. It's a rather strange way to reward loyal clients for staying with the company.
What are Other Benefits and Perks?
Indigo cards are travel-friendly. Yes, they are Mastercards®, and they are widely accepted. But, the foreign transaction fee is what makes them even better traveler's companions. The cards have only a low 1% foreign transaction fee. The other similar cards come with foreign transaction fees that go up to 4%. If you are traveling a lot, this is a nice perk to have. (See no fx fee cards)
MasterAssist Travel Assistance Services is a nice perk that you have access to if you are traveling 50 miles or more from home. If you are in need of medical assistance or legal help, these services will help you get in touch with credible individuals and institutions.
Master Rental. Another neat perk is Master Rental if you rent a car when traveling. The MasterRental may provide coverage for incurred damages on a rental vehicle. You can use this service only if you've used your Mastercard to pay for the rental.
Extended Warranty. If you use your card to purchase various goods, you may benefit from the Extended Warranty. What this perk does is it doubles the original warranty of the product manufacturer. This only goes for items that come from original manufacturers and that have a warranty of 2 years or less.
Identity theft resolution services will help you regain control over your life if somebody steals your identity, opens an account in your name, and starts making purchases.
Zero liability insurance will help you avoid being charged with these purchases. In short, you won't be liable for charges made in your name. If your card gets stolen, you will be able to shut down the account immediately.
Unfortunately, the Indigo cards can only offer the perks that come with the Mastercard® brand. It is a card that is completely stripped of any bonuses, cash-back rewards, and handy perks.
What are Associated Costs and Fees?
Not every budget can sustain the uptake of Indigo Mastercard® because it comes with higher costs and fees.
Annual fee. First of all, Indigo cards have an annual fee. You will have to pay it if you want to use the card. While it's not that much costly considering that the issuer has a really low application approval standard, it will reduce your available credit limit the first month.
Annual Percentage Rate. The standard APR is also high. It kicks in if you carry your balance to the next month and is applied until you pay your debt entirely. If you don't make a payment on time, your account will be charged a late payment fee of $40.
Foreign transaction fee. If you are traveling a lot, you should be aware that there is a foreign transaction fee as well. While it is not as costly as with some other credit cards, it's still 1%, and you have to take it into account when using your credit card abroad.
Is It Convenient to Use Indigo Card?
When you are trying to get your financial future back on track, convenient solutions are the best solutions. Indigo Mastercards are very convenient and easy to use. It all starts with an easy and fast pre-qualification application online. You can complete the entire process, including card activation, without leaving the comfort of your home. All Indigo cards are part of the Mastercard® family. With support in more than 70 countries around the globe, you won't have problems paying with it. You can also use it for online purchases on most sites that accept credit cards. If you plan on using your Indigo Mastercard® outside of the U.S., remember that a 1% foreign transaction fee applies.
What are Qualifications Requirements?
There is nothing special when it comes to qualifications and requirements. You have to be at least 18 years old to submit the pre-qualification application. You need a social security number and be a US resident with a valid address. The Indigo Platinum Mastercard® can be used as a credit rebuilder card, which applies to all Indigo Mastercard® variations. Forget about meeting some minimal requirements, because the issuer considers every pre-qualification application. You don't have to have an excellent credit score to qualify for any of these cards. Even if you have a bankruptcy on your file or have no credit history at all, you can still receive a good offer from the issuer.
How to Apply for Indigo Mastercard?
Applying for Indigo Platinum Mastercard® is easy and convenient. You can do it on the issuer's official website. There is no option to directly apply for the card. All interested consumers have to pre-qualify for the card to get a direct application. To apply, you have to fill out the application form here. Remember, the fields marked with a "*" are required. You will have to provide the following information:
First name
Last name
Address
City
State
Zip Code
Date of birth
Social security number
Email address
Primary phone number
You will also be able to choose from available Indigo Platinum Mastercard® designs, which is completely free. Finally, click the box to consent to electronic disclosures, and hit that Pre-Qualify Now button. The response to your preapproval application should be in your inbox within minutes.
How to Contact Indigo Card Services?
Correspondence Address
Genesis FS Card Services
PO Box 4477
Beaverton, OR 97076-4477
Indigo Cards Recap
Indigo Mastercard® credit cards are a perfect solution for people who want access to an unsecured card to regain financial freedom and build better credit. The cards in the Indigo credit card offers include:
All of these cards are issued by Celtic Bank and serviced by Genesis FS Card Services. Each one of them makes a perfect card to start rebuilding your credit history or improving your credit score. The issuer reports to all three major credit bureaus and has a standard 25-day long billing cycle. The high APR and late payment fees are completely avoidable via responsible card use. The only real expense is the costly annual fee, which can be justified by low approval requirements and no deposit. These cards can be valuable tools in anyone's financial toolkit. Via smart and responsible use, they can help you improve your creditworthiness and be able to apply for more beneficial offers in the future.
Frequently Asked Questions