The Wired Plastic Pink Ribbon card is a prepaid Visa that is designed to make your life easier. With many ways to load the card, multiple year-round features, and the ability to support breast cancer, it's the only card you need in your wallet. The Pink Ribbon card isn't your standard prepaid card. You get to load money on the card in many ways. You get the Visa logo, allowing you to spend it anywhere and you get to manage your money in several ways. Plus, the card donates a percentage of all of your signature purchases to the fight against breast cancer.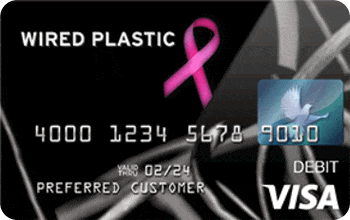 Card Details
Credit Needed
Bad Credit OK
Snapshot of Card Features
Make a difference - With every signature purchase, you are helping to fight against breast cancer.
100% Guaranteed Approval* - No Credit Check, income requirements, or bank account required!
FREE Direct Deposit - Eliminate check cashing fees
FREE Rewards Program - Earn 1 point for every $1 spent. Points never expire!
Accepted everywhere Visa debit cards are accepted
Free Account Access online, By Text, or via iPhone, IPad and ITouch app.
Load Money on the Wired Plastic Everywhere
The benefit of a prepaid Visa is that you can only buy with the money that you have loaded onto the card. In order to do that, you need multiple ways to get the money on the card. With Wired, you have 4 ways to fund your spending habits:
Direct deposit
Retail locations
Bank transfers
PayPal
Your paycheck can go right onto your prepaid Visa. When you set this up, it's free of charge. When you get paid, you have immediate access to your money by having it safely put on the card. There are no trips to the bank or waiting around for your paycheck to get mailed to you.
Retail locations all over the globe allow you to put money onto the card. Over 100,000 retail stores provide you with a way to load as much cash as you need on the card. You can also visit Western Union agent locations with cash or checks.
If you have a checking or savings account, you can fund your prepaid Visa. Any participating financial institution can help you authorize an ACH transfer so that you have the money on your card when you need it. It's also a great way to borrow money when you need funds quickly.
PayPal is another way that you can add funds to your card. Any money that's in your PayPal account can automatically be transferred to your Wired card. Best of all, it's free of charge.
Wired Plastic Pink Ribbon Card Advantages
Affinity Card
Free rewards program
Free direct deposit
Wired Plastic Pink Ribbon Card Disadvantages
Activation fee
Monthly maintenance fee
Buy What You Need When You Need It
The Visa logo ensures that you have buying power all over the globe. Whether you're filling up at the pump, getting cash at an ATM, or making a purchase, Visa is the primary credit card accepted around the world. You can use the card online, over the phone, and with millions of merchants.
As you make purchases, you earn points every time you use the card. These points help you to pay your wireless bill as well as purchase various wireless products. What's more, just by making standard purchases, you're helping to fight breast cancer.
The card allows you to pay bills online or over the phone. You can log into your account and pay bills. Make a one-time payment or a recurring payment to come out of your Wired account.
Manage Your Money Effectively With Prepaid Visa
Managing your money is important. Credit cards can be daunting because of interest rates and the ability to get into debt quickly. The prepaid Visa gives you the power of a credit card without interest rates or the possibility of debt. You can only buy what you have on the card, providing you with a means to spend responsibly. There are also several tools provided with the account to make it easier:
Online account management
Spending alerts to a mobile phone
24/7 access is yours with online account management tools. You'll create a username and password, allowing you to log on to find out what your account balance is, past transactions, and more. There is also a toll-free number to talk to a representative if you have questions about your account.
Spending alerts can be programmed as a text message to your mobile phone. You can get daily balance alerts, notices on money transfers, account charges and even bill payments. It's an easy way to keep track of your money and stay in control.
Offer Recap
Not all prepaid Visas are created equally. When you want the freedom to spend your money where you want, the Wired Plastic Pink Ribbon prepaid card provides you with the Visa logo. Plus, you get convenient load options, online account management, and much more.
Best Wired Plastic Pink Ribbon Alternatives
Non-Affiliate Offer Disclosure
Information about Wired Plastic Pink Ribbon prepaid card has been collected independently by Market Pro Secure. The card issuer did not provide the details, nor is it responsible for their accuracy.