Meet Double Your Line Credit Card from Merrick Bank – Solid Starter Card with High Credit Line and Pre-qualification in 60 Seconds
The Merrick Bank Double Your Line credit card is the right option for you If you want to start a credit history of your own or you have a low credit that you would like to repair. Compared to other starter credit cards, this one is very flexible and has a fairly high credit card limit. At the same time, it comes with a relatively high APR and an annual fee that you need to take into account. Many people have problems with their credit score, as it has a significant effect on their lives. You need a reliable card that can help you build up credit. If you are having similar issues, consider getting this credit card. Today we are going to review this card and help you understand all its upsides and downsides. Ultimately, we will help you understand whether this card is right for you.
Merrick Bank Offers: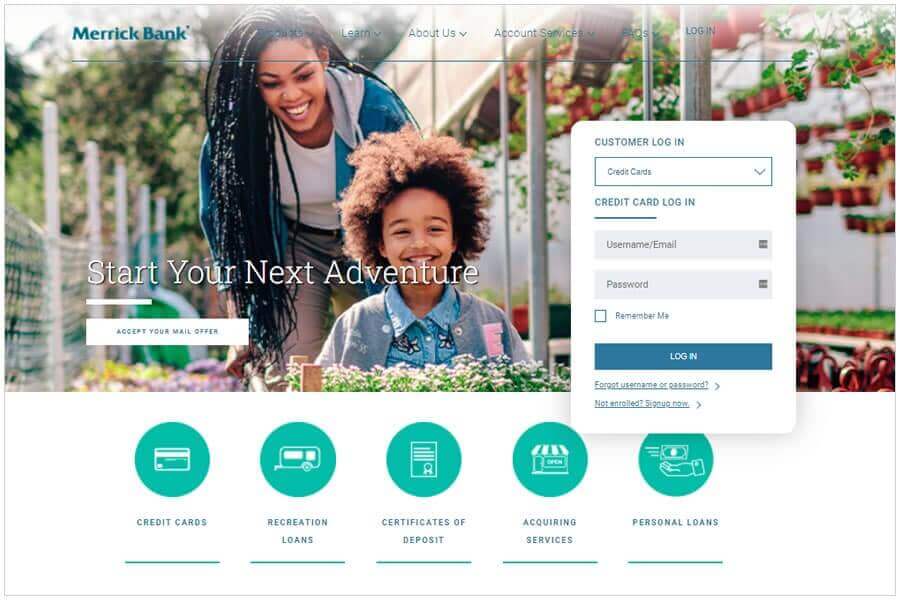 Merrick Double Your Line Offer Details
This is a typical unsecured credit card made for people that have an imperfect score. The main goal of this card is to help users repair their credit, and nothing else. However, it comes with some interesting features and options that make the card special and complement its primary goal.
Has a high credit limit
This means that a wide group of people could benefit from owning this card. This card comes with a very high credit limit, and you can further extend it after some time. Since this is an unsecured credit card, you won't have to pay a deposit for your credit limit. At the very start, it's possible to get a sizeable limit, and if you prove yourself as a reliable cardholder, you can get an even higher limit in the future.
Free monthly credit score check
The bank gives all its card users a free credit score check each month. This is something that not many card issuers offer, especially not on a monthly basis. This option allows you to always keep track of your FICO score and know how well you are doing.
Credit reporting
The card reports your credit activity to all three main Credit Bureaus on monthly basis.
Quality customer support
It's one of the few credit card issuers that offer 24/7 customer support. However, customers either have to send an email or call them to get in touch, as there is no live chat. All the credit card bills can be paid and managed through the mobile banking app, and you can also use it to check your score.
Double your line
These cards all have a special offer that no other card issuer offers. This means that the Merrick Bank Mastercard also comes with this feature. Simply put, if you are able to make 6 straight minimum payments on time, your credit limit will double automatically. Having a higher credit line allows you to improve your credit utilization, and this, in turn, allows you to build your credit faster. It's truly a special feature that not many credit card issuers give to their users.
Can be used anywhere
This is an open-loop credit card that can be used anywhere where a Mastercard is supported. Simply put, users don't have to change their shopping habits if they don't want to. Mastercards are supported by various retail stores and ATMs, and cardholders aren't limited when trying to use this card.
PRO Tip
If you are looking for a card with a big credit limit to make the most out of your credit utilization, this Merrick Bank Mastercard might be just the one you need.
Why We Like It
Unsecured Card. What we really love about this Mastercard is that this is an unsecured credit card that comes with a high credit limit. Simply put, this means that this card gives you the ability to make great progress very quickly while, at the same time, not having to deposit any money of your own.
Credit Limit Increase in 6 months. Furthermore, every cardholder can easily increase their credit limit in just 6 months. If you make each minimum payment every month on time, you will automatically increase your credit limit twofold. This means having the ability to spend more and create more positive reports each month. At the same time, the higher the credit limit is, the easier it will be to keep your credit utilization low. If you are able to establish responsible payment habits and be disciplined, this card will make it worthwhile.
Free FICO Score. Furthermore, you will get a free FICO score check each month so that you can stay on top of your progress at all times. At the same time, this card guarantees monthly reports to three major credit bureaus meaning that your activity won't go unnoticed.
PRO Tip
By using this card in a responsible way, you can raise your credit limit up to an astonishing $10k, which can be really useful for speeding up the process of boosting your score. Using under 30% of your credit limit each month brings more positive results each month. The higher your limit is, the easier it will be to keep your credit utilization really low.
What can be Better
High APR. The Merrick Bank Mastercard has solid APR interest, and this is why a lot of people are scared of this card. However, most people don't look at the fact that this card comes with a high unsecured line of credit that can go up to an amazing $10,000! With interest over 20%, it simply makes no sense to leave any loan on your card. Irresponsible users can easily get tempted into carrying a big balance and missing payments. At the same time, when you consider the high credit line, it's really easy to get stuck into a vicious cycle of debt. But a low credit score card wouldn't be that if it didn't have its downsides. The good news is that, if used properly (paying all your credit on time), the APR interest won't be a factor.
Activation fee. There is a bit higher account activation fee for all their cards. This is something that's not clearly stated anywhere. The company itself could be a bit more transparent on that instead of covering it up. Still, it's a one-time payment that won't bother you any longer.
Annual fee. This Mastercard comes with a slightly steep annual fee. There are other cards that have a lot of higher annual fees. Still, there are unsecured cards that come with no annual fees whatsoever. This Merrick Bank Mastercard does have a nice system built around it, and it's a reliable card for boosting credit scores.
PRO Tip
The biggest downside to the Double Your Line Mastercard is the APR. Simply put, being irresponsible and having to pay for the interest can cost you a lot. This is why you should prepare a budget a couple of months in advance to ensure you never have to deal with the interest with this card.
What are the Usage and Applications?
When applying for this card, make sure that you will actually be using it. If you get the card and you don't use it, the issuer will still send out reports to the credit bureaus. At the same time, you will have to pay the annual and account activation fee for no reason whatsoever. The one thing you should definitely look to do is to avoid interest. As we mentioned previously, the APR is quite high, and you should go around it completely. The high credit limit can be very tempting, as users can have access to a lot of money without any secured deposit. It can be easy to get carried away and spend more than you can pay back. This will get you in trouble with added interest and a negative stain on your credit score. Luckily, it's all up to you to make sure that you clear your balance each month on time.
To start off on the right foot, make sure that you make all the minimum payments on time every month. This is how you can quickly increase your credit limit even further, making it easier for yourself to have a perfect credit utilization rate. What's really great about this card is the fact that you can use it to buy so many different things. Simply put, you can start off slow, with some small shopping on this card to keep your credit utilization low. When you increase your credit limit, you can then move on to bigger purchases while keeping credit utilization at the same percentage.
Opportunity to Keep Your Credit Utilization Really Low
The Merrick Bank Mastercard is a unique credit card that comes with no security deposit and the opportunity to keep an ideal credit utilization ratio. Yes, keeping the credit utilization ratio under 30% is a good thing, but the lower it is, the better your monthly reports to the credit bureau will be. An ideal ratio is 3%, which is usually very unrealistic. However, with these credit cards, it's possible. The reason for this is the high credit line you can achieve. Even with the maximum starting credit line, you can keep credit utilization at 3%. This means that your balance should be quite low. If you use the card for small and simple purchases, this is a very real thing to do. When you maximize your credit limit, you can have a balance that is slightly higher but will still keep you under 3%, making your monthly reports look really good.
What Are Costs & Fees of Double Your Line Credit Card?
When it comes to this card, it's especially important to look at the fees section. Even though this card is a reliable tool for building credit, it does come with its own costs. You need to make sure that you can afford the costs and use the card wisely to avoid additional fees like APR interest. Here are the costs and fees you can expect with this card:
Annual fee (can be paid on a monthly basis after a year)
Account fee
Fee for getting an additional card
APR depending on the balance
Late payment fee
The annual fee is solid, but it's quite reasonable. Especially when you look at the fact that there are basically no other mandatory fees you need to pay for. There are no transaction fees or any other costs related to using this card. The high account activation fee is really bad, in our opinion, and we think that the issuer could have simply added it to the annual fee. However, when you consider how useful the online account is and how it works really well, it kind of makes sense. If only the issuer was transparent about the fee. If you want to have multiple cards, and have other people use them as well, you can ask for a new card for a small fee. The card will be tied to the same account, and you can speed up the whole process. The APR interest is the real downside of this card, and you should be very careful with it. Make all your payments on time and in full.
PRO Tip
When you take into account all the costs, you will have to invest a bit, but you can get away without having any additional costs for a year. As long as you use one card and make sure that you don't get into the interest zone, you will keep your costs really low.
Is it Convenient to Use?
As we mentioned earlier, the Merrick Bank Double Your Line Mastercard has all the benefits of a Mastercard, along with added perks. First of all, you can use it worldwide at any ATM or store that accepts Mastercards without any additional fees. It can be used both offline and online but also for getting cash at ATMs that support Mastercards. Naturally, some ATMs that support Mastercard come with their own fees that are standardized for these cards. This means you should check the fees of these services before using them. All in all, this Mastercard can be used as a regular card, with all its practicality. You can use it while traveling or even get some added credit in case you run out of cash somewhere.
What Are Qualifications Requirements?
The Merrick Bank Mastercard is an exclusive credit card. What does this mean? Except for its unique features and amazing service, this card is only available to a certain group of people. Simply put, you can't just apply for this card and expect to get it. You first have to be a member of the bank and use some of their services. When the bank sees that you have a credit profile that qualifies you for this card, they will send you the offer on their own. As soon as you receive the offer, you'll be able to respond to it on the bank's official site.
You should understand that this is a unique unsecured credit card designed for people with a credit score from 300 to 700. This means that it's not designed for people who have terrible credit scores. This card is primarily meant for people who already have a Merrick Bank card. This card requires a deposit, and anyone can get it.
Similar Offers and Alternatives
How to Apply for the Merrick Double Your Line Card?
The bank will send an offer for this credit card to users who qualify for it. Once you've received an offer (email or phone call), you will get valuable information that you can use to apply for the card. You can click on the "respond to offer" in the email. Click here to apply online.
The application takes a few minutes, and you will have to add basic personal information like getting a credit card. Usually, people who've been with the bank for a couple of months will receive an offer to get this card if they've had a positive relationship with the bank. If you didn't get the services, and you don't have an account, the easiest way is to first get the secured card, as anyone can apply for it.
The majority of the users that get an invite for the card will pass the application. However, in some cases, the bank will not thoroughly go through someone's credit profile until they've actually applied. Simply put, there aren't clear criteria based on which the bank sends out invites for these advanced cards. The application processing lasts a couple of days, and you can expect to get your answer in that period of time. After being approved for the card, you will receive it to your home address via mail in a week or two, depending on your location. As soon as you're approved, you can activate the account.
How to Contact the Merrick Bank
Corporate Office Address
Mail Correspondence
Merrick Bank
P.O. Box 5000
Draper, UT 84020-5000
Overnight Payment
Merrick Bank
Attn: Lockbox Operations #660702
2701 East Grauwyler Road, BLDG 1
Irving, TX 75061

USPS Mail
Merrick Bank
P.O. Box 660702
Dallas, TX 75266-0702
Bottom Line
In a way, this is one of the rare exclusive cards for getting your credit back on track. You need to be a proven member of the Merrick Bank community to get your hands on one. It doesn't come with any special rewards but gives you an almost unlimited credit line with no hidden costs. For the cost of a couple of small kitchen appliances, you can get an exceptional tool for fixing your credit and responsible spending. If you are already a member of the bank, you might find this card very useful. Furthermore, if you are used to using Mastercard, you won't have to change your habits whatsoever. This card guarantees your monthly reporting to credit bureaus. At the same time, you can also track your progress each month while managing your balance through a user-friendly app. Simply put, it's a well-rounded card that gives you everything you need to get your credit where you want it to be.
Frequently Asked Questions