What is Upromise World Mastercard?
The Upromise Mastercard is a credit card that offers very generous cashback rewards and no annual fee. The APR is competitive and the fees are rather standard for such a card with some of those fees varying by state. With the cashback and the redemption options, this card is one that stands on its own. The Upromise World Mastercard truly rewards its cardholders through cashback rewards that can accumulate rather quickly with regular card use.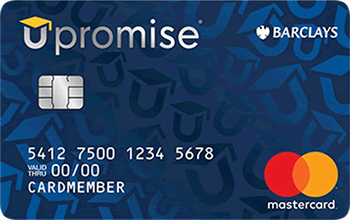 Card Details
Ongoing APR
As low as14.99% Variable
Snapshot of Card Features
0% Introductory APR for 15 months on balance transfers made within 45 days of account opening
Earn $100 cash back after spending $500 on purchases in the first 90 days
Earn 1.25% cash back on every purchase
Get 15% bonus on your total cash back when you link your Upromise Program account to an eligible 529 College Savings Plan
Earn more with Upromise Round Up, when you round up your purchases to the nearest dollar.
No foreign transaction fees on international purchases
Free online access to your FICO® Credit Score
Get free 2-day shipping and free return shipping on eligible purchases with your complimentary ShopRunner membership
No annual fee
Cash Back Redemption
When you accumulate your rewards, which have no limit, you have a number of redemption options. (a) The first is to contribute the money to a Upromise 529 College Savings plan. (b) The second is to make a deposit into a high-yield savings account. (c) The third is to make payments toward an eligible loan that is already serviced by Sallie Mae, and (d) lastly, you can redeem for checks of at least $10 when you redeem for checks, you can use those checks for anything you please. You can spend the money on a nice reward for yourself, to pay bills, or to deposit into your savings account.
Introductory APR
There is an introductory APR on both purchases and balance transfers. The introductory APR on purchases is a certain percentage, which is sometimes zero, and it lasts for a specific period of time. Taking advantage of this introductory offer does not affect your ability to earn cash back on transactions.
The introductory APR on balance transfers gives you the opportunity to save a great deal of money on transferring a balance from a higher APR card to this introductory rate. This can save hundreds of dollars in interest. Depending on how much the transferred balance is, it can save thousands of dollars in the coming years. Between this and the redemption options, this card offers a great deal of money-saving opportunities.
Card Cost
While the purchase APR and balance transfer APR have introductory rates, the cash advance APR does not. For every cash advance that you perform, there is an APR and a fee that is a percentage of the transaction or a minimum dollar amount. There is also a balance transfer fee on balance transfers despite the introductory APR. However, the fee is lower during the introductory period.
If a late payment is made, a late fee is assessed to the account. The fee may vary by state. In addition to this fee there is a penalty APR. This means that the APR is going to increase to a higher rate than the standard variable rate. Even if you are in the middle of your introductory period, the period can come to an abrupt end and suddenly increase to the penalty APR. Barclaycard, the card issuer, has the right to impose this penalty APR indefinitely.
If the payment is returned, then there is a returned payment fee placed on the account. If the returned payment results in a late payment, then the late fee is charged in addition to this. If these fees cause the balance to go over its credit balance, there is no over the limit fee. You will simply pay the card below its balance in the amount specified by the credit card issuer on your statement.
RELATED: Celtic Bank, Synovus Bank
When traveling with Upromise World Mastercard, there is a foreign transaction fee when abroad. This fee is simply a percentage of each transaction. How much or how little you spend on fees depends on how often you wish to use the card when traveling internationally. Similar Card: Deserve EDU
Lastly, there is no annual fee. It is common for a cashback card to have an annual fee, but this one does not and that means being able to accumulate cashback for no more than the cost of interest if you pay interest. It is possible for you to avoid interest by paying off the card balance within 23 days of the close of the billing cycle.
Card Management
Card management is also easy. Of course, you want to keep track of your cashback, balance, available credit, due date, transactions, and every detail regarding your account. Barclaycard gives you two ways to manage your account. The first is through the customer service hotline and the second is via the Internet.
You can more or less manage your account in the same ways no matter which customer service portal you use. However, the Internet is a good way to see your statements and transactions in front of you. Rather than someone telling you what they see, you can see yourself. You can also opt into paperless billing so that you do not have to have your statements mailed to you. If your computer is secure and you prefer instant delivery of your statements each month, then paperless billing may be for you.
If you do notice that there is fraudulent activity (See: Avoiding ID Theft) on your card when checking it online or through the hotline, you can report it as soon as possible. Through online account management, you can view your account as much or as little as you like and you can check the account online or call from anywhere in the world.
The Final Thought
The Upromise Mastercard is a card issued by Barclaycard that focuses on the cardholder's needs. In a day and age where people need more out of their credit cards, this one does deliver in the way of its cash back rewards, no annual fee, introductory APR, and the ability to save toward the future.